Weekly magazine through Internet Indio Gris
Nº 160. THURSDAY, June 12 TH , 2003
FUSIONED - DIRECTED - WRITTEN AND CORRESPONDED BY: MENASSA 2003
WE DON'T KNOW HOW TO SPEAK BUT WE DO IT IN SEVERAL LANGUAGES
SPANISH, FRENCH, ENGLISH, GERMAN, ARABIAN,
PORTUGUESE, ITALIAN, CATALAN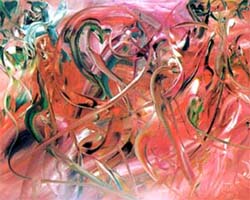 INDIO GRIS, IS A PRODUCT
OF A FUSION
THE BRIGTHENESS OF THE GREY
AND
THE JARAMA INDIAN
THE FUSION WITH MORE FUTURE OF THE
21st CENTURY
---
INDIO GRIS Nº 160
YEAR IV
EDITORIAL
A FEELING OF BUENOS AIRES
Dear Miguel: Some intestine fights gave me a pain in the abdomen which lasted 4 days, with fantasies of piercing gases and gas chambers. Afterwards I was happy, on Sunday I was happy. I watched the ceremony of assumption of the new President on TV. The Peronist Youth took on power and happiness was generalised, all of the people remembered their political history, Peronism returned to the people after such deviation. They are a couple who love one another. They met at La Plata Law school and there militated in the combatant line during Onganía's rule. Now they went into the Casa Rosada, it seemed a dream, her eyes opened widely and she became speechless when from the balcony she saw all the people there reunited, it was incredible, it was as if one of us, from our generation, from our youth, would have taken on the presidency. Everybody was happy, the media, for the first time, came to an agreement, nobody criticised. At 9 p.m. all the ministers were already in TV programmes, they are all young, they are all intelligent, we hope they allow them to act.
The eldest of the young was Fidel Castro, 77, we brought him and he is with us, today at UBA Law School delivering a speech, because he is a lawyer, I would have liked to attend and listen to him. A year ago he has called us cockroaches, yesterday he received the mayor ovation in Parliament, a clamour surged from the benches in the Nation's Congress which came from the right and from the left and from the centre. The history of this South is turning Universal. It is our turn. Latin America endured, something is going to produce a betterment in mankind. Receive a hug.
A sixty year old woman
Cero Group Consulting Room
COUPLES COUNCELLING

TALLER DE ENSAYO

Miguel Martínez Fondón
Psychoanalyst

Coordinador:
Juan Carlos De Brasi


APPOINTMENTS: 91 682 18 95
GETAFE (MADRID)

91 547 56 64 (MADRID)
---
THIS IS ADVERTISING
Cero Group

Editorial


Madrid

Book Fair


Parque del Retiro-

Caseta n° 15


From May 30 to June 15
¡¡¡WE REPEAT,
ONLY THROUGH JUNE 15!!!