Weekly magazine through Internet Indio Gris
Nº 159. THURSDAY, June 5 TH , 2003
FUSIONED - DIRECTED - WRITTEN AND CORRESPONDED BY: MENASSA 2003
WE DON'T KNOW HOW TO SPEAK BUT WE DO IT IN SEVERAL LANGUAGES
SPANISH, FRENCH, ENGLISH, GERMAN, ARABIAN,
PORTUGUESE, ITALIAN, CATALAN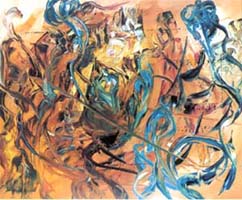 INDIO GRIS, IS A PRODUCT
OF A FUSION
THE BRIGTHENESS OF THE GREY
AND
THE JARAMA INDIAN
THE FUSION WITH MORE FUTURE OF THE
21st CENTURY
---
INDIO GRIS Nº 159
YEAR IV
EDITORIAL
To give up almost everything for her isn't at all bad. An electromagnetic field that won't let her escape.
To stop publishing to support what has been previously published, I hope not be wrong in such an important thing.
I have taken the good road, the philosophy about numbers has replaced the numbers.
I have to learn how to live practically on nothing, a verse is worth more than 100 kilograms of meat and I have already said this in another piece of my writing.
Poem recited in the voice of Miguel Oscar Menassa

TO GAMBLE, TO GAMBLE UNTIL DEATH

To gamble, to gamble until death


like my grandfather Naur's will read,


which cannot lie


because Naur has died.

He has died of sadness in the desert


and not from thirst running away in fear


as some foreigners tell.

Naur, it is true, had in his features


traces of some mysterious past


-homosexual or sadistic, the women said-


however, Naur spoke seven languages


and had


intelligence marked in the furrows of his face.

When he made love


He was not precisely a man from the desert,


it showed, in the disorder of his hair a citizen air


could be seen.

DARLING,

When I was a small boy I used to write on the walls "the universe is mine" and nobody truly realised what I wrote about on the walls.

I have a spectral dream, as if life would come out running from my eyes. I must stop this creation, it is madness.

When I am completely alienated in myself, I always run the risk of letting myself be forever. When I stop being, to become mine, I'm immensely happy.

She's an imbecile because she thinks that when something happens to me, it is good for her.

When she realises in a few years time that nothing has even happened to her, she will want to die and she won't realise anything either.

I think she must be the eighteenth; she thinks she's the second. Any of the two is irremediably crazy or we live in different worlds, although it may not seem so.

Beautiful, the bodies move with the rhythm of modern music.

At moments, the music penetrates undulating within my body and propagates to the tips of my fingers.

The music, the bodies, the lights created an oneiric climate.

As we moved, small contacts make the whole human mass have its link of electrifying connection.

I notice that he plays to get annoyed with those childish seduction techniques, where she expects him to pay attention to her the whole time.
Cero Group Consulting Room
COUPLES COUNCELLING

TALLER DE ENSAYO

Miguel Martínez Fondón
Psychoanalyst

Coordinador:
Juan Carlos De Brasi


APPOINTMENTS: 91 682 18 95
GETAFE (MADRID)

91 547 56 64 (MADRID)
1

I shouldn't bother with the persons, but of the institutional functioning. I should moderate my discourse, as Rubén Darío very well says, so that my discourse may go into circulation.

Clear affliction that of the dead man.

2

A sense to life must also be given.


There was a generalised singing to pain and I was a participant.


Clear candidates to the sun died in the shadows.


Not because they hid underneath the earth,


but because the sun was destroyed.

People are desperate for speaking and I, who speaks all day, I am also desperate.

I'm at the edge of fame.

I hope not to become an idiot.

If I don't stop the way I live, I say to myself, the way I live will end up swallowing me.

What to do, spirit of the night?

It has to do with not taking advantage of any situation. And that is the poet's life, the rest, all of the rest, bourgeois vices, ambitions of an urban proletariat.
---
THIS IS ADVERTISING
Cero Group

Editorial


Madrid

Book Fair


Parque del Retiro-

Caseta n° 15


From May 30 to June 15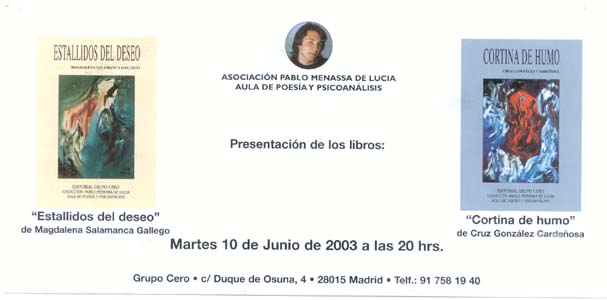 Presentation of the books

"Bursts of desire" "Smoke curtain"


by Magdalena Salamanca Gallego by Cruz Gonzalez Cardañosa

Tuesday, June 10th, 2003, at 8 PM

Cero Group. Duque de Osuna 4 . 28015 . Tel: 91 758 19 40