Weekly magazine through Internet Indio Gris
Nº 158. THURSDAY, MAY 29 TH , 2003
FUSIONED - DIRECTED - WRITTEN AND CORRESPONDED BY: MENASSA 2003
WE DON'T KNOW HOW TO SPEAK BUT WE DO IT IN SEVERAL LANGUAGES
SPANISH, FRENCH, ENGLISH, GERMAN, ARABIAN,
PORTUGUESE, ITALIAN, CATALAN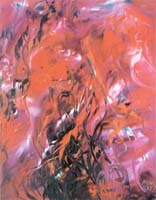 INDIO GRIS, IS A PRODUCT
OF A FUSION
THE BRIGTHENESS OF THE GREY
AND
THE JARAMA INDIAN
THE FUSION WITH MORE FUTURE OF THE
21st CENTURY
---
INDIO GRIS Nº 158

YEAR III

EDITORIAL

I can say that in the Cero Group system, everything is going to change.


The only hierarchy is me.


That is to say, there are no more hierarchies.


There is no other boss but me, which means that what is leading us is a discourse.

Poem recited in the voice of Miguel Oscar Menassa

MIGUEL, MYSELF

When I can choose


I will choose to be god of the mountain


to live in the middle of the Olympus among white lilies


and the antique odours of the laurel


drinking


warm and alcoholic beverages


and dancing merrily with Zeus


my boss.

And if they wouldn't allow me


I would choose with my wife a valley I kno
a blue valley in Catamarca


where we thought and made love


and talked long hours about the war.

And if they wouldn't allow me


I would choose an afternoon by the sea by my son


he who has the eyes the colour of almond


or being seated under the cedar trees


with my father in Lebanon smelling citron blossoms.

I would never choose to die at midnight


together with my mother bathed by the moonlight.


I would choose not to die.


Like those famous gods of the mountain


drink my wine in tall crystal goblets


with Zeus


my boss


and jump crazily


from one place to the other of the Olympus


talking about my body.

Darling,

To say what comes to my mind about the situations is what cures me the most:

High summits are awaiting for me, but I won't go up. I'll wait for the high summits to become worn out by time.

When everything is a torn apart sea level, we'll talk, but not to say big things to each other, but simply, to chat with enough time, omnipresent leveller of summits and plains.

She doesn't reflect well about the places that everyone must occupy. Surely, when vacancies are available, they won't be for her.

Today, I'm convinced to have behaved properly; I will never make love with a woman who believes that that is some kind of fundament for something.

Sexual relations don't exist and, if someone wants to make them exist, he'll get sick.
Cero Group Consulting Room
COUPLES COUNCELLING

TALLER DE ENSAYO

Miguel Martínez Fondón
Psychoanalyst

Coordinador:
Juan Carlos De Brasi


APPOINTMENTS: 91 682 18 95
GETAFE (MADRID)

91 547 56 64 (MADRID)
I am the most lively example of a brave man who lived as a coward.

Afterwards reality will tell me that I couldn't do what I could do and I will smile.

Old from being, I undo any illusion.

Such care for what is social, for money, will end up spoiling my sexuality, my life.

Trying to save some little thing, some love, I went losing everything.

I think that the medicine is unique: to write, to write and publish all that is written. Not to leave any surface without filling it in with a colour, even if it is white.

All my dead beloved


I paint you, I write about you,


I give you eternity.
---
THIS IS ADVERTISING
Cero Group

Editorial


Madrid

Book Fair


Parque del Retiro-

Caseta n° 15


From May 30 to June 15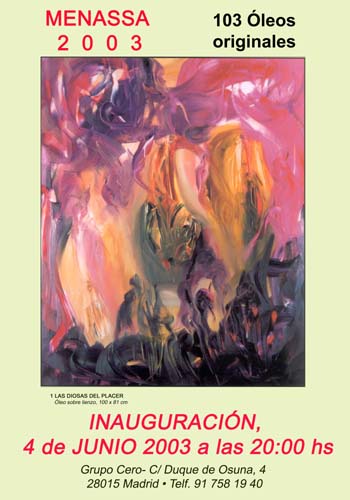 Only the day of the opening and in cash payment, all the paintings in the exhibit will have a 40% discount, by courtesy of Cero Group Editorial.

You can make a previous reservation of the paintings. Contact Carmen Salamanca

Phone: 91 548 94 12 or 609 515 338