Weekly magazine through Internet Indio Gris
Nº 157. THURSDAY, MAY 22 TH , 2003
FUSIONED - DIRECTED - WRITTEN AND CORRESPONDED BY: MENASSA 2003
WE DON'T KNOW HOW TO SPEAK BUT WE DO IT IN SEVERAL LANGUAGES
SPANISH, FRENCH, ENGLISH, GERMAN, ARABIAN,
PORTUGUESE, ITALIAN, CATALAN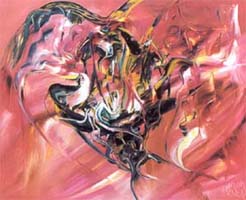 INDIO GRIS, IS A PRODUCT
OF A FUSION
THE BRIGTHENESS OF THE GREY
AND
THE JARAMA INDIAN
THE FUSION WITH MORE FUTURE OF THE
21st CENTURY
---
INDIO GRIS Nº 157
YEAR III
EDITORIAL
What I now realise is that within my phobia (diverse inhibitions) there are several million pesetas involved. Several thousands of pages to publish.
Yesterday night was a night of great political conversations about our future. Everyone agrees in that everything, almost everything, depends on my being able to assume as director of a School and leader of a movement.
Now I have to wish and say it. Continuing in that direction, if I would say it, it wouldn't be a simple advice, but a line in a history book.
Poem recited in the voice of Miguel Oscar Menassa

ADVICE II

You must not fear: the sea is for everybody.


In the high tide you should let yourself be carried away


not doing contradictory movements.


In low tide you should leave everything to imagination.

It is necessary that the sea


be navigable in all cases.

Darling,

And the truth, darling, doesn't nest nor can be discovered anywhere, unless there is an individual in the centre of the place. An individual completely tied to the next word.

-Look, doctor, I have understood everything today, for me to stop being a prostitute, he should love me and that is impossible.

I didn't say a word but I thought to offer her one more hour per week.

After a prolonged silence she said to me:

- And your love, doctor, I can't understand it fully, it isn't enough for me.

- We'll continue the next time.

Far from telling me that I am the only one, she loves me crazily, with all her loves in her hands. When she touches my body, more than a hundred women are caressing my body and I, always become crazy.

Night after night our sexes are the universe.

-Baby, I love you, I immediately feel that I am her only love, although I don't really believe it, but I feel it.

And I say to myself:

- Only the two of us can do it this way.
Cero Group Consulting Room
COUPLES COUNCELLING

TALLER DE ENSAYO

Miguel Martínez Fondón
Psychoanalyst

Coordinador:
Juan Carlos De Brasi


APPOINTMENTS: 91 682 18 95
GETAFE (MADRID)

91 547 56 64 (MADRID)
I thought it was about writing well.


I thought it was about studying some things.


I thought it was about love.


I came to think that it was about pleasure.


I thought too many things which didn't come true.

I thought that someone would return what I had on and that what I had on was to be able to enter the game of life.

That's the reason why I lost the first rounds, waiting for someone to return the admittance money to me.

I have to carry out the situation with great mastery. It has to do, in the end, with the circulation of sex and money in an inexistent social class, that is to say, something almost impossible.

Everything leaves one when one is that one.

In arriving I'll have everything decided, after each poem published, I'll have another battle won. When I shoot the poem number one hundred thousand, I'll have won the war. And there, I'll receive some award, those imbeciles shall see.
---
THIS IS ADVERTISING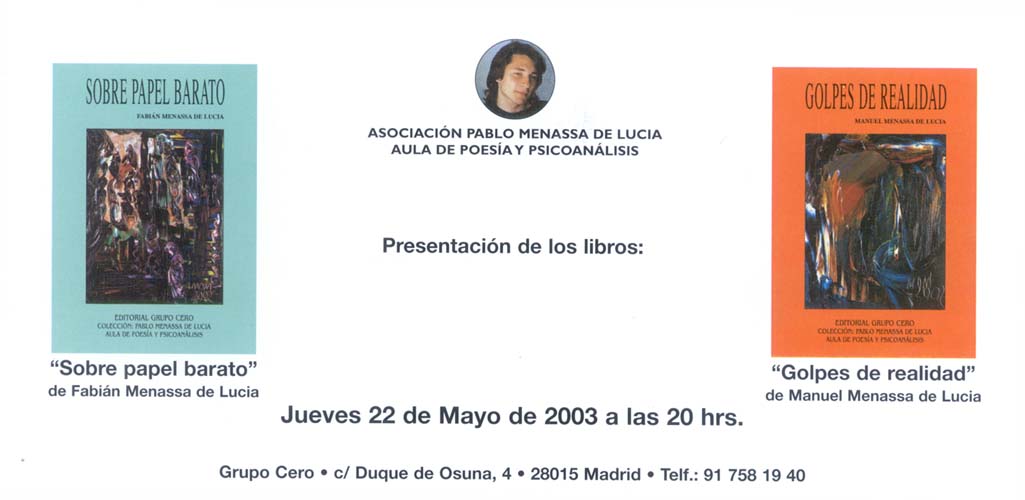 Pablo Menassa de Lucía Association


Poetry and Psychoanalysis Classroom

Presentation of the books

"Over cheap paper" "Blows of reality"

by Fabían Menassa de Lucía by Manuel Menassa de Lucía

Thursday, May 22nd, 2003 at 8 pm


Cero Group. Duque de Osuna 4 . 28015 . Tel: 91 758 19 40