Weekly magazine through Internet Indio Gris
Nº 156. THURSDAY, MAY 15 TH , 2003
FUSIONED - DIRECTED - WRITTEN AND CORRESPONDED BY: MENASSA 2003
WE DON'T KNOW HOW TO SPEAK BUT WE DO IT IN SEVERAL LANGUAGES
SPANISH, FRENCH, ENGLISH, GERMAN, ARABIAN,
PORTUGUESE, ITALIAN, CATALAN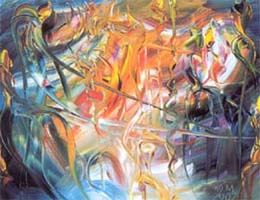 INDIO GRIS, IS A PRODUCT
OF A FUSION
THE BRIGTHENESS OF THE GREY
AND
THE JARAMA INDIAN
THE FUSION WITH MORE FUTURE OF THE
21st CENTURY
---
INDIO GRIS Nº 156
YEAR III
EDITORIAL
As Argentina's virtual President, here goes my first advice:
In Argentina people must fight for food, what happens is that I arrived late this time. Argentines have to fight for food, they must forget dignity and they must forget subjugation, because it is and has been a subdued people for five hundred years, without saying a word. Why do they come now to break our balls with this question of freedom, let them fuck themselves and they have to say no to the United States, not because we want to be free, but because the United States is a psychotic crow which eats carrion and live beings. Not because we want to be independent, but because we are taking care of our children, of our nurses, our professors, because we are looking after our food, we say no to the United States, not because we want to be independent. Then, if we say no to the United States, we will have to subdue to something. If we understand this, there is an Argentina and if we don't understand this, there is no Argentina.
I think that I arrived late, that people in Argentina still speak about dignity, what dignity? What dignity, if they broke our asses four hundred thousand times? Besides, what freedom?, if we live subdued. I speak Spanish because I'm a poet, but, in reality, we were taught to speak English, French, German, Portuguese, we were bombarded with literature. In the end, when you are old, if you survive you are better than a Spaniard, a French, an English or an American. Why? Because you had to swallow all the cultures that you were subdued to, while they ate only one culture. Well, worse for them, fuck them.
Poem recited in the voice of Miguel Oscar Menassa

ADVICE 1

Don't stop


what nothing can do


love will do


what love can't do


your desire will do.

And if your love and your desire can't


the burst must have already occurred


surely in your heart, in your head.

Fold over.


Sink into the sea.

Childish tantrums, sinister grins of nothingness, I come from what is unknown, from the clairvoyant kingdom of not being. Empty of emptiness forever maintain your garments torn. Oh! beloved, today I will kill you, the future will move forward towards us. An inexistent amount of light will illuminate our not being, a tenderness in the exact centre where there must have been a light, will someday break all of the dikes and that will be the end.

The machine suffers from human weaknesses, it is half a machine. An imperfect sombre machine, full of love and hopes.

Strident deaths dance around me, happiness and condolence's dances.

Today, it doesn't do good to me to know that among the days of death there is one which carries my name and surname. I would have preferred to leave it for further on, but life is cruel…

A woman asks the judges to allow her to be inseminated from her dead husband

She spent the whole night trying to figure out the difference that there is between biting and licking, finally, we didn't have time for anything and we had to go to work.
Cero Group Consulting Room
COUPLES COUNCELLING

TALLER DE ENSAYO

Miguel Martínez Fondón
Psychoanalyst

Coordinador:
Juan Carlos De Brasi


APPOINTMENTS: 91 682 18 95
GETAFE (MADRID)

91 547 56 64 (MADRID)
President José María Aznar and the Minister of Foreign Affairs, Ana Palacio, had a conference about the benefits for Spain of having participated in the war as an ally of England:

London offers Spain the control


of a desert-like and uninhabited


area of Iraq

Many persons trust me, there will be a generalised deception. The whole world will have to cry over what is lost and I, for sure, in that way, will have time to write and for my little things which aren't many.

After so many years, almost 45, she and I, poetry and I. Everything is monogamic in my life, over all because what never changes is the ego.

And I and the world, the world and I.

The keys sound like daggers in the wind.
---