Weekly magazine through Internet Indio Gris
Nº 155. THURSDAY, MAY 8 TH , 2003
FUSIONED - DIRECTED - WRITTEN AND CORRESPONDED BY: MENASSA 2003
WE DON'T KNOW HOW TO SPEAK BUT WE DO IT IN SEVERAL LANGUAGES
SPANISH, FRENCH, ENGLISH, GERMAN, ARABIAN,
PORTUGUESE, ITALIAN, CATALAN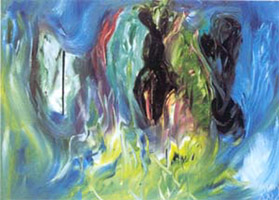 INDIO GRIS, IS A PRODUCT
OF A FUSION
THE BRIGTHENESS OF THE GREY
AND
THE JARAMA INDIAN
THE FUSION WITH MORE FUTURE OF THE
21st CENTURY
---
INDIO GRIS Nº 155

YEAR III

EDITORIAL

I dedicate this issue


in general


to everybody.


To Latin-America,


because I love


its future explosion.


To the famous North America,


because my poetry


Also sings


To everything that dies.


To old Europe,


and also


to the second Europe


because I fear


the future, in general,


of Mankind.

ADVICE 1023

Adolescent, fisherman of old enamoured women,


great fisherman of truffles


of girls happy like the sun,


of a sure winner to gamble the soul.


I, the great hunter,


great manager of solitary nets,


nets for solitude,


special nets


to hunt


timid hearts.


Tired of seeing


so many people dying


in the heat


a summer afternoon


in the public gardens


in the public streets


in the public baths


I placed my solitary nets.


Afterwards I said to myself


Time is necessary


I gave myself a piece of advice


To drink coffee without any milk


every morning.


I advised myself to sit down


I told a women


to sit next to me.


Your fresh ass


I told her


on the fresh ground.


We kissed each other with a great love kiss.

She told me about her ways of entertaining solitude,


to show her legs or move them


according to the cold or to our habits,


to sit besides a man


and allow us to be touched


until feeling the necessity of becoming mothers.


sometimes, it is understood,


we sell pearls to crazy men,


lost in the sun.


Oriental pearls


white pearls of love,


bits of pearls, arranged


generally, on our belly,


pearls, in the end, in the shape of rows necklaces


to choke better


yes


he said


violent pearls.

WEEKEND

There are contagious feelings, endless laughs, terrible pains, pains of the heart.

Your face has gone through my heart only once and it has stained itself forever with blood, pure red blood, senselessly, because any other colour would do.

And that delicious skin, that contagious skin like an illness; as to turn me mad with your skin; your almond tree skin (just to mention an unknown fruit) your skin of candied almonds and nothing else for the time being, to close my eyes and repeat all this once again.

Genitals illuminated by your skin sweep away everything that is possible, they sweep me away, they make my heart skip a beat.

Enough for today, this closing and opening of eyes can turn us mad, a madness that would be too serious to earn money (a small fortune on the sea shore) as to be able to close your eyes forever on the sea shore.

Enormous breasts float desperately like ships.

Demon of the multiple sexual relations

Fleeting alteration.

Salomon, son of David, powerful executive of his times, knowledgeable of languages of all animals of the earth and of the sky.

One day he placed a small ant on the palm of his right hand and asked it: who is the greatest man on earth? The ant, which still was completely straight, without any cuts in its body, asked Salomon to raise his hand a little more, a little more. When Salomon's hand was above his head the ant said: You are really grand, but I'm even more because I'm above your head.

Without a smile, Salomon shook his hand, and the ant fell on the ground without a noise, and Salomon cursed the mischievous ant, condemning it to live almost cut in halves.

Maxim: An executive is always an executive whether he is Salomon, Bush or Aznar.
Cero Group Consulting Room
COUPLES COUNCELLING

TALLER DE ENSAYO

Miguel Martínez Fondón
Psychoanalyst

Coordinador:
Juan Carlos De Brasi


APPOINTMENTS: 91 682 18 95
GETAFE (MADRID)

91 547 56 64 (MADRID)
THE DEMON OF POLITICS

And I went running to where the apple trees grew


and I saw when I reached panting the spring of the rivers


that the demons of war


and also the powerful demons of peace


hid their big asses in opaque mansions


and then I chose


the danger of the high peaks


to roam about the mountains and celebrate


with the antique wise men, in small rooms,


a new way of living.

This tranquillity, this peace, for which we are able of


committing the most enormous mistakes, to set the most feline


traps, the most convenient treasons. This tranquillity, this peace


sometimes is love.
---