Weekly magazine through Internet Indio Gris
Nº 154. THURSDAY, MAY 1 TH , 2003
FUSIONED - DIRECTED - WRITTEN AND CORRESPONDED BY: MENASSA 2003
WE DON'T KNOW HOW TO SPEAK BUT WE DO IT IN SEVERAL LANGUAGES
SPANISH, FRENCH, ENGLISH, GERMAN, ARABIAN,
PORTUGUESE, ITALIAN, CATALAN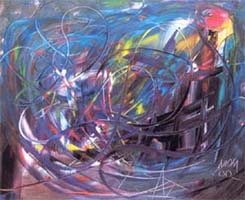 INDIO GRIS, IS A PRODUCT
OF A FUSION
THE BRIGTHENESS OF THE GREY
AND
THE JARAMA INDIAN
THE FUSION WITH MORE FUTURE OF THE
21st CENTURY
---
INDIO GRIS Nº 154
YEAR III
Speech to the Spanish people and to all peoples in general when taking office as President.
In this luminous moment of the Argentine Republic, hand in hand with Almafuerte, I come to bring you some obscurity.
EDITORIAL
¡AVANTI! In the voice of Miguel Oscar Menassa

¡AVANTI!

If they make you kneel down ten times, you stand up


Another ten times, another one hundred, another five hundred times…


Your falls will not be so violent


Nor will they be so many.

With the incredible hunger with which plants


Greedily assimilate the humus,


Swallowing the rancour of affronts


saints were formed.

Almost asinine obsession, to be strong,


The creature needs nothing else


And I fancy it in any poor devil.

Let the hooks of luck be notched…


All the incurable can be cured


Five seconds before death!

¡PIÙ AVANTI! in the voice of Miguel Oscar Menassa

¡PIÙ AVANTI!

Don't give yourself up, not even when defeated,


Don't feel yourself a slave, not even being one,


Tremulous of terror, think yourself brave,


And rush forth ferociously, already badly wounded.

Have the tenacity of the rusty nail,


That already old and decayed is used once more as a nail;


Not the coward stupidity of the turkey


Which reduces its plumage at the first noise.

Act like God who never cries,


Or like Lucifer who never prays,


Or like the oak grove, whose grandeur

Needs of water and does not implore for it…


That your head may bite and vociferate


While rolling on the dust!

MOLTO PIÙ AVANTI! in the voice of Miguel Oscar Menassa

¡Molto PiÙ Avanti!

They who let their loving tears run over


The sorrows which are not theirs,


They who forget the sound of their chains,


To file those of the other ones before.

Those who go about the world delirious,


Distributing their love open-handedly,


They fall under the weight of their good deeds


Dirty, sick, tragic… remainders!

Ah! Do not ever want to remedy injustices!


Never follow compassionate impulses!


Have always the hooks of hatred active,

And always maintain the Judges' eyes awaken!…


And in throwing yourself into the box of the dead,


Look down on the cries of the living!

¡MOLTO PIÙ AVANTI ANCORA!

in the voice of Miguel Oscar Menassa

¡MOLTO PIÙ AVANTI ANCORA!

This mendacious life is a dais,


Where everything is stupid and pretentious,


Where each host keeps hidden


his real being, behind the veil.

Do not tell your truth even to the most loved one;


Do not show fear even to the most feared one;


Do not believe that someone has ever loved you


No matter how many love kisses might have been given to you.

Watch how the snow melts


Without a complaint from its numbed lip,


How the clouds look forward to the desert

Trusting their anxiety to no one…


Curse men, but laugh!


Live life, but dead!

¡MOLTISSIMO PIÙ AVANTI ANCORA!

In the voice of Miguel Oscar Menassa

¡MOLTISSIMO PIÙ AVANTI ANCORA!

If instead of the stupid panthers


And the tough stupid lions


They would put into the jail of the beasts


Two skinny young lasses,

They would not lie entire nights


On the soft straw of their mattresses,


Already with no hopes, no reactions


As if they were two placid tastelessly dressed lads;

Like pensive, serious Napoleons,


Not like the cheating and blood-thirsty tiger,


They would scrutinise


Their cage bit by bit,

Looking for the slits, not the keys…


Whoever you are, you already know it:


Go and scrutinise the slits in your cage!
Cero Group Consulting Room
COUPLES COUNCELLING

TALLER DE ENSAYO

Miguel Martínez Fondón
Psychoanalyst

Coordinador:
Juan Carlos De Brasi


APPOINTMENTS: 91 682 18 95
GETAFE (MADRID)

91 547 56 64 (MADRID)
Miguel Oscar Menassa: Today is election day in Argentina. First thought to be taken to the television tomorrow at 8 o'clock by Rosa. The question is like this, people think that there can be an Argentine family without previously putting together the Peronist family, the problem is that this is not possible because a people cannot throw overboard 60 years of bad blood so that there can be a Peronist family. They can't say, "Ah, no, not now, as the Americans don't want, as every Argentine is tired". What's the matter about being tired!, you jerk, or there is a peronist family or there isn't an Argentine family. It would be convenient for the Argentines to prefer that there were Argentine families.
Miguel Oscar Menassa: I'm still with Peron's problem, the question is that the Argentine who should have meditated yesterday, today is already voting, he should be able to decide what Peronism is and vote for it, there is where the problem lies. Menassa says… "I've already told you the truth, now you sit on a chair and start recalling all your childhood memories, the childhood memories of your parents, the childhood memories of the motherland and it's sure that you'll be lucky and you'll learn what Peronism is about".
Ah, the Argentines, they are all rogues like you, they want things to be easy, they want to vote. No, we have to research to see what Peronism is in Argentina. Do you know what someone told me? Why does this happens? They told me it happens because "Menem won't be voted by any Peronist anymore" And how does he obtain 20% of the ballots? Rich people vote him, the big industrialists who became rich during his government. Then, what are you telling me? That Menem is a good President. They were criticising Menem, they said that Menem was no longer voted by the Peronists, referring to the lousy ones. According to this, he was a Peronist, but he wasn't a Peronist, he was a son-of-a-bitch. Considering this thought the rich are a social class and the Peronists are another social class, so that isn't Peronism, then what Peronism is. And I go and vote for Peronism, then Argentina has an Argentine family and a country without family, they must know that, even the Soviet Union and the Israeli State failed. They can't subsist because the family is the organic cell of reproduction of the specie, so if there can't be anything without family or you carry it within you or you carry it out of you.
Miguel Oscar Menassa: You believe that there are two kinds of Peronism. It is as if you were telling me that there is no Soviet socialism, no, Sir, it wasn't socialism, how many socialisms are there going to be? Peronism, I say: education for children, woman's liberation, admission of women in political life, admission of children in the production of a nation. There is no other one. The working laws: if you have a finger cut they have to indemnify you, paid holidays, they have to allow you to reach the sea even if you live in the mountain.
The basic necessities are the basic necessities, sirs, the proletariat can use the same things than bourgeoisie because those are the basic necessities. That was taught by Perón, the Peronism. Now the fact that they sold weapons to Moustapha Safouan won't stop me, and I don't care! Besides, Moustapha Safouan didn't know how to use them. What a name!
PURPLE EDGE in the voice of Miguel Oscar Menassa

PURPLE EDGE

In pursuit of its level the river flows


through the huge fall of the brambly ground;


the air is a strong wind, and there are strong winds


because of the law of no end, of no vacuum;

the most beautiful tassel of the summer


does not even dream of bread in the wheat fields;


the sweetest honeycomb of the honeycombs


never declared: I am not mine;

and the sun, the father sun, is swift light


which arouses life in Nature,


it does not haste to warm the poles,

nor it either deviates itself a fraction:


You will reach everything, majestic fool…


As long as your stature lets you!
---