Weekly magazine through Internet Indio Gris
Nº 152. THURSDAY, APRIL 17 TH , 2003
FUSIONED - DIRECTED - WRITTEN AND CORRESPONDED BY: MENASSA 2003
WE DON'T KNOW HOW TO SPEAK BUT WE DO IT IN SEVERAL LANGUAGES
SPANISH, FRENCH, ENGLISH, GERMAN, ARABIAN,
PORTUGUESE, ITALIAN, CATALAN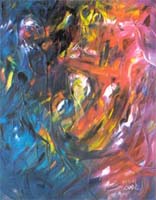 INDIO GRIS, IS A PRODUCT
OF A FUSION
THE BRIGTHENESS OF THE GREY
AND
THE JARAMA INDIAN
THE FUSION WITH MORE FUTURE OF THE
21st CENTURY
---
INDIO GRIS Nº 152

YEAR III

EDITORIAL

INTERVIEW WITH THE POET MIGUEL OSCAR MENASSA


FOR "EL INDIO GRIS" MAGAZINE

Sunday, April 13th, 2003

Carmen Salamanca: All the journalists agree on the belief that this strategy has been planned according to a Japanese, contemporary of Confucius, who was also a teacher of another school, he had written "The art of war".

Miguel Oscar Menassa: Yes, but the Japanese began the war with arrows, and these ones have too much power. Then there is no strategy, there is no proposal, don't fool yourselves. Let's see, if I have a machine-gun and you have a toothpick, what strategy? There is no strategy, you wait and when it comes to my mind, I break your ass, incidentally I make international businesses. There are no strategies, they are all lies, how can I talk about strategies if the other one doesn't even have a place to drop himself dead.

CS: I heard this morning that the famous weapons of mass destruction don't exist. That the dungeons where the regime tortured people neither exist. The hundred thousand soldiers neither existed, then it is as if him, or the Americans, had been dedicating themselves to make up a story that has nothing to do with reality.

MOM: With what reality?

CS: With what it seems they have found now.

MOM: It has to do with reality. It has to do with the reality of oil, it has to do with the reality of international interests. How can it be possible that has nothing to do with reality? It has nothing to do the reality that they let us know, but it has to do with reality. Can you understand what I say?

CS: There was a letter in a newspaper which explained that the USA has been bombing since the first world war or since the second, and enumerates about fifteen countries. In how many of these has the USA left a democratic and stable government?

MOM: But that we knew before this war. Do you know what I'm thinking of? That if they hadn't killed this journalist, it happens that journalists aren't intelligent at all, but now they have all become intelligent, how wonderful! But they had to wait until they killed a boy of theirs, they could have turned intelligent before.

CS: The other day one of Couso's brothers said, are we in the empire of the law or in the law of the empire?

MOM: Clearly, in the law of the empire, because the empire of the law has been broken, the United States broke it. And besides they say it: As we are the strongest!

They are less embarrassed than we are in accepting that they want to become the domineers of the world and that they are going to enforce the law whatever happens, that they don't care about anything. When Bush said: "It doesn't matter how long this war might last", there I realised everything, because that phrase can only be said by someone powerful who is ready to anything.

I'm very confused because on one hand I say, let's see how the Arabs are going to make business with these sons-of-bitches who at any moment pull out their dick and break your eyes, break your face.

I think that the world is malfunctioning and so these things may happen. Imagine in 50 years time: we have already finished with Iraq, with Iran, we have already kept the oil, we have already killed all the Palestinians, and afterwards they will have to face their own deformity, because it is them who produce that. It is this system which produces evil: The axis of evil has as its centre the Pentagon.

The Indio Gris group of journalistic investigation has found weapons of mass destruction in 24 cities of the United States, two machines

for manufacturing slaves in London and four out-of-order super-intelligent computers which prepare the Spanish president's speeches.

DO YOU WANT TO BE FAMOUS?


ALLOW YOURSELF TO BE BOMBED BY THE USA

Video: Miguel Oscar Menassa reciting:

FURY WAS IN ME

Opening the padlocks of my heart


I met with her doing some tests


trying to know.


He used to worry


about watering in the afternoons, serenely, the magnolia tree.

She talked less and apparently


in the foggy days in the middle of the street


she opened her eyes to illuminate


those who had nothing to lose.


Meek as death


he


was thirty four years old and had a violent life,


he wrote verses and said: I belong to the past.

In my chest, in the middle of my chest


definitively breaking the front door


which separates me from her, we can see her practising


dangerous chess moves and target shooting.


He knows that such preparations are for war


and nevertheless


he proposes her, in the middle of my chest, a strange feast.

DARLING,

Sleepy, taken by an unbearable slowness caused by memories which I recall from my past life in my country of birth, which no longer is my country.

And you should ask me why I chose this course. What clear ideas, what precise ideas anchored me in Spain and I wouldn't know but to say the truth: each time that the possibility existed (as much in my objective reality as in my own psychological reality) of returning to Buenos Aires, I couldn't move.

The paralysis that overtook me was fulminating and total. And so I remained blind and without muscles, until I abandoned the possibility of returning.

In between those outbreaks of silence and solitude and death, I was a normal man. I worked and for my work I received some money which I spent, mainly, in maintaining a numerous family more or less decently, around fifteen persons and their extensions. At the weekends I slept, studied, wrote, watched TV.

One day I got up and said to myself: the sun belongs to anyone. I can't even keep the sun and that day I decided not to go to work. Get dressed as usual, wash as usual, salute as I always salute, go out onto the street as usual, and then, instead of saying to the taxi-driver: Ventura Rodriguez and Tutor, I asked him: Take me to the Quevedo Hotel. I want to go back to that place, you know?. I was there on August 22nd., 1976, when I arrived in Spain.

Naked, with no need of being in front of anyone, I conjugated the sounds of the wind with the howls of that unforgettable night.

Standing by the reception desk, asking for a 10 dollar room for 24 hours, with breakfast included, with 7,000 dollars in my pocket, I felt like the owner of various continents.

Afterwards, everything would be nostalgia and stones falling, mercilessly, over me.

She introduces herself as someone not being able to achieve anything and that embarrasses her and she puts it in the following way:

- If I weren't ashamed I would be a rich whore, but being shameful I transformed myself into a poor professional, really poor.

When we walk along the street and she asks me, which are the limits?, I imagine her licking my dick.

The second time she asks me about the limits, I already imagine her in love.

When she asks me for the third time, without anything having occurred between us, I put an end to the relation and recommended psychoanalysis.
Cero Group Consulting Room
COUPLES COUNCELLING

TALLER DE ENSAYO

Miguel Martínez Fondón
Psychoanalyst

Coordinador:
Juan Carlos De Brasi


APPOINTMENTS: 91 682 18 95
GETAFE (MADRID)

91 547 56 64 (MADRID)
1
War has no more sense once it is initiated. Sexual desires liberated to their own whims produce death everywhere.
2
To put into practice what has been learnt. Family and old rituals of love have become serene in me. I'm ready to write my masterpiece:
A war without dead, a peace without madness.
They will say everything about me, I must get used to it. In not fulfilling any requisite but, at the same time, without leaving any requisite not fulfilled, I will be fuel for calumny and for impertinence.
The only way to do away with the mob is by having a project of my own according to my alleged deviations that, more than perversities, are the beginnings of new thoughts, new ways of living.
---