Weekly magazine through Internet Indio Gris
Nº 150. THURSDAY, APRIL 3 TH , 2003
FUSIONED - DIRECTED - WRITTEN AND CORRESPONDED BY: MENASSA 2003
WE DON'T KNOW HOW TO SPEAK BUT WE DO IT IN SEVERAL LANGUAGES
SPANISH, FRENCH, ENGLISH, GERMAN, ARABIAN,
PORTUGUESE, ITALIAN, CATALAN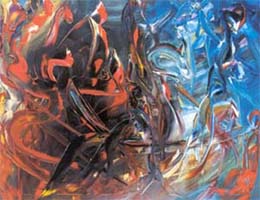 INDIO GRIS, IS A PRODUCT
OF A FUSION
THE BRIGTHENESS OF THE GREY
AND
THE JARAMA INDIAN
THE FUSION WITH MORE FUTURE OF THE
21st CENTURY
---
INDIO GRIS Nº 150
YEAR III
EDITORIAL
I'm here because I come to say what the future will be.
Sharks with huge steel teeth manufactured in the most advanced states try, with certain degree of despair, to pull out our hands, to pull out our feet and that way to dominate our mobility.
I let my body be deluded in the sea delirium that sweetly bathes the bodies of the sharks and, as they daydream by the warmth of my caresses, they allow me to kill them one by one by love.
The blood attracts other smaller fish which enjoy themselves defeating the shark previously killed.
No one will reach their destination, because there is no point of arrival.
Video: Miguel Oscar Menassa reciting:

POEM III

There, where the earth lets its young carnations to bleed copiously


there, I will wait for you.


Between the blood and the remote carmine smoke of the cigar.


Within solitude


these old papers stained with your laugh


- broken at dawn-


and your miseries like ample and warm embraces


and the diadems over your bosoms opened in the sea.

There, where the gods knit the flight of birds


there, I will wait for you.


White stranger of mine, lost between the tumult


and the mysterious flying of the larks in your body


larks on your face, no singing birds


only your sex


only the flight of the larks


-antique and silent-


towards the aroma of your sex.

DARLING,

Voluptuous out of proportion knapsacks.

These days I miss you like I never did before, several times a day I confuse your face among other faces in the street. Your profile appears in the street as I would have never imagined.

I fly among the always architectonic buds of nothingness opened to the rumours of my own damnation.

I find in your gaze the wind and the sunset, the horror of fear, the temperance because of the illusion of an illuminated throat.

I write without being able to reach any state.

Today she, for sure, will arrived amazed for having been able to come and her amazement will be the entire encounter.

When I held my dick closer to her ass it was all wet, I slided as a fish in the water and she, how she shouted! She shouted as a thousand women giving birth to history, but she didn't move at all to separate herself from me and my dick never ended to penetrate her all the way, because I did it very slowly, as she had asked me, almost supplicating, and then she liked it more all the time and while realising that what she was enjoying happened in her ass, she said to me shouting, crying, laughing, loving herself:

- Please, up to the end, my love, up to the end.

And I introduced it to the end and my semen reached her throat and she shouted, perfumed by her own odours, lover in love with the sex of love.

- I'm yours, now I'm completely yours.
Cero Group Consulting Room
COUPLES COUNCELLING

TALLER DE ENSAYO

Miguel Martínez Fondón
Psychoanalyst

Coordinador:
Juan Carlos De Brasi


APPOINTMENTS: 91 682 18 95
GETAFE (MADRID)

91 547 56 64 (MADRID)
When I go forward it is difficult to stop me, however, I repeat it: a thousand chains of love tie me to the past, to what has been.
To produce a health plan which includes mine, seems sensational.
The atomic bomb persecutes me, I think that peace will never arrive, so I decide to participate in the war, I don't need love but soldiers and, he who can't do it (man or woman), should wash the dishes, should lay the table, should satisfy the tired soldiers, should cure their wounds, should masturbate, but please, don't let them disturb us.
That is what's fundamental, to allow those who can do it, to do it.
Love will be made when it is its turn, nobody can try to make love when there are children on the verge of starvation.
---