Weekly magazine through Internet Indio Gris
Nº 149. THURSDAY, MARCH 27 TH , 2003
FUSIONED - DIRECTED - WRITTEN AND CORRESPONDED BY: MENASSA 2003
WE DON'T KNOW HOW TO SPEAK BUT WE DO IT IN SEVERAL LANGUAGES
SPANISH, FRENCH, ENGLISH, GERMAN, ARABIAN,
PORTUGUESE, ITALIAN, CATALAN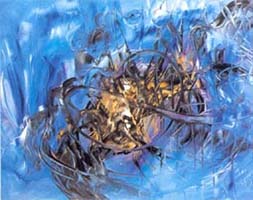 INDIO GRIS, IS A PRODUCT
OF A FUSION
THE BRIGTHENESS OF THE GREY
AND
THE JARAMA INDIAN
THE FUSION WITH MORE FUTURE OF THE
21st CENTURY
---
INDIO GRIS Nº 149
YEAR III
EDITORIAL
Today the B-52's


followed a course


which setting off from Seville


goes to bomb a friend.

In Morón's base


crooked matters are cooked


and, although Andalucian is spoken,


in English it is called death.

A sevillana says:


We have been friends for ages


no more bombs, no more bombs


aiming at me.

However, I must say


that the American soldier


strolls around Madrid


as if it were the Pentagon.

The guys from the PP


have me astonished,


the war they have been ambitioning


is already in their hands.
Video: Miguel Oscar Menassa reciting:

THE WOMAN AND I

She didn't want only me to be put to trial


she wanted


to put the whole humanity to trial.

Sometimes we were like two comrades.


she, in those moments, got nervous


when I treated her as a woman,


afterwards, when we were in bed


she turned angry if I talked to her about the war.

In the eyes of the children she looked like a mother,


normal and even ordinary, affectionate.


Afterwards, when she gritted


some flag of bread and freedom between her teeth,


she was a true enamoured panther,


always the fastest,


more intelligent than her prey.

In the midst of the battle field,


she resembled a real goddess of the air.


No war dared to kill her


and she used to bloom in the middle of the war.


Since early in the morning


she got the soldiers worked up


and alerted their superiors.

She was, in reality,


the soul of our weapons,


without her


our weapons lost effectiveness,


without her


our army didn't exist.


when we lost a battle


she explained that a battle


wasn't the war and that,


anyway,


sometimes one, other times others,


had to lose.


When we won a battle,


she explained nothing,


only danced and danced and danced


until dawn, after,


she rested for a day


and, back to war.

No one could stand her pace.


she destroyed all the enemies' armies


and, also, destroyed her own armies.

She is called Poetry,


she is a woman


and doesn't want war.

HUNDREDS OF IRAQIS DEAD IN
A FEROCIOUS BATTLE AT THE SOUTH OF BAGHDAD

THE GOVERNMENT AUTHORISED


THE SUPPLYING IN FLIGHT OF THE B-52'S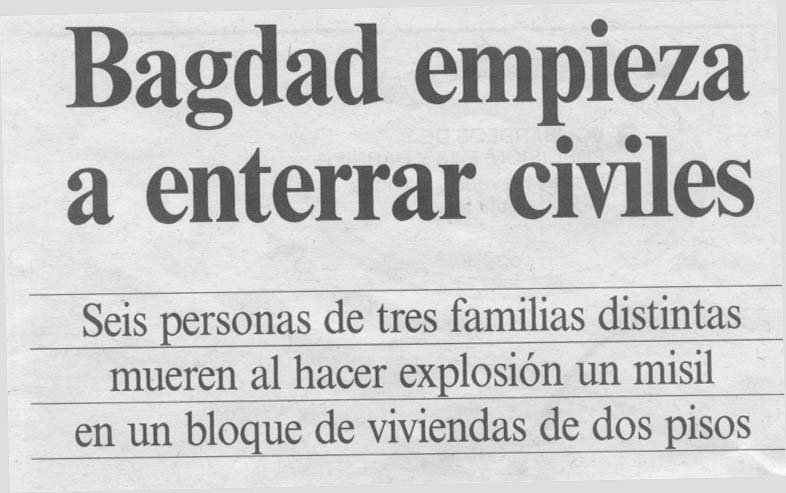 BAGHDAD STARTS
TO BURY CIVILIANS
SIX PEOPLE FROM THREE DIFFERENT FAMILIES DIED WHEN A MISSILE EXPLODED IN A BLOCK OF TWO-FLOORED HOUSES

"I SAW MY SON ON TV


WHILE HE WAS INTERROGATED"

Relatives of US soldiers fear the official visit with the announcementof a death or
to hear of a capture through the news

RUMSFELD'S STRATEGY RECEIVES ITS FIRST CRITICS


The tense relations between the Secretary of Defence and many high military commands surge with the Iraqi resistance
Cero Group Consulting Room
COUPLES COUNCELLING

TALLER DE ENSAYO

Miguel Martínez Fondón
Psychoanalyst

Coordinador:
Juan Carlos De Brasi


APPOINTMENTS: 91 682 18 95
GETAFE (MADRID)

91 547 56 64 (MADRID)

NEW YORK STOCK MARKET


EXPELS AL YAZIRA TELEVISION

CONTRACT IN IRAQ FOR A COMPANY ONCE PRESIDED BY CHENEY

THE ADVANCING OF US TROOPS TOWARDS BAGHDAD REVIVES WORLD'S STOCK MARKETS

PARIS, BERLIN AND BRUSSELS


JOIN FORCES TO LAUNCH


THE DEFENCE EUROPE

THE GOVERNMENT CONSIDERS "NORMAL" THE FACT THAT AZNAR DOESN'T ATTEND THE BUSH AND BLAIR'S SUMMIT

The Conference of Rectors rejects the Iraqi invasion for being "illegal and illegitimate"

The Platform "Culture against War"


will take Aznar before justice

A Government's survey forecasts
the descent of the PP

The governent authorised the refuelling in flight of the B-52´S
over SPAINSH territory

Corpses from US soldiers
arrive in Rota

The PP claims for solidarity
---