Weekly magazine through Internet Indio Gris
Nº 148. THURSDAY, MARCH 20 TH , 2003
FUSIONED - DIRECTED - WRITTEN AND CORRESPONDED BY: MENASSA 2003
WE DON'T KNOW HOW TO SPEAK BUT WE DO IT IN SEVERAL LANGUAGES
SPANISH, FRENCH, ENGLISH, GERMAN, ARABIAN,
PORTUGUESE, ITALIAN, CATALAN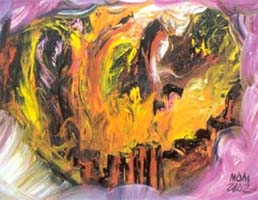 INDIO GRIS, IS A PRODUCT
OF A FUSION
THE BRIGTHENESS OF THE GREY
AND
THE JARAMA INDIAN
THE FUSION WITH MORE FUTURE OF THE
21st CENTURY
---
INDIO GRIS Nº 148

YEAR III

EDITORIAL

Verses like tendons


that come from the future.


Nerves like words


announcing death.


Slim limit,


between being,


an animal that survives


or a dead man.

Video: Miguel Oscar Menassa reciting:

ANOTHER

Love me with the violence of Greek lovers


who very often wait for their men perfumed


in small alcoves made of earth on the hills


because I have deep in my soul a sadness.

Love me with the hope of Phoenician priests


who used to sail together with their followers


in maddened seas of various colours


because I have in my serene gaze a sadness.


Love me with the fury of the famous Bengal tigers


which silently wait for their preys


in suspicious dens in the middle of the jungle


because I have in my thirsty mouth a sadness.

DARLING,

Condemned to die within myself, I'm the barbaric blue man of desperation. Flying as bees can fly rationally. Crazy by love, angry by delirious dreams of money and lust, happy of loving those I love, happy of making love as if life were to last a thousand years. I like everything slow like the tango, like the unforgettable nursery rhymes; the rest seems to me hallucinating.

-To open a new notebook is like opening an unknown and variable soul. Everything, in the measure of its own relativity, is happening according to plans.

I'm beginning to understand the unreasonableness of the Spanish economic-financial system and it doesn't cause me any joy to verify that in that matter the Spanish have also been wrong.

-Look, doctor, I don't want to exaggerate, but among such filth, of course, my beauty is infinite. I'm evidently trapped by an endless pulley. If I don't move fast, if I don't write a poem fast, I will be a computerised talent, that is to say, an ordinary talent.

All my generation is accomplishing fame in that process, someone will turn an idiot.

- We'll continue the next time.

They appear dancing in the middle of the dance floor, as if dancing were to fly hastily towards him, wherever he might be, he would realise that, once more, they were dancing.

When they came closer to him, slightly carried away by music, they felt his beautiful dick between them, swaying from one body to the other, from an orgasm to the other.

He, far from them, watching them dance, magnetised our most intimate parts with a volatile and fabulous neon. We moved each time closer to his gaze touching ourselves. Our asses looked like sculptures in the open ball room.

Tender lover of the night


I place our fleshes onto your feet,


enamoured women and lovers,


pierced by the scent of your verses,


we will satiate our thirst at your beat,


we will dress up dawns with your skin.
Cero Group Consulting Room
COUPLES COUNCELLING

TALLER DE ENSAYO

Miguel Martínez Fondón
Psychoanalyst

Coordinador:
Juan Carlos De Brasi


APPOINTMENTS: 91 682 18 95
GETAFE (MADRID)

91 547 56 64 (MADRID)
1
When an innocence breaks my heart in two, I will be more than myself.
2
She loves from me, the grandeur which constitutes itself in her, when she loves me.
Today, I would have liked to write this letter:
The problem I pose to my contemporaries is that nothing dies in me when I die. There is a presence in my verses which survives me. There is such a smell of future in my verses, that I don't even count.
When I was younger they used to tell me that I had a privileged position in the language; what I think now, when I write, is that the language occupies a position of a privileged system in my writing. Afterwards, when another twenty years go by, another twenty books, it maybe that no language might exist, who knows if by that time, something will be left of me.
One night I find light, another night I find obscurity. There is always some love and some snow in my verses. I realise that in order to be able to express certain opinions, I will have to modify certain feelings. Or said in a better way, I hold certain opinions which don't agree with my own feelings.
I don't understand why I beat about the bush with opinions, if with poems, none of my poems coincided with my way of thinking or living.
Tonight I'm going to bed calmly and tomorrow I will begin the time of truth. Or to put it gentler, tomorrow I will begin the time of zero realism. My proposal seems funny to me. What a laugh!
Indio Gris
Or this other letter:
Today, it isn't a question of eating the food or loving the beautiful woman. Today, the question is to remain seated, speaking to the universe.
And don't tell me, beloved, that with these ideas I won't earn any money.
Don't you see how the sewers open when we go past them.
Don't you see how the sun stops spinning when I look at it.
Indio Gris
---