Weekly magazine through Internet Indio Gris
Nº 147. THURSDAY, MARCH 13 TH , 2003
FUSIONED - DIRECTED - WRITTEN AND CORRESPONDED BY: MENASSA 2003
WE DON'T KNOW HOW TO SPEAK BUT WE DO IT IN SEVERAL LANGUAGES
SPANISH, FRENCH, ENGLISH, GERMAN, ARABIAN,
PORTUGUESE, ITALIAN, CATALAN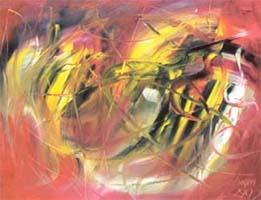 INDIO GRIS, IS A PRODUCT
OF A FUSION
THE BRIGTHENESS OF THE GREY
AND
THE JARAMA INDIAN
THE FUSION WITH MORE FUTURE OF THE
21st CENTURY
---
INDIO GRIS Nº 147
YEAR III
EDITORIAL
To give the ideological support to an affection, is to transform a feeling. No current feeling could be supported as such feeling in us, if we transform our ideological models.
None of the feelings we support, nor none of the visions of the world could be supported by us if the human relations which support those feelings or thoughts are broken.
Video: Miguel Oscar Menassa reciting:

SHE

It was September in the city


and we, going towards love, grew


hastily.

To set anchor had been not easy at all.


Your body maintained inalterable


your skin darkened because of the winds


and the fish eaten under the sun.

Extended


your skin had


the length of my gaze.


Like an omen


or like something even more terrible than an omen


you picked up your skin


as some sea nets are picked up


with the precise movements


the necessary shouts.

The only excessive immoderate thing


were your eyes out of proportion by pleasure.


Your gaze of a madwoman.

DARLING,

I'm really worried by the realities which distress me as if they were dreams.

Embalmed in my old-young conclusions, I haven't reached very far. It is because of this that I write you with the interesting purpose of dedicating myself to something else. It is tender to see myself dying of anguish because of someone else's pain, everything seems not true. No one but I believe in myself, it is like always being galloping backwards, sooner or later you reach childhood.

The wind and tenderness look alike, my father told me and I never understood him; jasmines are violent and white at the same time, and of course, I understood less still.

Clear are the eyes which don't fin other eyes where to look at themselves, that is to say, that because some eyes sing, that shouldn't be an attribute of all eyes or of all voices.

A healthy memory is the one which breaks my heart. I, being reborn and everyone celebrating the beginning of the worst war which humanity will suffer.

Each time I understand less the question about the woman. She says to me:

- I'm a slave.

And I answer her:

- How terrifying! In the era of space travels.

- And that doesn't mean anything, doctor, she told me to end, when I fancy falling in love with a man I cannot be myself any longer.

- We'll continue the next time.

I lay open over twilight,


as if they were the expected dreams.


Something in the body, something in the skin of thirst,


of a tremor persecuting
the vague memory of anterior nights.


It was necessary to leave.


Angels of light touched our body


and the beats of the dance opened


our enamoured womb, opened the heavens,


so that dusk would fall on us.


Vertiginously thrust by desire,


our uncontrollable bodies


embraced tenderly to its lips.


The night was kneeling down slowly,


before the dance of the oncoming century.


We were an unrepeatable landscape:


Nor plain nor dry plateau


nor obscure sad swallows.


We were that green tumult,


the earth shake which is expected


with the arrival of the sex of love.
Cero Group Consulting Room
COUPLES COUNCELLING

TALLER DE ENSAYO

Miguel Martínez Fondón
Psychoanalyst

Coordinador:
Juan Carlos De Brasi


APPOINTMENTS: 91 682 18 95
GETAFE (MADRID)

91 547 56 64 (MADRID)
Let's leave our lives go out into the streets freed from themselves.
Man doesn't insist, he doesn't call at the door, it is life in general the one which insists in what it says it is saying, in what words do to me when they conjugate with someone else's words.
I forgive, I forgive everything. I live once again.
I harvest and, while I harvest previous crops, I think of what my last crop will be. To nullify the magic thought in order to add decisions, makes all of them lighter. If I sow during ten years and then I wait ten years for everything to grow up, it adds up to twenty years, I would be eighty two, I don't know then if I would like to plant something or I would prefer to make a living of what has been planted up to that moment, I truly don't know.
Indio Gris
---