Weekly magazine through Internet Indio Gris
Nº 146. THURSDAY, MARCH 6 TH , 2003
FUSIONED - DIRECTED - WRITTEN AND CORRESPONDED BY: MENASSA 2003
WE DON'T KNOW HOW TO SPEAK BUT WE DO IT IN SEVERAL LANGUAGES
SPANISH, FRENCH, ENGLISH, GERMAN, ARABIAN,
PORTUGUESE, ITALIAN, CATALAN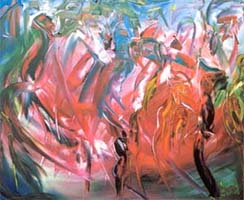 INDIO GRIS, IS A PRODUCT
OF A FUSION
THE BRIGTHENESS OF THE GREY
AND
THE JARAMA INDIAN
THE FUSION WITH MORE FUTURE OF THE
21st CENTURY
---
INDIO GRIS Nº 146
YEAR III
EDITORIAL
Perhaps, to say that we can no longer move from the place where we live, isn't precisely to say that we are chained, but moreover, it presumes to have found the way to inhabit this jungle of God which doesn't even belong to the Spaniards. Each time I complain about the discrimination exercised upon my person, one or two Spaniards appear saying that the same thing happens to them. This doesn't make what happens less terrible, because if the citizens of a country are treated in the same way that foreigners are, who would like to be a citizen of this country? Travels for the president who is depressed. Mourning and melancholy, this is the class I have to deliver. I would start saying: Today we want to let the President of the Government and his closest friends (who always intervene in these situations) know that melancholy can be cured.
The loss of any beloved person or else, the loss of an ideal is depressing. And as you well know, all the presidents of states lose, in the accomplishment of our function, many ideals.
Psychoanalysis also has its doors opened for such a huge sadness as yours. Pull yourself together, you wouldn't be the first president to be under psychoanalytic treatment. Whenever a group is a government, I would also be, a president in analysis.
Video: Miguel Oscar Menassa reciting:

I AM, I REALISE

I am, I realise,


a swimmer frozen to death.


What happens to me is love.


it is also nostalgia


for my country, my neighbourhood,


the wisteria


hanging from its neck


as if its neck


were the neck of a queen


and we went


from balcony to balcony


and crazy we kissed


and in each jump


we resembled birds.

Afterwards we were the eternal icebergs


after we always travelled in solitude.

Gigantic


and frozen


solitary icebergs


we travelled against everything.

To count the blows


they told us


to count the falls


more than a thousand they will not be


and since then


poetry


asks for freedom and not


a freedom measured


by flags.


Poetry asks


for a proud freedom


the whole time


all the marvels


of the unknown


in that freedom.

Not the freedom of the statues.


A freedom


able to destroy all the statues.

Poetry ambitions in that freedom


to be the material presence of what is human.

She shouts furiously among the rocks:


or everyone or none. Universal throat.

While on earth


there is no one who can manage man


there will not be any man.

Shivering


and in between this shiver my life lies


and I end up crying crazy


because I can no longer bear it


and I pull out from misery


a greatness:

The fervent desire of being

that freedom


that man.

Tremendous


free from freedom


it


lets me know that I will not be able to do it.

My affliction


is not of its consent


but it is neither pain.


Its freedom is infinite.


More than a dance


to be danced by everybody


a dance


which has from everyone


the most precise movement.

I travel


with no apparent return.

I am Poetry.

DARLING,

I'm writing now and in a few hours time I will be sleeping on my laurels for having written.

In your presence, mad, delirious, open butterfly of autumn, I am thirsty of lamented terrors, of the velvet of moons opened to other constellations.

I stop the flow of my word, I stop the flow of my love, so that she doesn't die by choking with the violent smoke of my voice in flames, by the fire of your lips, enamoured, crazy and hungry girl of past glories. Eternal flow of the apple trees.

-Everything is functioning more or less badly. She's stubborn, obstinate, stupid and now, on top of it, she has prohibited me to dream and, of course, I can't stand it any longer and say to her:

Baby, I think that your way of being is a little exaggerated.

And she opens her eyes, opens her eyes, but doesn't answer a word to me. She's blind.

I can hear her, I'm the man able to say the most violent phrases of the century. I'm the colossus who bore that words would combine in any direction. Inexplicable and, at the same time supernatural, symbolic.

She opens her eyes, opens her eyes, but…

- We'll continue the next time.

I knelt down and started to lick her monumental ass and she felt as if blessed by God. And her mouth bloomed in kisses, in licks, and from her vagina a warm and perfumed flux started to flow, and her ass opened as a carmine flower and her eyes half-closed, to be able to imagine another woman lying by our side.

And then she relaxed and told me tenderly, as if I were going to give her a flower:

-Now, please, now slowly, slowly…
Cero Group Consulting Room
COUPLES COUNCELLING

TALLER DE ENSAYO

Miguel Martínez Fondón
Psychoanalyst

Coordinador:
Juan Carlos De Brasi


APPOINTMENTS: 91 682 18 95
GETAFE (MADRID)

91 547 56 64 (MADRID)
1
Great things are done slowly throughout the years.
2
To destroy, because with nothing to be destroyed there is no novelty.
3
Already no one from me will be able to go on without me.
This time I'm not writing so that they come to tell me how well I've done it. This time I'm writing to say that the world is infinite, that I don't know, that no one knows. That perhaps my love, opuscule of the sea.
The circus has a lightened presence. She's on the verge of dying because of a banal infection, the doctors say that they can't explain how, that nothingness, causes her such exaggerated symptoms. The rest of the staff assumes their responsibilities.
My broken ass onto the wind, beloved. My vagina torn by the virus of peace.
The staff, as I was saying, gets ill of nostalgia, of tediousness, of cruelty.
Indio Gris
---
THIS IS ADVERTISING
THE WORKING WOMAN AWARD

The next 8th of March, 2003, at 8 PM

The Pablo Menassa de Lucía Association


will deliver the Working Woman Award


of the year 2002 to Olga de Lucía Vicente

dentist, poet, painter.

WE WILL BE EXPECTING YOU!

4 Duque de Osuna St. Madrid 28015 Tel: 91 758 1940
---