Weekly magazine through Internet Indio Gris
Nº 145. THURSDAY, FEBRUARY 27 TH , 2003
FUSIONED - DIRECTED - WRITTEN AND CORRESPONDED BY: MENASSA 2003
WE DON'T KNOW HOW TO SPEAK BUT WE DO IT IN SEVERAL LANGUAGES
SPANISH, FRENCH, ENGLISH, GERMAN, ARABIAN,
PORTUGUESE, ITALIAN, CATALAN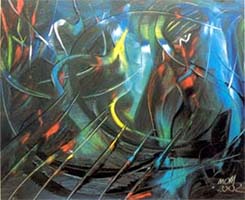 INDIO GRIS, IS A PRODUCT
OF A FUSION
THE BRIGTHENESS OF THE GREY
AND
THE JARAMA INDIAN
THE FUSION WITH MORE FUTURE OF THE
21st CENTURY
---
INDIO GRIS Nº 145

YEAR III

EDITORIAL

Dear contemporaries: I think I have won over you.

One more step, darlings, and there won't be pain any more.

The way out, the way out is my voice, my writing.

A bit of oranges, a bit of sun and love in the open air without any timetable and

to live the most important decade of my life.

I hope to react on time.

The pain of men is psychic and, to my understanding, the immobility of many men and women has to do with narcissism. Not wanting ever to die is an obstacle not only for the development of the specie, but in a fundamental way for the development of the individual.

GETTING INTO THE HEART OF THE CITY

Sometimes


I have my eyes against the clouds


I only want to return to my city.

I come down from the city's heights and


I allow myself to walk through Princesa street


and a warm sun accompanies my steps.

I abandon Buenos Aires for the last time.

A city seen from above


is always still.

Getting into the heart of the city.


Getting into the heart of the city.


Getting into the heart of the city.

To make from this almost peasant-like madness,


Madrid,


the Poet's Motherland.

DARLING,

New loves, I can't deny it, refresh me.

I have survived great summers, immense heats, with new loves.

I exactly love you in the time where our existence as lovers is light. I love you, when the thin thread of happiness that joins us can break with a minimum effort, with the minimum lack of pleasure. There, I love you. Where the eagles love the flight which they will be able to accomplish only one time. There, where what is perfect nests in the complete blindness of our bodies, there I love you.

Where everything could be destroyed and isn't destroyed, there I love you.

He, this time, told me with rage:

- She won't ever change, she does stupid things and, after, on top of that, her head aches or she cries, two things which I can't stand and do you know why, because I imagine her doing more stupid things, but now, with blame, sobs and a headache. She won't be able, I say to myself, to overcome her desire of dying squeezed by her own passions.

- We'll continue the next time…

Writing I feel all my body erotic. The little dolls live within me, they're my fantasies.

Once in a while I'm invaded by a sensation that, going from the very centre of my entrails, accompanies the memories of some bodies vibrating, sensitive until the point of madness.

There, time stopped. Each gesture spread out so that the others could reach the limit of shuddering. The images follow one another in the multiple combinations that six eyes, six hands, three tongues, a dick and two pussies, six feet and all the surface of the bodies' skin and their orifices could possibly achieve.
Cero Group Consulting Room
COUPLES COUNCELLING

TALLER DE ENSAYO

Miguel Martínez Fondón
Psychoanalyst

Coordinador:
Juan Carlos De Brasi


APPOINTMENTS: 91 682 18 95
GETAFE (MADRID)

91 547 56 64 (MADRID)
If we aren't alone, if we aren't unique, then, each success of poetry will be the success of all men and each defeat of poetry will be a defeat of all humanity.
When I put all the meat on the grill and I only accomplish burning myself, it is evident that I have accomplished nothing. And nothing isn't death, it is the anguish, the body opened to thousands of infinite possibilities, other roads, other men, other women.
New grills where to put all the new meat.
In spite of my distinction and style, a certain fanaticism tints all of my actions, all my verses: I love freedom and I love it for everybody, that is noticeable even when I kiss my beloved's lips in solitude. A group is a burst, an instant. The rest, the illusions of the participants, that, whether an institution, whether a writing, want to go on being young. And because of being an instant, a burst, like love, like poetry, it might happen at any moment and with someone we never expected.
Indio Gris
---
THIS IS ADVERTISING
MENASSA IN BUENOS AIRES

The poet Miguel Oscar Menassa will present his last 2 poetry books

"South of Europe"


and


"Cries of exile"

Thursday, February 27th., 2003 at 9.30 PM in the Espacio La Tribu, situated in

873 Lambaré St. Buenos Aires

The poems will be read by the author and Tom Lupo.

Information: Cero Group Editorial Tel: 4966-1710/13
(10 AM to 7 PM)
YOUNG ART NETWORK PROGRAMME

WEDNESDAY MARCH 5TH.


ONCE territorial delegation, Prim 3


POETRY RECITAL


By the poet Alejandra Menassa de Lucía
THE WORKING WOMAN AWARD

The next 8th of March, 2003, at 8 PM

The Pablo Menassa de Lucía Association


will deliver the Working Woman Award


of the year 2002 to Olga de Lucía Vicente

dentist, poet, painter.

WE WILL BE EXPECTING YOU!

4 Duque de Osuna St. Madrid 28015 Tel: 91 758 1940
---