Weekly magazine through Internet Indio Gris
Nº 144. THURSDAY, FEBRUARY 20 TH , 2003
FUSIONED - DIRECTED - WRITTEN AND CORRESPONDED BY: MENASSA 2003
WE DON'T KNOW HOW TO SPEAK BUT WE DO IT IN SEVERAL LANGUAGES
SPANISH, FRENCH, ENGLISH, GERMAN, ARABIAN,
PORTUGUESE, ITALIAN, CATALAN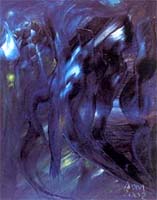 INDIO GRIS, IS A PRODUCT
OF A FUSION
THE BRIGTHENESS OF THE GREY
AND
THE JARAMA INDIAN
THE FUSION WITH MORE FUTURE OF THE
21st CENTURY
---
INDIO GRIS Nº 144
YEAR III
EDITORIAL
To accept mortality, something like a permanent sexual limit, that is what has happened to me, that is to say that what you thought was so great in me, was, in reality, a sexual function inhibited by fear of death, of shit.
A cup of tea, exaggeratedly sweetened, and I'm on my way towards what of God remains in me. Love, life, illusions, good manners, order, progress, good poetry, good wine, cordial friends, songs, two women are all of them and by the way, all women. There I go, my God, to destroy you, to collaborate in the universal atomic plan.
Love for the blind, life for women, illusions for the prophets, good manners for the very small children, order for the municipal police, progress for the states, good poetry for the academy, good wine for the rich, cordial friends for the bourgeoisie, songs for their singers, two women for my past and all women for all men.
I SAW YOU PASSING BY

I saw you passing by


as planets pass by.


Your gaze


your mouth were someone else's.


Your simplicity had no limits


your own heart


did not belong to you.

DARLING,

Everything comes out bad for me. It is as if I were a leper, people flee from me. I also deny, I am also the bleeding mask of nothingness.

To die, what is really dying, I won't die, but I will remain touched by death. Afterwards I will recover and wish to make love, to make hatred, to publish a book and, then, I shall know a truth: years will have gone by and I will have aged.

Today I feel an infinite tenderness for everything that flies, for what vanishes in the air.

- There is a fundamental lack of equilibrium between women and men. She's made of flesh and bones, she's real; he's a symbolic creation, inexistent.

And afterwards, she didn't say a word for several months.

She walks along the street as if she were bored, but, when going past the greengrocer's, she says:

- Well, I'm going to do a blow job to that banana.

And in a cannibalistic gesture she ends up eating it, and adds:

- Now I'm going to lick the navel of this beautiful orange.

- I'm going to break this fig's ass.

And while she introduces audaciously her tongue in its juicy womb, its honey will trickle down over her chin and in this way she will fuck them one by one and, also the little cream pies which she sucks while she empties them and Don José's kidney beans.
Cero Group Consulting Room
COUPLES COUNCELLING

TALLER DE ENSAYO

Miguel Martínez Fondón
Psychoanalyst

Coordinador:
Juan Carlos De Brasi


APPOINTMENTS: 91 682 18 95
GETAFE (MADRID)

91 547 56 64 (MADRID)
I dreamt that a journalist asked me: Can you, in two phrases, tell us how were your relations with men and your relations with women?
In one phrase I can express everything I could do with men: WORK AND WAR.
What I can't do in one phrase is to speak about my relations with women because, if I desire the truth for those relations, I will have to speak about LEISURE AND LOVE and that doesn't fit in one phrase.
If it is here where I have to write the most important part of my poetic work, it is better to start right now: not to ease up, to earn the biggest possible amount of money in the shorter possible period of time; afterwards poetry will arrive as a roofless goddess to shelter herself among our little dreams.
We will be one and a thousand, together or apart, all at the same time and each one alone, at the same time with everybody and with their solitude of being among others, for others, because of others.
The voracity of other times will be sold in parts for the construction of a sport field for the cure of the vices of the soul, from writing to reading, that is to say, a big house for our old age which no one will take care of because us, after all, didn't cause any problem but the history one and no one really cares about that, not even the states. Everybody wants no lack of food, for the time being the soul is something related to religions, peoples, idiots and psychoanalysts: we are far away, far away from ourselves.
In times where the perjurers give up their own illusions, I was one of them, a poetry trapped in a piece of misery. Not to say bread because I'm ashamed when verses remain trapped in a piece of bread.
Indio Gris
---
THIS IS ADVERTISING
MENASSA IN BUENOS AIRES

This coming Friday, February 21st at 7 PM


In the Cero Group Poetry and Psychoanalysis School,

The poet Miguel Oscar Menassa will read from his book of unpublished poems:

"THE WOMAN AND I"

We will be expecting you in 2686 Mansilla St., Dept. 2 Buenos Aires

Tel: 4966-1710/13


February 2003, Buenos Aires
THE WORKING WOMAN AWARD

The next 8th of March, 2003, at 8 PM

The Pablo Menassa de Lucía Association


will deliver the Working Woman Award


of the year 2002 to Olga de Lucía Vicente

dentist, poet, painter.

WE WILL BE EXPECTING YOU!

4 Duque de Osuna St. Madrid 28015 Tel: 91 758 1940
---