Weekly magazine through Internet Indio Gris
Nº 143. THURSDAY, FEBRUARY 13 TH , 2003
FUSIONED - DIRECTED - WRITTEN AND CORRESPONDED BY: MENASSA 2003
WE DON'T KNOW HOW TO SPEAK BUT WE DO IT IN SEVERAL LANGUAGES
SPANISH, FRENCH, ENGLISH, GERMAN, ARABIAN,
PORTUGUESE, ITALIAN, CATALAN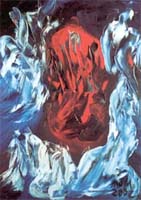 INDIO GRIS, IS A PRODUCT
OF A FUSION
THE BRIGTHENESS OF THE GREY
AND
THE JARAMA INDIAN
THE FUSION WITH MORE FUTURE OF THE
21st CENTURY
---
INDIO GRIS Nº 143

YEAR III

EDITORIAL

I must start to write without stopping at least up to page one thousand, so that my words begin to have their own weight.

I'm educating the last decadent persons, I have to be simple, to say that there won't exist another line beyond the lines.

As if life were that impossible quietness. We'll see who remains open-mouthed, I, because of my sentence or they because of my ability to evade divine justice, because that is what it's all about when the super ego is at stake.

This time I begin my task quartered, broken into a thousand pieces of shit, crystal-clear and smelly at the same time. This time, nor vengeance, nor love, this time I come for the gold, for the intermediary without barriers and nothing will stop me.

They had wounded me, shot me mercilessly, I had pieces of bullet or else entire bullets all inside my body, some pieces of lead were located in my noble innards and even my brain was reached by the lead of love. I mustn't forget that, more than writing, what I have to do is to know what to do with what I have already written, hundreds of pages which don't find their way because I, who must have the power to give them the order, don't find my way and it seems incredible that so much of the writer's life is involved in his writing, in times when no one has to do with anything, much less with what is produced like art, like metaphor.

Several are the murders I have to crystallise before they start to speak about my writing. So, the quickest, the best.

I am


a light word


deserts of silence.

Today


I have a small


treacherous madness


I want to perfect


my life and my loves


to reach you


in the miracle of kisses.

DARLING,

Without stopping, I fly above the joy of light.


Charm of the sandy grounds of hopes and lust.


I return from the leisure produced in tidal waves opened to the moon.


To the winding rhythm of the autumn leaves open and luminous.

The great melodies of my time vibrate in my road.


BEFORE RETURNING, BEFORE RETURNING


WE WILL HAVE TO DIE


HUNGRY, DESPERATE.

It is a carnival, a crazy carnival which joins us,


it is the fervent richness of life,


the lithe richness of heart and honey.

It is charming to see how everything the modern man does comes out more or less. The modern man lacks serenity, that is to say, exactness, nothing is correct in him.

- Look, doctor, what I do is practically impossible, so I'm not interested in how it comes out, someone will forgive me, someone will justify the results.

Listen very carefully at what I say, doctor, all the mirages are regulated from the money earned monthly, do you understand? I am, doctor, a scandalous enamoured serpent, all the delirium are the pesetas opened to unreasonableness of some, desperate, unknown, lithe poems.

- We'll continue the next time.

She went to the bathroom and left the door open, I plucked up and drank two or three long sips of a liquor made of fire.

She starts to kiss her own face in the bathroom mirror and offers her buttocks to my lips thirsty for loving her.

- No one ever exactly danced for me, naked for me, I told her for no reason, and she started to move her ass and to wet her fingers and after with the wet fingers by the warm saliva, she squeezed a little her nipples as if she were sucking them.

And she kissed with ardour her own image in the mirror and looked at me with eyes of an immortal pleasurable person, and I saw her accompanying me, among other beloved women, in the Olympus and she looked at me once more and she told me:

I, I will dance for you, darling, I'll dance for you.

Cero Group Consulting Room
COUPLES COUNCELLING

TALLER DE ENSAYO

Miguel Martínez Fondón
Psychoanalyst

Coordinador:
Juan Carlos De Brasi


APPOINTMENTS: 91 682 18 95
GETAFE (MADRID)

91 547 56 64 (MADRID)
Now that no one can take away from me what I have, I will have. Afterwards, I will find the way to escape from myself. Some verse, some desperate song, will uproot me.
You never have to salute if that is not part of a strategy. No one knows yet what my own future offers me.
The idea of recuperating all the writing from my notebooks and loose pages moves me to such extent that I would leave everything for that. I'll be calm, I have already learnt that life doesn't end tomorrow. I'll wait crouched for the opportunity and, then I'll seize the booty. I am the art of bullfighting, my cape has no going back. I have never looked behind. What is behind always comes from another place. I don't think I can get it, to be a teacher of all martial arts. As if it wasn't enough to be God, with having him, with loving him. I want to be a man, someone who loves that foolish thing of dying. Someone who can reclaim for his freedom, for after not being able to obtain it.
Indio Gris
---