Weekly magazine through Internet Indio Gris
Nº 142. THURSDAY, FEBRUARY 6 TH , 2003
FUSIONED - DIRECTED - WRITTEN AND CORRESPONDED BY: MENASSA 2003
WE DON'T KNOW HOW TO SPEAK BUT WE DO IT IN SEVERAL LANGUAGES
SPANISH, FRENCH, ENGLISH, GERMAN, ARABIAN,
PORTUGUESE, ITALIAN, CATALAN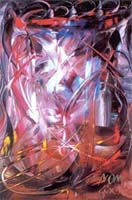 INDIO GRIS, IS A PRODUCT
OF A FUSION
THE BRIGTHENESS OF THE GREY
AND
THE JARAMA INDIAN
THE FUSION WITH MORE FUTURE OF THE
21st CENTURY
---
INDIO GRIS Nº 142

YEAR III

EDITORIAL

Did you see? The ancient and famous world


was a squeezed and dry orange.


Did you see the end?


We were the dead we saw falling


around us and ours was the blood.


And the future which seemed torn into pieces was our future.


Did you see the blue sky stained with crimson red?


they were our chests and the bombarded prairie


and the small macerated pieces of flesh springing into the air,


were our bodies. Did you see what a horror?

Today I saw them


they were a couple


bent by life


each one sinking


for different reasons.

DARLING,

I was so far away from you, my love, in these days. Each time that someone asked me about you, I answered with some foolish thing, but I stayed thinking that I wouldn't see you again, that it would be difficult for us to meet; sometimes I even thought that you were dead for me.

I looked for you among the photographs of the recitals, among the already written papers and quite often I found you, but once again, in a new circumstance, I couldn't have imagined that.

I abandoned you, it's true, for any foolish thing of life, eating, sleeping, paying rents, educating children and women, any light, bearable task, but it became impossible for me to meet you in those circumstances.

It can be clearly seen that today it won't take place either; perhaps, I should try it every day for the rest of my life to be pardoned; maybe I won't ever be pardoned, maybe I won't ever write a poem again, a beautiful poem telling about man's life, about man's future and perhaps, I'll die without knowing exactly why, she doesn't love me any longer or it's me who doesn't love her or God knows what happened with my life that went so far apart from you, such an inexplicable detour.

- He tried to hurt me and the next day I tried to go myself even further and told him clearly:

The only things that turn me on are to be maltreated, to be a little injured. Masochism, maybe. Maybe comprehension towards animals.

Maybe I can't do it, but someone will.

-We'll continue the next time.

Right now, before going to bed, I feel absolutely transposed.

She, however, waits for me and having written it gave me a sensation in the tip of my dick.

Tomorrow I'll ask her to dance for me, but she won't do it. She will try to content me by licking my dick, but she won't dance.

Afterwards, when I get drowsy, she will start dancing.

Tomorrow, I say to myself, I should be able to return to a normal life.
Cero Group Consulting Room
COUPLES COUNCELLING

TALLER DE ENSAYO

Miguel Martínez Fondón
Psychoanalyst

Coordinador:
Juan Carlos De Brasi


APPOINTMENTS: 91 682 18 95
GETAFE (MADRID)

91 547 56 64 (MADRID)
Some day it would be my turn to confess it: When it was necessary I stopped loving her in order to go on analysing her.
A craft, poetry, for example, taken to its utmost consequences, is, above all, revolutionary. Who dares but a solitary man to escape from his own verses?
In due time they will ask us to forecast the future and we will say that everyone will die: time rules only over death.
Indio Gris
---