Weekly magazine through Internet Indio Gris
Nº 140. THURSDAY, JANUARY 23 TH , 2003
FUSIONED - DIRECTED - WRITTEN AND CORRESPONDED BY: MENASSA 2003
WE DON'T KNOW HOW TO SPEAK BUT WE DO IT IN SEVERAL LANGUAGES
SPANISH, FRENCH, ENGLISH, GERMAN, ARABIAN,
PORTUGUESE, ITALIAN, CATALAN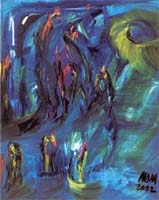 INDIO GRIS, IS A PRODUCT
OF A FUSION
THE BRIGTHENESS OF THE GREY
AND
THE JARAMA INDIAN
THE FUSION WITH MORE FUTURE OF THE
21st CENTURY
---
INDIO GRIS Nº 140

YEAR III

EDITORIAL

Everything is at the point of bursting in me, a tolerable death hovers above us. Death approaching little by little, the last journey more than the real one and, nevertheless, I'm waiting for a true illumination. A real change of course for my feeble ambitions.

An exaggerated amount of significant liaisons produced in a time brief enough to be processed by the members of the group, must coincide, with an exaggerated production of money so that it doesn't produce repetition or madnes. In this way the change wouldn't be a change of sexual life but, fundamentally, a change of destiny. Escaping, by using a great amount of money and of significant liaisons, from the necessity field, meaning any necessity, we would be ready to state that our death would depend strictly on the mortal interweaving of our desires.

I saw how the profiles of time


lightly alighted on my skin


leaving a trace.

DARLING,

I have to exercise one more violence over you, my little one, you'll have to be a woman and my woman, both at the same time. Both of you, like two wide and generous skins extended over my madness.

Afterwards fireflies and laughs will come to verify our place on earth.

- We'll see what happens to us today, lord of the heights: old fashioned virgins, open, without hopes, without pains, without lust, open, consciously open to nothingness.

After this lucubration, she started a kind of narration:

- I saw how people came into the cafeteria, ordered coffee and milk and croissants with butter and I hated them.

Public relations, public relations, to get a whore for the journalist, who can very well be me, eh?

- Come on Menassa, man can do more…

And I naively asked her, and the woman?

She answered me passionately:

- Ask your mother; I, on the other hand, think to ruin everything. I'm a bit nuts, I want to go to Tunisia or Venice, I want to go around there, but she follows me everywhere, always laughing, always happy, I can't stand her any longer. My problem is a basic incapacity of relating to others and if seven years of psychoanalysis with you, doctor, haven't modified me…

I, perhaps, in a hurried way, told her:

- You will need another psychoanalyst.

And she, hardly sighing:

- Go to hell, I'm the best treated, the blond one, the perfect one. You know that I'm hysteric, that I suffer when my desires come true, but it doesn't matter, doctor, tell me the truth.

And I, as a normal man, told her:

- Savage monsters deliberately reminded me, that the one who laughed all day as if she were stupid was your mother. We'll continue the next time

.

I knelt down and started to lick her monumental ass and she felt that she was blessed by God. And her mouth melted down in kisses, in licking, and from her pussy a warm and perfumed flow emanated and her ass opened as a red flower and her eyes half-closing, to be able to imagine another woman beside us.
Cero Group Consulting Room
COUPLES COUNCELLING

TALLER DE ENSAYO

Miguel Martínez Fondón
Psychoanalyst

Coordinador:
Juan Carlos De Brasi


APPOINTMENTS: 91 682 18 95
GETAFE (MADRID)

91 547 56 64 (MADRID)
1
The real occidental culture does not exist, exactly, in none of the freedoms by which they are thought.
2
There will be normalisation in all of us, but in Cero style: nor exiles, nor Argentines, nor Spaniards. Terraqueous beings.
And being grateful, to whom? why? If it's me to whom my back aches.
Everything seems wrong to me, everything seems right to me. What is it that make you and not others, my loves? Whom does the privilege belongs to ? Who lives on someone else's expense? Let's see, who lives? Who is their own vibrations? Let's see, who knows who loves himself? Sometimes I ask myself what ill-healthy lust takes me along these roads, to tell you the truth, almost impassable.
To become famous is something that must interest all men and, however, I go on writing that, being the best writer in the world, is different to being famous.
A famous man, I imagine, all day mounting a white horse, in a white cardboard horse, a man, alone is all future. A man above everything, in one word, is exhausting.
To set sail, how wonderful it would be to set sail. To abandon also the ashes, let everything fly away. To finish with the unfolding, to finish with mockeries.
Man can do more.
Indio Gris
---
THIS IS ADVERTISING
---