INDIO GRIS
INDIVIDUAL MAGAZINE OF GARBAGE COLLECTION
Nš 14. YEAR 2000- AUGUST, THURSDAY 31
FUSIONED - DIRECTED - WRITTEN AND CORRESPONDED BY: MENASSA 2000
WE DON'T KNOW HOW TO SPEAK BUT WE DO IT IN SEVERAL LANGUAGES
SPANISH, FRENCH, ENGLISH, GERMAN,
ARABIAN, PORTUGUESE, ITALIAN, CATALAN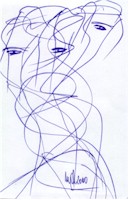 INDIO GRIS, IS A PRODUCT
OF A FUSION
THE BRIGTHENESS OF THE GREY
AND
THE JARAMA INDIAN
THE FUSION WITH MORE FUTURE OF THE
XXI CENTURY
---
INDIO GRIS Nš14
1
I like this affair of Internet because I feel an ignorant the whole time and that fills me up with hope, that fills me up with hope the next decades. First, I'll work several hours a day and then I'll also have intelligence.
It's true that I see a light surging which no one will put off.
2
Once again is my turn to invest in my writing. What a wonderful outlook! I must admit though, that since some years ago I yearn to invest some money in my writing apart from work and time.
There are internal voices that shout at me: The moment has come, Menassa, invest coolly, Internet will help you.
This time dear, I won't teach anything but I'll show everything, I'll wait for you at http://www.momgallery.com/
3
In a few years or months time, when pornography is no longer a business because people will do it for free to themselves at home, they will want to learn to speak and there, they will learn that time doesn't forgive, it hits the corridors of childhood ruthlessly, brutally. It never stops.
4
I know why some people move away from me. Next to me there will always be work for everybody and not many can bear the reality of working to invest in their own growth. The final result is that they don't grow but they get old and die anyway.
I'll grow and die as everyone else does, but in time some of my verses will touch something of God.
And when she asks what will happen to her I'll tell her that she will, too.
5
There are things in me from so many others that I don't know. Without knowing why I have diverse pains. A tacit pain of writing, of loving, of being a man.
Summits of I don't know what, shouted the wretch, summits of I don't know what, but there were summits. My mother taught me that the world was sin. That's why I live alone, enclose in myself , in the central hospital of madness: I love a woman who despises me. Summit of love.
6
Today, August 25th, 2000, some employees and I have decided to modernize the company.
We threw out through the open window 5 shelves full of books and we replaced them by 3 supersonic computers.
One of the employees said, now we can write again all the books, Internet will help us.
7
When I saw her arriving, when I saw her just about to fall completely in my life, when I saw myself crushed by dead, I stood sideways like a shadow. I was time of space, measure of nothingness. Love, I had an immense love that I think will only be for others and found I was given the privilege of finding secrets alleys, also for death. .
8
Let's open that unnecessarily closed door to realize that it was closed for nothing.
Not to let light come in.
9
Gambling teaches the limits or tears apart the individual. Losing something is like partially committing suicide.
Gambling is the most demanding lover of my life. It doesn't tolerate from me nor even the minimum error.
Every time I commit an error I have to pay.
10
I have been two nights totally compenetrated with God. As this compenetrationn took place at the Casino, the first night I won 100,000 pesetas and the second night, more confident in the process, 300,000 pesetas.
I hope God doesn't get very angry with me for making our relationship go public.
11
I salute people from far. I am the whole day and night with God. From 9 PM to 6 AM gambling and during the day sleeping up to 8 PM. I know that this time I'll attain something.
I had lunch with my relatives and they laughed a lot when I tried to tell some little thing about my relationship with God.
12
I come from the most secret layers of earth, and she asked me why nobody knows you, and I answered:
Secret, girl, I told you secret, the most secret layers of earth.
13
Old age also wanted to swallow me.
There was an instant in my life that the wrinkles and my aches were stronger than my thoughts. At that instant I grew old.
When I realize that the power over me was only words I stopped growing old.
14
Today my holidays at the seaside are over and it can be said, stammered the wretch, that I wasn't at the seaside.
I could not overcome that distance of the first day.
There was sea but not for me. There was love but others made it.
And there even must have been some poetry but it was not me who wrote it.
15
I only forgot what is obvious, I had almost all of the rest. One night God showed me, making me lose all the money, the injustice that rules the world.
-Some eat bread and others shit. God was always brilliant, when He told me that, He made the 32 come out when I had bet on the 15 and 19.
- Half of humanity dies in order to enable the other half to live. Here, in this saying God was implacable, I bet on 17 and He made 25 come out, I bet on 8 and He made 30 come out.
There are all kind of things in the world, God would say to me, but the world is unjust. Some, a lot, others some, a and the majority, nothing, and to demonstrate what was said, the only time I stopped betting on 35 He made it come out three consecutive times.
I had understood something, this time God had taught it to me once for all.
I'll have to live and die a little each instant.
Winning and losing are not things of the individual, they are things of gambling, things of God.
It's all right this way, I feel already like working.
16
Whenever possible, a poem written by one of the members of Grupo Cero Poetry School will be published in this section.
I MISS THE BRILLIANCE
Coward, coward
and the heart went walking in the mornings
as if dawn were the quiet consequence.
Entire days thinking of possessing
the time of oblivion,
the time of memory,
the time where life reigns.
Eternity without time, cosmic negation.
Such an investment for this bet,
disastrous investment when life
was inexorably coming and the day declining
and it was impossible to think at dawn
a morrow altered by light,
of vane ambitions,
of beliefs always mistaken.
Coward, coward
was the voice when day declined
where a new beginning was history,
which I had not written, without ending
that appeared amongst the dawns of the day about to rise
and the soft darkness of night in which I dreamt.
Ceaselessly thing repeated themselves,
day succeeded night,
ceaselessly like many would be
and no ovation will come to claim,
the no ending which I so many times wanted,
That so many times I broke like a dry branch
amongst the first dawns of light,
the other which cannot be embraced.
Coward, coward
And there was no fighter to encounter
nor similar size with which to measure myself,
a day would live without me in the future
and an anger marking out the unfinished,
the lightness, the transitory thing,
that point in which I struggled,
not even virtual.
Only the cry broke the co-ordinates,
the string vibrated once more
I gave the first steps,
The voices did not come from me,
it was the uproar of those who like me
did not understand,
who in chains
moved amongst shadows.
I was filled by the brilliance
the vision gave me a flair
I made a reverence in general
and I filled myself up with dreams.

NORMA MENASSA
The author has published:
POETRY:
PSYCHOANALYSIS:
17
Though everybody may abandon me, this time the accounts are looking well. At the level of knowledge that my work has produced for me, the accounts don't depend on the people, few or many, that surround us, they depend on the thoughts they arouse, of their articulation.
That the Unconscious exists is a necessity of all Humanity. If one works for that, the accounts are already made. The individual only has to let the idea work on him and not to think that it is him who models the idea.
The incorporation of the concept of the Unconscious produced by Psychoanalysis to the different branches of Knowledge, Politics, Education, Health and Art would be of great help to Humanity, including us.
A few of the neurotics will be cured in some way by experience. But psychoanalytic experience is not precisely therapeutic, but, theoretically, revolutionary.
18
Something that is thought doesn't need to have existed to be thought. Something generated by thought produces a different way of thinking. Something like saying that any resemblance with fiction is pure reality.
A breath of time, but where to say in the dictionary what was said results impossible.
19
A way of stumbling permanently without falling. The one who wants to stop stumbling permanently, falls.
20
Perfection is the mechanism that points out in every human act, imperfection, the lack. There are days in the future that I shall never live. Even though I might live a thousand years there are days in the future which are dead for me and that is perfect.
---