Weekly magazine through Internet Indio Gris
Nº 139. THURSDAY, JANUARY 16 TH , 2003
FUSIONED - DIRECTED - WRITTEN AND CORRESPONDED BY: MENASSA 2003
WE DON'T KNOW HOW TO SPEAK BUT WE DO IT IN SEVERAL LANGUAGES
SPANISH, FRENCH, ENGLISH, GERMAN, ARABIAN,
PORTUGUESE, ITALIAN, CATALAN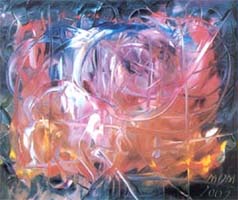 INDIO GRIS, IS A PRODUCT
OF A FUSION
THE BRIGTHENESS OF THE GREY
AND
THE JARAMA INDIAN
THE FUSION WITH MORE FUTURE OF THE
21st CENTURY
---
INDIO GRIS Nº 139

YEAR III

EDITORIAL

I'm exultant, the difference between the world and I is sidereal, sometimes favouring me, other times, favouring the world.

In writing I always win.

In life, life always wins.

There will be another way of turning back, I say to myself, or there won't be any turn back.

We should have known about all our life before living it, when we started to live it was already too late for almost everything.

We have been decades waiting the definite encounter and nothing happened, nothing, almost nothing.

All the strength directed towards only one side and so the impossible will come true.

Pain, beloved pain, leave me right away.

I'm convinced that work is the central concept of my life, I firmly believe that what I ambition doesn't exist except by producing it.

She doesn't want to speak, she wants me to tell her what to do.

I tell her: Each one has a different destiny to mine. Now I only have to communicate it.

In a few years time for me and for many others our third age starts. So not to be old jerks, each one has to be different to all the others.

Each one must be different to the other, meaning a road for each one, there isn't a road for two.

The better halves will have only half of the road.

There will be children and youngsters up to a certain age, after each one will have to produce their own road.

I want it to be understood, there will always be children and there will be parents, but each one traversing their own road.

And it is good to remember that the worst ones are the best ones, sometimes, only sometimes.

I stop being.


I embrace in a jump


the fragile thread of a voice


and deliver


the rhythm of what is human


to any word.

I live in the territories


where life


always touches the bottom.

DARLING,

I find in the warm ceremonies of your body, a future which pulls me out of life, which pulls me out of the reality of existence.

The sad interval turns, now, into this spring of fresh milk between your eyebrows.

In this century, there won't be pollution except for your eyes.

- Look, doctor, I think of my ass and my mouth. It bleeds and I smoke.

I'm wearing nappies in my mother's arms.

Perhaps I should visit the cemeteries where some of my beloved dead are and, perhaps, too, go to the doctor.

I would like to live many, many years and sometimes I die right away.

The amount of committed and accumulated errors can take a whole life and several books before exhausting their comprehension and rectification. I better start to take care of myself immediately.

- We'll continue the next time.

While she scrupulously cleaned her ass, sliding lightly her soaped hand from the front to the back, from the clitoris to the last vertebra, in the next room he was talking about vast territories which he had conquered in a fecund love relation, and I imagined myself as a huge dick invading suavely her warm caverns.
Cero Group Consulting Room
COUPLES COUNCELLING

TALLER DE ENSAYO

Miguel Martínez Fondón
Psychoanalyst

Coordinador:
Juan Carlos De Brasi


APPOINTMENTS: 91 682 18 95
GETAFE (MADRID)

91 547 56 64 (MADRID)
I don't want to go around the world to find myself. I'm comfortable with this situation where to be with myself I have to be with others.
The truth of joy is the mirror of the soul.
To be afraid, I say to myself, is to have desire.
The example are those great men who fought against everything for an idea, for a way of conceiving reality.
Indio Gris
---
THIS IS ADVERTISING
---