Weekly magazine through Internet Indio Gris
Nº 138. THURSDAY, JANUARY 9 TH , 2003
FUSIONED - DIRECTED - WRITTEN AND CORRESPONDED BY: MENASSA 2003
WE DON'T KNOW HOW TO SPEAK BUT WE DO IT IN SEVERAL LANGUAGES
SPANISH, FRENCH, ENGLISH, GERMAN, ARABIAN,
PORTUGUESE, ITALIAN, CATALAN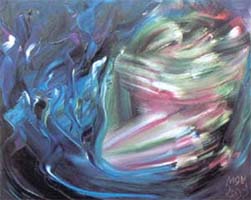 INDIO GRIS, IS A PRODUCT
OF A FUSION
THE BRIGTHENESS OF THE GREY
AND
THE JARAMA INDIAN
THE FUSION WITH MORE FUTURE OF THE
21st CENTURY
---
INDIO GRIS Nº 138

YEAR III

EDITORIAL

YEAR 2003, JANUARY 1st

When the characteristic of the problem are drawn to life, everything gets complicated.

In wanting to write, to write something there which would allow me to know that another year has gone by, even for the things and the people we love, with surprise I found that my computer wouldn't let me write, if I couldn't be able to give it my identity.

I looked with desperation in my memories and I didn't find the least sign which would indicate me the road to my own identity. Initially I doubted of my computer. "Isn't she stupid! I said in a loud voice, to ask me for what doesn't exist". I repeated the operation and nothing, she, with a voice at the same time remote and metallic, repeated in various languages, "Your identity" and I think that one of the times she even asked for it saying please. At this point I came to think, intrigued, "Why could it be a favour for the computer if I have or find an identity? And then I started to consider it human, not any identity, it has to be the correct identity, an identity possessing 25 digits. And I had no other choice but to understand everything. To be able to write in this computer I have to have 25 fingers, something like telling me that something was missing in me or, to put it in a better way, something was more than enough in me: the way of thinking of the year that had gone by, that piece of soul which still belongs to the past and I can't surrender. Or me, perhaps it was me who was a surplus to be able to achieve certain questions. I surprised myself by saying; I have to get away from me.

To be able, now, to surrender myself to the mechanism that took the whole humanity a century and a half to put into motion. And then man writes, sings, makes love or war according to the countries, but him, when all of this occurs, isn't there, he had to be left aside in order to love, to write, la la lara, la la…

Doing well the things that must be done in each case and paying for what must be paid for to make the mechanism work, no one would have any identity. The identity would be the road which either the woman or the man have decided to produce as their own life.

I am almost dead


and however


I feel my heart beating.

A sort of


affected finesse


an art.

DARLING,

When I see you blue, lively, hoisting your own words, I see myself writing my smile on the water.

I promise it to you, when the loud noises of love sound, I'll be by your side. This time I'll make the survivors and the dead accompany me, especially those dead persons which died, in Aragon's poems, of a clamorous violent death: the executed because of an equivocation, the executed witches, the dead absolutely transformed.

An open ash, a great companion death.

-Look, doctor, I'm almost dead, my body aches all over, as if everything had died, when everything is blooming more than ever, but what happens, doctor, is that she doesn't love me, she loves her mother, loves all her mother's mutilations, her ignorance. Everything is going well for me, like I had thought when I was young, but she doesn't love me, so I can't enjoy what I have obtained.

When you sink in the humble sarcophaguses of rage, nothing will hold us together any longer. Lark of death, I'll be able to flee. You'll see, I'll leave in some verse not to come back. I leave you so that you can tranquilly die of sorrow and of foolish things, arguing with your mother about the real colour of vegetables with the passion of one who is about to conquer the world.

- We'll continue the next time.

You invented my body piece by piece. First the tits, little adolescent tits ready to discover the universe. Afterwards, two discreet buttocks which soon were transformed into an ass, when your dick of Galician designer separated, forever, my innocence from the future. The last thing was my pussy, invisible crack of my name.
Cero Group Consulting Room
COUPLES COUNCELLING

EROTIC LITERATURE WORKSHOP

Miguel Martínez Fondón
Psychoanalyst

Coordinator: Miguel Oscar Menassa

APPOINTMENTS: 91 682 18 95
GETAFE (MADRID)

91 758 19 40 (MADRID)
Don't come, said poetry to me, that I'm already by your side, and I didn't pay attention to her, I went on looking for her.
I'll write until before I get tired.
I'll make love to the point of a slight tachycardia.
I'll earn enough money and, on the other hand, I feel happy that my way of thinking ideas needs of the world of ideas.
I'm not interested in the conclusions about the being, only about the labyrinth of the being. From the being, only what is the preparation to be.
To create a new exit is more than going out through some of the established exits. To break a wall of the labyrinth.
To produce light out of doubt, that is virtue.
Indio Gris
---
THIS IS ADVERTISING
---