Weekly magazine through Internet Indio Gris
Nº 136. THURSDAY, DECEMBER 26 TH , 2002
FUSIONED - DIRECTED - WRITTEN AND CORRESPONDED BY: MENASSA 2002
WE DON'T KNOW HOW TO SPEAK BUT WE DO IT IN SEVERAL LANGUAGES
SPANISH, FRENCH, ENGLISH, GERMAN, ARABIAN,
PORTUGUESE, ITALIAN, CATALAN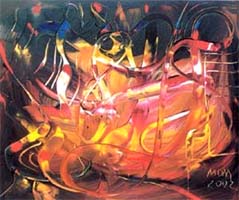 INDIO GRIS, IS A PRODUCT
OF A FUSION
THE BRIGTHENESS OF THE GREY
AND
THE JARAMA INDIAN
THE FUSION WITH MORE FUTURE OF THE
21st CENTURY
---
INDIO GRIS Nº 136
YEAR III
EDITORIAL
There is no keyboard or obscurity of me that she hasn't touched with her purity, that is to say, one of the forms of ignorance.
She touches, but ignores her capacity to touch.
She lives not having touched, lives not having lived and, afterwards, she receives as gifts, the effects produced by her own experience (still unknown by her) of having touched. Stimuli which produce in her the effects of illness, rather than by being morbid, by being unexpected.
There where she didn't expect it, what was hoped for couldn't meet her (an ego of hers) but an empty space of her ego, a nothingness of her.
That hole in the ego, impossible to be conceived as word, takes hold so that the mechanism of the individual's own body is able to be possible and leaves a mark in his body that death, from the future, claims as its own.
POETRY ALLOWS EVERYTHING TO ME

To stammer

To stammer


when there is no road


to stammer


eventhough, little by little,


to start saying.

First, a solitary word,


after the word


memory will come


and the words of memory


that recall in us the word.

Shivering


crying


full of fear


does not stop saying.

I started to fall


and because of a trick of destiny


I saw myself falling.

Sometimes


I was falling like snow


slowly


more than falling


the real game was to fly.

Olympic cotton-like ice


I alighted over the souls


and in the obscure passion


of encounters


an instant I was myself


later something else.

Sometimes to fly meant falling


abruptly


against nothingness


against the ground


against a woman.

Stone


winding hail


fell without interruption.


Hardened heat


vertigo of reaching the end


traversed all confines.


Beast condemned to die


traversed the soul.

I was free all the time I wanted.

From possessing such freedom


my hands and my eyes


were filled


with violent miseries.

Solitude and hunger


in each freedom


took possession of my mind


and ruminated freedom


as if freedom


were a wild grass


and I, a beast.

Freedom, useless freedom,


and once more I bit that emptiness


and went out into the street


and the merchants looked on me


with disapproval


and some friends told me:


You are losing weight


if you go on like this


it will take you to silence


some afternoon you will die.

Dead


I looked at them


stultified, without understanding.


They wrapped my body


with delicate clothes


like nobody had ever seen me


and they shouted at each other:

Freedom lived in him.


Freedom has died.

To see the video you must have installed the programmes in your computer.

http://spain.real.com/freeplayer_rp8.html


http://www.divx.com/divx/

DARLING,

There, where sarcasm asked itself for the unreasonableness of hatred, there

I will wait for you.


Sad slave of God,


there, where the trees swear for us the fidelity of time,


there, where the nocturnal birds age slowly,


there, I will wait for you.

She insists that she will go on being crazy till the end.

And I answer her that making love with people who still love their mother, is terrible.

-Don't be worried, doctor, next year I will fall in love with you and some stupid will say that psychoanalysed women only love their psychoanalyst.

- We'll continue the next time.

On the table, as usual, he always remains seated, by chance, between two of his beloved women.

When they were all preoccupied choosing what they were going to eat, inconspicuously, he lowers his hand the most he could to hold her thigh, and then he lowers the other hand to hold my thigh.

Slowly he approaches his hands very close to both pussies.

I had a yellow dress, very short, and he could slide, hand on skin, directly to my skirt.

She and I looked at each other like accomplices, as if there were a pact signed some days ago to look at each other.

I, in her gaze of a rejoicing person, listened to:

-Ah, what this son-of-a-bitch is doing to me and staring at me fixedly she asked me, do you want some cheese?

She with one hand and I, with the other, touched lightly his dick, penis yet and, slowly it went on taking extraordinary proportions underneath his white trousers.

-You are going to make me come as two crazy women together and in front of your boyfriends, your girlfriends. What a shame!

I looked at her with desperation. She half-closed her eyes and I let my fork drop to the floor, when she moved her head affirmatively and when bending myself to pick the fork, I was able to drink all his semen. She, with her hand under the table let go his dick and touched my head tenderly.
Cero Group Consulting Room
COUPLES COUNCELLING

EROTIC LITERATURE WORKSHOP

Miguel Martínez Fondón
Psychoanalyst

Coordinator: Miguel Oscar Menassa

APPOINTMENTS: 91 682 18 95
GETAFE (MADRID)

91 758 19 40 (MADRID)
1
I don't think I will believe a lie. Life hasn't been done by no one, yet. And whoever would want to start, it would take a relatively big work to achieve it.
2
If it is something that is going to happen for the first time in the world, I told him calmly, it cannot happen from one day to the other.
3
A man attempting against himself the whole day, won't be able to exist. The enemies must be outside of us.
-To change my life will mean to encounter what is beautiful, with my face full of life.
- I will commence by dedicating myself to the health policy.
No, no, the voice said to me, you will start by changing your sexual relations and almost all your social relations.
- I will start by living, I will start by living.
No, no, said the voice, you will start by changing yourself.
- To change… to change… yes, of course, I would like it, but how? To bind myself to what new delirium, if I'm already unwinded.
To change, the voice repeated dryly.
- I understand, I understand, there is a dawn in my gaze but it is cloudy.
Or you stop writing or you change, this time the voice gave no alternative.
- I'm a tough man, I'll change, I'll strip off my skin and I'll be someone else.
Indio Gris
---
THIS IS ADVERTISING
CERO GROUP
celebrates Christmas this year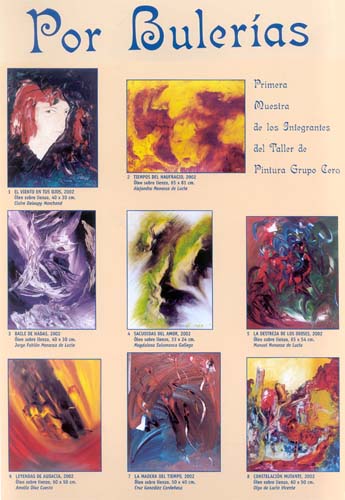 Exposición: Grupo Cero • C/ Duque de Osuna 4
28015 Madrid • Tel.: 91 758 19 40
www.momgallery.com
UNTIL FEBRUARY 4TH, 2003 !!!
Awakened Poets' Club


4 Duque de Osuna St.


Tel: 91 758 19 40


Entrance fee from 10 Euros


The price includes:

the raffle of a drawing and the possibility of participating

in the auction of two oil-paintings by Miguel Oscar Menassa

The basic price of the auction is 100 Euros

THE RECITAL IN VHS FOR SALE.


In CD-ROM The best poets in the voice of Miguel Oscar Menassa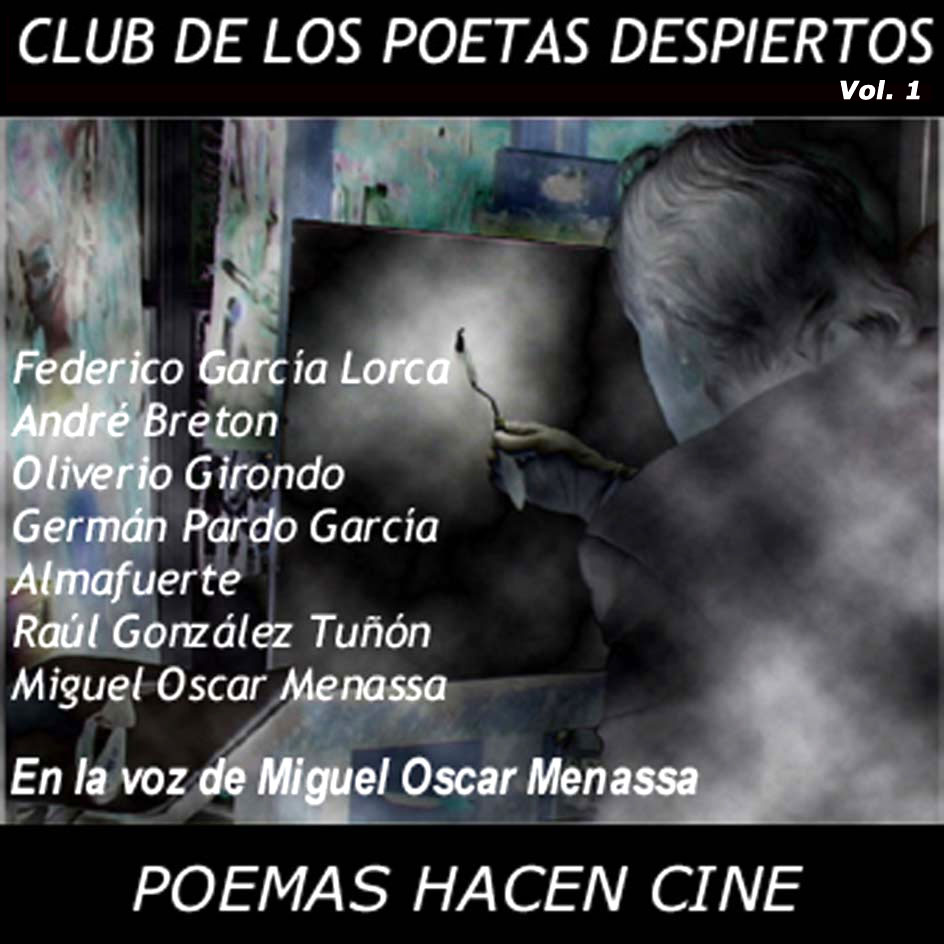 Awakened Poets' Club


We don't close


in the summer!

Every Sunday at 7pm 4Duque de Osuna St.


Also at home, buying the recital in VHS.

Telephone: 91 758 19 40


Anticipated booking of tickets


Tickets from 10 to 50 Euros
---