Weekly magazine through Internet Indio Gris
Nº 134. THURSDAY, DECEMBER 12 TH , 2002
FUSIONED - DIRECTED - WRITTEN AND CORRESPONDED BY: MENASSA 2002
WE DON'T KNOW HOW TO SPEAK BUT WE DO IT IN SEVERAL LANGUAGES
SPANISH, FRENCH, ENGLISH, GERMAN, ARABIAN,
PORTUGUESE, ITALIAN, CATALAN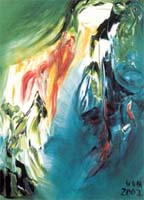 INDIO GRIS, IS A PRODUCT
OF A FUSION
THE BRIGTHENESS OF THE GREY
AND
THE JARAMA INDIAN
THE FUSION WITH MORE FUTURE OF THE
21st CENTURY
---
INDIO GRIS Nº 134
YEAR III
EDITORIAL
CS: Is a teacher necessary within a psychoanalytical community?
MOM: When a psychoanalytical group splits to place itself in favour or against a discourse, it stops being a cluster of fragments to become a dissociated group, it isn't a production group yet, but it no longer suffers from the phenomena of the mass. In reality, to my understanding, what is elaborated in the appointment of a teacher is cannibalism and this elaboration isn't all the civilization that must be attained by a psychoanalytical community, but it is its beginning.
CS: What function does writing have in Cero Group School?
MOM: If we aren't alone, if we aren't the only ones, each triumph of poetry will be a triumph for all men and each defeat of poetry will be a defeat of the whole humanity.
Some day, someone will pay for man to achieve happiness or glory, but for the time being it isn't like this and tranquilly waiting, doing nothing, it will never happen.
CS: What does the candidate lack?
MOM: Everybody is afraid of being discarded in each new movement, when in reality, all those who remain enrolled as eternal patients are discarded.
CS: What would you say to those who want to exercise psychoanalysis out of a group?
MOM: In vain you wander through the domains of science, no one learns but that which is given to him to learn. It is impossible to live according to the principle of pleasure.
What is psychic is so singularly unique that no comparison can define its nature.
Afterwards, if you want, you can hit your head on the wall or tear off your balls, nobody will cry for you.
POETRY ALLOWS EVERYTHING TO ME

Poetry allows everything to me


and I do whatever I want with her.


Sometimes I let myself being carried away and She


wraps me up in her vertigo


word against word


an unsustainable


body to body wrestle.

I come to break illusions.

Between my arms


she will not be able to love anyone


because I am the one who was born


so that she would not die.

Vortex of myself


I sustain myself on her


to sustain her


and she in her freedom


continues to be with me


as when we met


the first time.

Anxious of me


willing of me


young


always young


by my side.


Unbalanced


and even clumsy


with so much youth


she dances with me


for the first time


the music


which will be danced


in the oncoming centuries.

To see the video you must have installed the programmes in your computer.

http://spain.real.com/freeplayer_rp8.html


http://www.divx.com/divx/
DARLING,
Sensing how little what I will be able to do is, I try, in a desperate search of a being, in order to tranquillise you. If everybody has a being, I will also have one.
Aquatic serpents surge stubbornly. Opened like flowers in the season of the south, they let themselves be penetrated by any wind, by any illusion.
Everything was a game for me, except poetry. And there, in that crucial negation is where the most beautiful thing of my life takes place. Without going further, my verses.
The second encounter was even more dramatic than the first one. The "No" woman arrived and told me, after kissing me with two badly given kisses, one at each side of my mouth, that she was no longer preoccupied by the cancer we were curing, but she was very worried by the cancer she was going to have in the future. That is to say, she was not worried about the cancer I was curing, but for that other cancer she would dedicate to me if I couldn't cure her.
I told her that in the end I hadn't done so much for her so that she should pay me a fortune for her treatment.
- I can't stop thinking about anything else but this new pain which is not new, because my grandfather had it. It is an ache in my back, on the right side, as if it were a stab, as if there were some treason implied in this ache, some guilt for having spent such a good time with my husband on Saturday, when in reality I would have liked it to be with someone else.
- God punishes without a stick and without a whip and loves without kisses.
- We'll continue the next time.
I knew what she wanted, she was asking for it screaming among pantings and movements of maddened cobra. I knew how to transport her to paradise, I myself have flown beyond what is allowed.
I lost the notion of my limits, her hands, your dick, I was pussy opened to the quests of love and, also, the voracious and stubborn tongue which ploughed impossible abysses to the heart of desire itself.
Cero Group Consulting Room
COUPLES COUNCELLING

EROTIC LITERATURE WORKSHOP

Miguel Martínez Fondón
Psychoanalyst

Coordinator: Miguel Oscar Menassa

APPOINTMENTS: 91 682 18 95
GETAFE (MADRID)

91 758 19 40 (MADRID)
The worst is to have too many ambitions compared with the capacity for work.
I was happy, I was happy, that is what I have to say some time, humanity has to know it, I was happy, the happiest man in the universe, I understood solitude and thought that my solitude was a small thing compared to any other solitude, the one coming from centuries, for example, the solitude of the stars.
I drift without being able to retain words at the edge of a sense, I feel as if I were not doing things precisely well, because I no longer know if with such noise I will be able to listen to the sound of some crying.
I have to be able to overcome disorder, always a bourgeois, that is to say, the disorder, deciduousness is always counter-revolutionary, whatever may be said , and whatever revolution it may refer to.
Indio Gris
---
THIS IS ADVERTISING
CERO GROUP
celebrates Christmas this year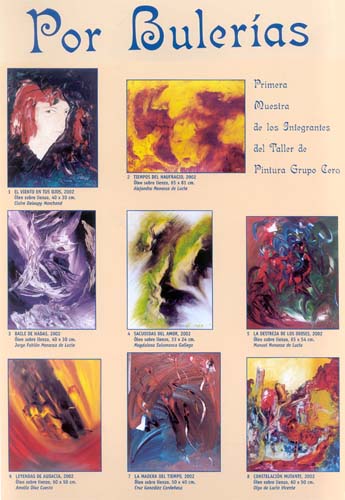 Exposición: Grupo Cero • C/ Duque de Osuna 4
28015 Madrid • Tel.: 91 758 19 40
www.momgallery.com
UNTIL FEBRUARY 4TH, 2003 !!!
Awakened Poets' Club


4 Duque de Osuna St.


Tel: 91 758 19 40


Entrance fee from 10 Euros


The price includes:

the raffle of a drawing and the possibility of participating

in the auction of two oil-paintings by Miguel Oscar Menassa

The basic price of the auction is 100 Euros

THE RECITAL IN VHS FOR SALE.


In CD-ROM The best poets in the voice of Miguel Oscar Menassa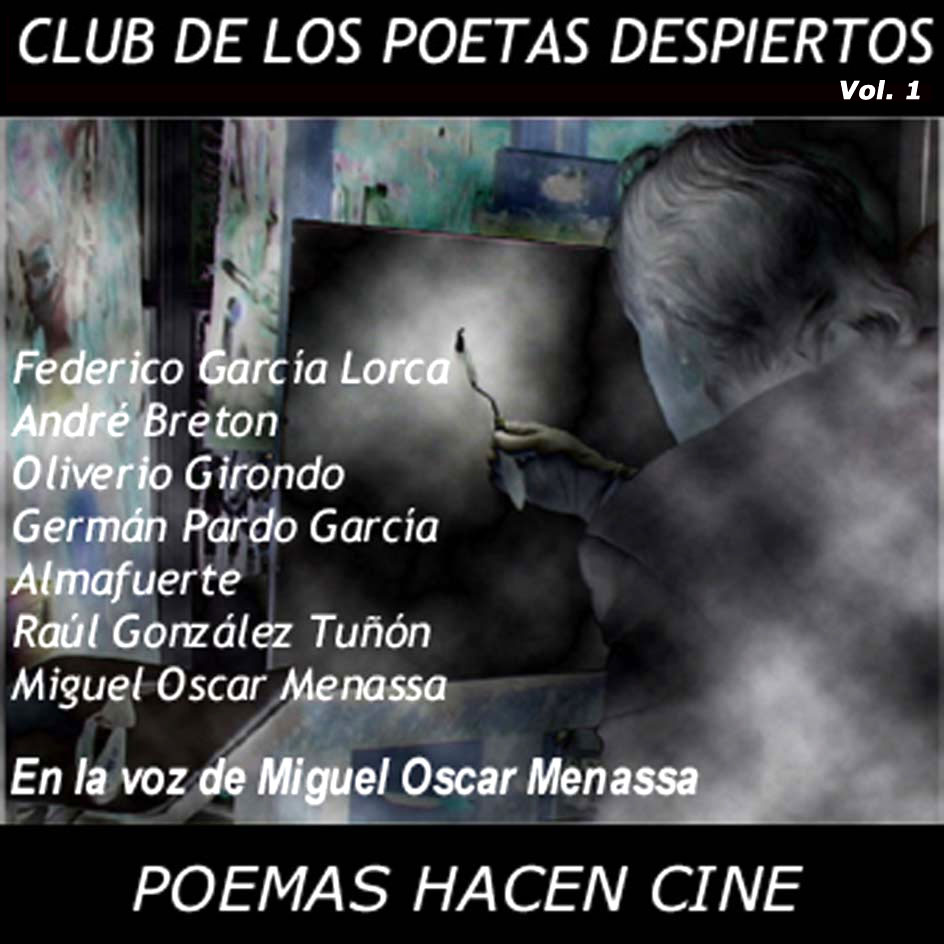 Awakened Poets' Club


We don't close


in the summer!

Every Sunday at 7pm 4Duque de Osuna St.


Also at home, buying the recital in VHS.

Telephone: 91 758 19 40


Anticipated booking of tickets


Tickets from 10 to 50 Euros
---