Weekly magazine through Internet Indio Gris
Nº 133. THURSDAY, DECEMBER 5 TH , 2002
FUSIONED - DIRECTED - WRITTEN AND CORRESPONDED BY: MENASSA 2002
WE DON'T KNOW HOW TO SPEAK BUT WE DO IT IN SEVERAL LANGUAGES
SPANISH, FRENCH, ENGLISH, GERMAN, ARABIAN,
PORTUGUESE, ITALIAN, CATALAN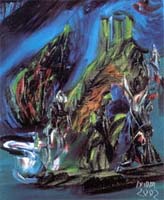 INDIO GRIS, IS A PRODUCT
OF A FUSION
THE BRIGTHENESS OF THE GREY
AND
THE JARAMA INDIAN
THE FUSION WITH MORE FUTURE OF THE
21st CENTURY
---
INDIO GRIS Nº 133

YEAR III

EDITORIAL

I have more fear of writing about the things that happen to me with money and the persons surrounding me, than writing about love relations, even the most hidden ones. To give and to receive money is, also, a love relationship, but more prohibited.

The law doesn't sanction, not even realises of a badly given or inconvenient caress from father to son, but the same law condemns the father who gives money to his son.

Almost all women tolerate, more or less well, a love affair from their husbands, but they don't tolerate nor well, nor badly, an economic treason. Some men can tolerate a love affair from their wives, but none of them tolerate an economic treason, in this, they are able to kill what they used to love. For the current man and woman money seems stronger than sex and more effective to solve the problems of living.

On the other hand, money can produce sex, love, if you want to put it this way, and money. Sex doesn't produce money, unless it turns into an unhealthy work (for example, prostitution). And the money produced by putting sex to work is never too much and it suffices, but for very little. And the love for money only knows how to spend it.

These investigations, almost thoughts are a possible way to be able to start some day to write of the relation to which money submits me.

Money submits me means that, when I decide to live well, to love, to study, to talk, if someone wants to go on holiday and occupy himself a little in politics, money tells me that without money all that I want, that I desire, that I ambition, cannot be possible. Or much worse, some intelligent person can tell me that I don't want, that I don't desire, that I don't ambition, because if not I would produce the money which can make it possible..

It is in this point where money is, for the subject, once more, stronger than sex. Men and women who could have shared with other men and women, their bodies and the bodies of their lovers, now in adult life produce money only to eat and shit, in order not to share it.

I want to say that envy in the individual is more structured, is more expressive in front of the money fetish than in front of the sexual fetish.

Example: I'm jealous of your secretary, unbearable jealousies.

When he, in order to tranquillise her, tells her: "but darling, if we never made love", she promptly answers: "I don't care that you make love with your secretary in your tales, I am jealous because she is allowed to sign cheques".

He also suffers from the same malady, because he would have been ready to stop his love affair with his secretary, but he isn't ready to take away from his secretary her signature from the bank accounts.

Once more, and this time in thought, money was stronger than sex.

We could say that I have been all morning with these lines and I haven't accomplished narrating anything, when they are simple things referring to money and it seems to me that it is a pornographic sex narration.

We had been losing in the road


our desire for liberation.


Among the chains


the pleasure of the flesh was beastly.

The microscope


against ourselves


and we laughed as mad people


and started to torture each other


to tear off the truth from us.

Come, tell me everything and, that way,


we sank in the shadows.


To live an instant was enough


the rest of the life was to tell about it.

And the ones who could not maintain


their eyes closed


pulled out their eyes


just not to see.

To see the video you must have installed the programmes in your computer.

http://spain.real.com/freeplayer_rp8.html


http://www.divx.com/divx/
DARLING,
I'm impressed by the time I haven't been able to touch you not even sideways. I can't completely understand the distance to which we are submitted, everything must be from far away, the distance must be longer than the length of my poor short enamoured arms.
I'm ductile when I write to you, I don't let things carry me away, I say them and, of course, they lose some of their shine, of their spontaneity.
In having to remain without your body, my darling, I remained without poetry. And, only with talent, things function but more or less.
To write a poem a year isn't being any poet, is to be a worker of history, there isn't much creative gratification for a historian. A historian works the whole time, when he reads he interprets, when he interprets he modifies, when he modifies he is writing his own history, that is to say, he psychoanalyses himself.
I have been frightened all this time that what happens to me wouldn't have happened. I expect that you adequately understand my modern opinion about the issue of love.
I'm like an idiot because of the functions, I never end to be far away from horror, I'm disorientated, it is like saying that nothing that I recall is beautiful, remote. Something in me lacks of a known shape, that is why I ask you for calmness, time to think over the universal orders that come to me from all the places of a verse, someone who may have that comprehension that doesn't kill, that doesn't punish, that finds sense to all things man does.
When I want a bit of money, it is to understand that the world is only for those who never sleep. Money so that someone doesn't sleep for me.
The future of man is dark, but the machine, this decade, will grow up to paroxysm, and for another two more decades it will be thought that I am the brain of the machine; I will have to learn how to manage it, so that it doesn't affect me.
Wrapped in your Moorish perfumes, I spell my name:
- I'm called the Professor, I'm a modest smuggler of ready done phrases. In my already said phrases, poor souls look for shelter, desperate souls, thrown to their own destiny. Do you see, doctor? I'm desperate because everything goes well with me and that disgusts me a little. What a shame, I'm sure nothing of this happens to none of your patients.
I didn't answer him, but I thought that the same things occurred to patients all over the world, in the end they weren't used to win.
- Sometimes, when I was a child, I was looking for someone in the street who would break my face and, that way, walking, sometimes I found a friend.
I, more for intervening than for feeling it, told him that the only time that can't be altered is the time of love.
- Yes, what you tell me is a very important thing for all human beings' lives, but I'm tired of obeying, doctor. I think that the time has come for me to impose my ideas, to change everything so that it becomes beautiful, so that it becomes wonderful, do you understand? To dominate myself.
- Well, I told him, so we can continue the next time.
Cero Group
Consulting Room

Cero Group
Consulting Room

Amelia Díez Cuesta
Psychoanalyst

Carlos Fernández
Psychoanalyst

Appointments:
91 402 61 93
Móvil: 607 76 21 04
MADRID
AMELIAA@terra.es

Appointments:
91 883 02 13
ALCALÁ DE HENARES (MADRID)
The temperature of my belly increases when you recite your poems in public. I open my pussy towards your singing tongue and my fingers are your fingers nailing down to the bottom of my soul.
Cero Group Consulting Room
COUPLES COUNCELLING

EROTIC LITERATURE WORKSHOP

Miguel Martínez Fondón
Psychoanalyst

Coordinator: Miguel Oscar Menassa

APPOINTMENTS: 91 682 18 95
GETAFE (MADRID)

91 758 19 40 (MADRID)
1
I'm very happy. My failures aren't the failures of the world. Nor the world's failures are my failures.
2
I go on without having, as when I was young, no idea in my head.
I liked it before, now it makes me unquiet.
3
I'm not going to walk as a lost walker. I'm going to stay here.
I'm already planted, now I'll grow.
Many people trust in me, there will have to be a general disappointment. Everybody will have to cry for what they lost and I, surely, in that way, will have more time to write and for my little things which are never too many.
After so many years, almost 45, she and I, poetry and I. everything is monogamic in my life, overall because what never changes is the ego.
My ego and the world, the world and my ego.
The keys sound like daggers onto the wind.
Indio Gris
---
THIS IS ADVERTISING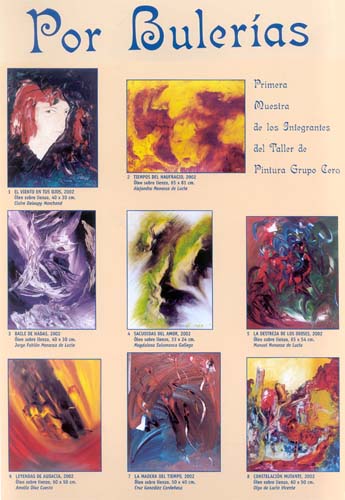 Por Bulerías


First

Exhibition

of the members

of Cero Group
Painting

Workshop


INAUGURATION:


DECEMBER 3RD , 2002
Exhibition: Cero Group * 4 Duque de Osuna St.


28015 Madrid • Tel.: 91 758 19 40
www.momgallery.com
Awakened Poets' Club


4 Duque de Osuna St.


Tel: 91 758 19 40


Entrance fee from 10 Euros


The price includes:

the raffle of a drawing and the possibility of participating

in the auction of two oil-paintings by Miguel Oscar Menassa

The basic price of the auction is 100 Euros

THE RECITAL IN VHS FOR SALE.


In CD-ROM The best poets in the voice of Miguel Oscar Menassa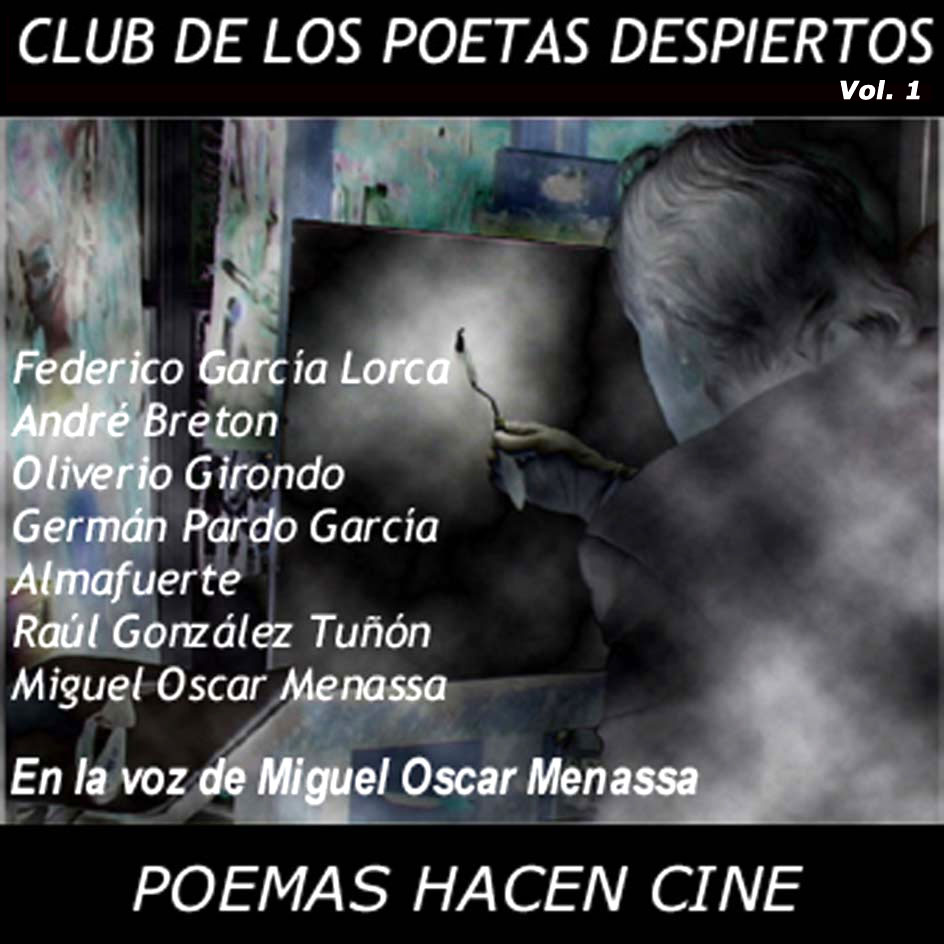 Awakened Poets' Club


We don't close


in the summer!

Every Sunday at 7pm 4Duque de Osuna St.


Also at home, buying the recital in VHS.

Telephone: 91 758 19 40


Anticipated booking of tickets


Tickets from 10 to 50 Euros
---