Weekly magazine through Internet Indio Gris
Nº 132. THURSDAY, NOVEMBER 28 TH , 2002
FUSIONED - DIRECTED - WRITTEN AND CORRESPONDED BY: MENASSA 2002
WE DON'T KNOW HOW TO SPEAK BUT WE DO IT IN SEVERAL LANGUAGES
SPANISH, FRENCH, ENGLISH, GERMAN, ARABIAN,
PORTUGUESE, ITALIAN, CATALAN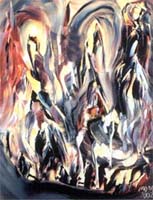 INDIO GRIS, IS A PRODUCT
OF A FUSION
THE BRIGTHENESS OF THE GREY
AND
THE JARAMA INDIAN
THE FUSION WITH MORE FUTURE OF THE
21st CENTURY
---
INDIO GRIS Nº 132

YEAR III

EDITORIAL

Indio Gris doesn't give up

In order to live 20 more years, I have to do almost nothing: drink a little water, write a poem in the evening, paint a picture after work, see to my nocturnal engagements as a man my age should, also see to my diurnal appointments. And drink a little water.

In order to live 50 more years, I should take care of myself in something from today on.

- I will never finish to pay you back everything you have done for me, said the prisoner, on his way to the electric chair.

- It is a saying of the poem, I told the prisoner, but the poem is our life

How I would like to live 200 years, at least 150, that's why I walk very slowly, and being 62, I haven't finished any of my started works yet. People my age, letting themselves be carried away by the ruling ideology, don't project and that is my only grace: to pose, at this very moment, projects, which if they give any fruitful results, they will do so in twenty years time. And I will be 82, but as if I were 30, and that is the fun of psychoanalysis.

Time goes by, but only for the skin. With sex intact, with thought intact, to complain because the skin is wrinkled or a bit dry isn't man's doing, it is faggots' doing.

Life doesn't wear out, what man wears out living are his cells. At certain age, after 60, it isn't that love becomes clumsy, what becomes clumsy, sometimes, is the blood circulation.

And finally, I want to say that it isn't the sex which is forgotten or falls into old age, it is the dominating morale which makes sex old.

To be old, as to be rich, is a proposal of the mind.

If a man moderates his envy, he can be almost happy getting old, of knowing the pleasure that years give and ambition more and even getting old, feel that everything is born in a different way and a new life starts, old age life, that no one ever can think they will live.

I am compelled in demonstrating myself that if I can produce an "entertainment" which may last 50 or 100 years, I could go on living while I am part of the project, 50 or 100 more years.

The most irrational ideas go through by my writing:


To buy myself a boat, to learn how to navigate and conquer Malaysia.


Or try to be a university professor


of an eternal subject, like poetry.

To live among the moss, under the bedrooms,


there, where no one would look for a jewel.


Afterwards I can shine as much as I want,


nobody will notice my shine


only language will know of my sparkles.

Today I can assure, with certainty,


having made love twice in my life


and with that energy, I have been singing for a century.

FLY VERSES OF MINE, GO AGAINST EVERYTHING

It is a verse


that if I had proposed myself to do so


I would have written myself.

My voice


the published word has my voice.


That murmur which turns you mad.

How many times I saw your sex exploding


among my punctuation marks


and I said it to you:


Baby


your love has no limits


I will stop you in a word.

I have no more madness and vertigo


everything happens as if necessary


unavoidable


ardent


and in that ardour


what happens


is POETRY.

She, naked in the midst of my chest,


this century will remain with us


to enjoy, simply to sleep.

I will make her work as a whore


and I will make her


ascend up to the stars.


I will invent a cosmic ear


for her suffering terraqueous voice.

To see the video you must have installed the programmes in your computer.

http://spain.real.com/freeplayer_rp8.html


http://www.divx.com/divx/
Darling,
To stop fighting, I won't stop fighting, but this time I will try another style.
I'll write a simple poem, simple as a gigantic wave rolling from the ocean in the evening.
And you will tell me: I come back to you aged, I come back to you in love, almost with no passion, a thread of desire, almost nothing. I have a brain possible and unfortunate.
I, in the meantime, find among the waves antique tears of your future pain. You could have been my beloved, my crazy, my infatigable domineer.
The old scar no longer exists.
- I love you.
- I love you too.
And no one knew what they said. however, we didn't have any tranquillity, we knew that life was going by for everybody.
And finally, I want to tell you that there is only one difference between my twenties and my fifties. At twenty I loved two women and spoke the whole time about all women, now more than a thousand women love me and I say nothing, that is the difference.
CERO CLASSROOM OF FRENCH
Practise French in Madrid