Weekly magazine through Internet Indio Gris
Nº 131. THURSDAY, NOVEMBER 21 TH , 2002
FUSIONED - DIRECTED - WRITTEN AND CORRESPONDED BY: MENASSA 2002
WE DON'T KNOW HOW TO SPEAK BUT WE DO IT IN SEVERAL LANGUAGES
SPANISH, FRENCH, ENGLISH, GERMAN, ARABIAN,
PORTUGUESE, ITALIAN, CATALAN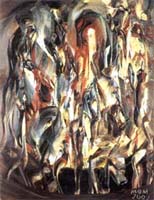 INDIO GRIS, IS A PRODUCT
OF A FUSION
THE BRIGTHENESS OF THE GREY
AND
THE JARAMA INDIAN
THE FUSION WITH MORE FUTURE OF THE
21st CENTURY
---
INDIO GRIS Nº 131

YEAR III

EDITORIAL

MOM: You must realise that all the vicissitudes of life, all the things I had to accept in order to be someone, to have…well, old age must be that. Cero Group wants to programme old age so that when one enters into old age (that isn't going to be at 50), then it makes a concession so that it allows the guy to do all that he had been progressing on, all that he had been putting together during his life, which isn't a bad idea, I would use it in Social Security. The other day, all the people jumped at the PP representative because he said that women should be paid less unemployment subsidy because they live longer. Then, do you see? that is the thought of the State, but my thought is to make them live longer, it is contradictory with modern states, despite that the modern states cannot stop the development of medicine. How can they stop the development of medicine? They make a generation live up to 90 years old and bankrupt all the retirement funds, all the Social Security. They bankrupt everything, nothing is prepared and I can't tell you what would happen if they lived 200 years…

Why, which body is? I'm talking of the driving body.

CS: "He wants to assassinate me, he keeps me between anterior words.

MOM: Some one goes on treating me as before, he wants to assassinate me. Besides, if we would come to believe in psychoanalysis, we can do an incalculable good to society. It must be thought like this.

And besides, if I want to do it for a year it's worthless, but if I want to do it during 50 consecutive years, that's different. "But if you won't live". "Well, do you want me to tell you the story of the cherry tree?" I know that I won't live, what does this have to do? But I can't, because I won't live forever, do in ten years what it takes 50 and that always took 50, always: in ancient times, in modernism, in the contemporary age. "I don't do it because perhaps I may die before", but look what a jerk and selfish person you are. Apart, that question of things having to be finished in order to realise that what I'm manufacturing is a lie. Capitalism shows that this house which you believe is mine, I owe it all, but it is mine. Why? Why do I say it is mine if I can't sell it? Yes, but I can use it.

Threads. Knots. Smiles.


Small glory.


Man in the darkness.

I am the one who no longer suffers.


I do not ask for bread.


I ask for an oceanic extension.


Your beautiful eyes


lying at my feet


round


abysmal


looking up at how


my lips shine in the height.


Skin of cracked nuts


skin of water jugs.

I kiss your dazzled mouth.


I bite your open mouth


because of the blood delirium


and I pull out of my enamoured chest


the statue that I am.

I am not thirsty.


Only skins and verses


through the road of men.

To see the video you must have installed the programmes in your computer.

http://spain.real.com/freeplayer_rp8.html


http://www.divx.com/divx/
Darling,
I'm here, back from the shadows.
I come, oh sea, from the pure sepulchre of dryness.
It is very difficult for me to write little things, when what I should write about the great things of life that I have to live from the next November months on.
To tell you, in general, that I don't get all I can, that not being able is associated to money as much as to the people around me.
I need energy, not for writing, which I have in excess, but the energy to reject the thousand of offers of primitive pleasure which my contemporaries stretch out to me. I'm a virgin harassed by thousand of passionate demons.
Something is functioning in my mind like a disproportionate lust. A verse long enough not to fit in only one book.
Afterwards, there will be more yet.
She arrived all broken down, downwards and upwards. All inflamed but without an Euro.
- I'm not in the mood for anything because I have no savings.
How crazy of me, isn't it?
- Everybody can do things, I can't anything, shit…
And the encounter finishes asking herself:
- How can I write in good handwriting if I don't know how to write?
Cero Group
Consulting Room

Cero Group
Consulting Room

Amelia Díez Cuesta
Psychoanalyst

Carlos Fernández
Psychoanalyst

Appointments:
91 402 61 93
Móvil: 607 76 21 04
MADRID
AMELIAA@terra.es

Appointments:
91 883 02 13
ALCALÁ DE HENARES (MADRID)
They walked one in front of the other, both sideways, moving their little asses always in all cases at the rhythm of fucking, in the middle of the dance floor and they looked at each other and understood that they had achieved almost everything, and they let a silent orgasm escape and, at the same time, endless, and I, hidden in a corner of the dance floor felt that that marvel, that beauty, had been produced by my dick and, to my understanding, they knew it, because after the dance they licked at it, from dawn to the nap hour.
Cero Group Consulting Room
COUPLES COUNCELLING

EROTIC LITERATURE WORKSHOP

Miguel Martínez Fondón
Psychoanalyst

Coordinator: Miguel Oscar Menassa

APPOINTMENTS: 91 682 18 95
GETAFE (MADRID)

91 758 19 40 (MADRID)
1
When the desires of a community integrate it is very difficult that something out of the integration may occur.
2
The one who asks for more than what he can receive, generally dies or at least maddens or intoxicates himself.
3
They will never give me back what they took away from me, but it is also true that I will never return what I have already eaten.
I have to work with no rancour, with no doubts, with no violence. Without remembering any previous case.
She says: we are doing better than ever.
She loves the symbol, I love nature, none of the two are able with what they love.
There haven't been any travels, darling, there won't be any coming back.
We were always in the same place. In the centre of the crack. We are the name of lack of being, the shout of what have never been, the voice of what there isn't. Something that you can remember, not because of its importance, but because of not having been.
No one is prepared to compose me , to articulate me.
I have to learn to work, I have to learn to work. Working, I hope to turn the horizon on our favour. The rest will be easy.
Indio Gris
---
THIS IS ADVERTISING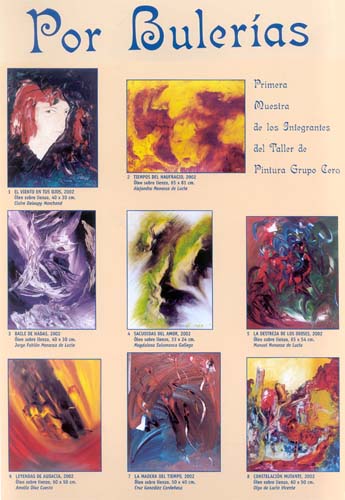 Por Bulerías


First

Exhibition

of the members

of Cero Group
Painting

Workshop


INAUGURATION:


DECEMBER 3RD , 2002
Exhibition: Cero Group * 4 Duque de Osuna St.


28015 Madrid • Tel.: 91 758 19 40
www.momgallery.com
Awakened Poets' Club


4 Duque de Osuna St.


Tel: 91 758 19 40


Entrance fee from 10 Euros


The price includes:

the raffle of a drawing and the possibility of participating

in the auction of two oil-paintings by Miguel Oscar Menassa

The basic price of the auction is 100 Euros

THE RECITAL IN VHS FOR SALE.


In CD-ROM The best poets in the voice of Miguel Oscar Menassa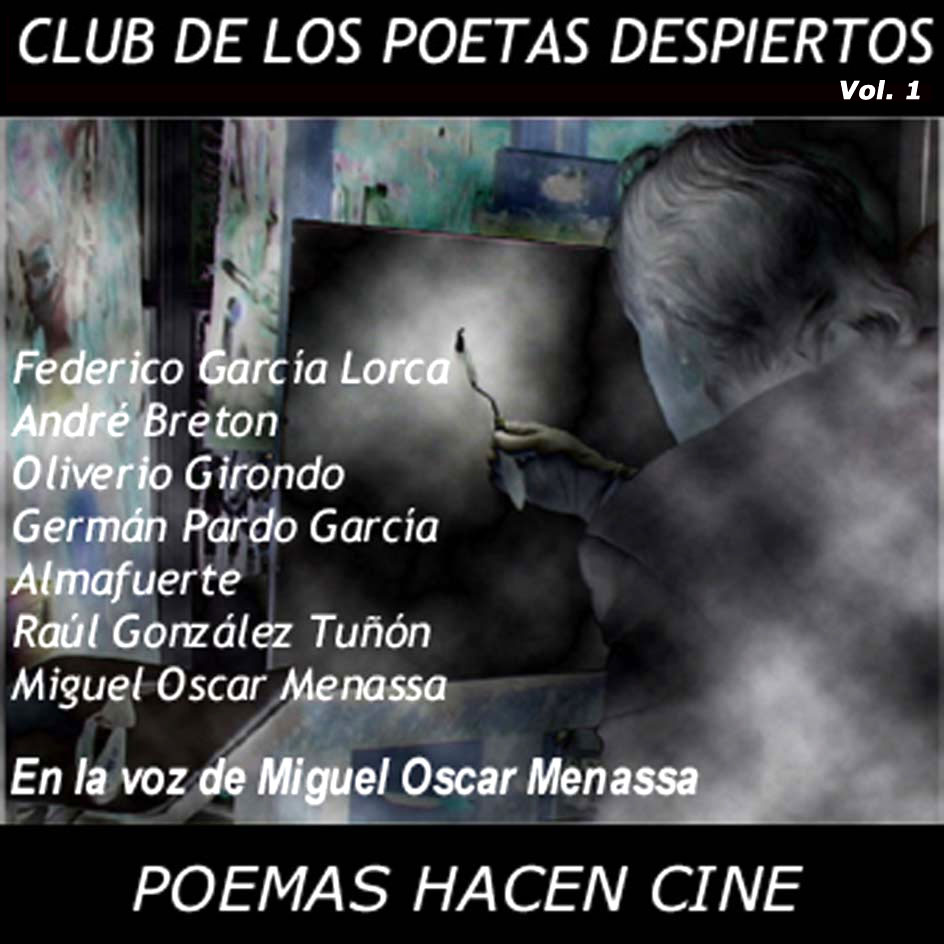 Awakened Poets' Club


We don't close


in the summer!

Every Sunday at 7pm 4Duque de Osuna St.


Also at home, buying the recital in VHS.

Telephone: 91 758 19 40


Anticipated booking of tickets


Tickets from 10 to 50 Euros
---