Weekly magazine through Internet Indio Gris
Nº 119. THURSDAY, AUGUST 29 TH , 2002
FUSIONED - DIRECTED - WRITTEN AND CORRESPONDED BY: MENASSA 2002
WE DON'T KNOW HOW TO SPEAK BUT WE DO IT IN SEVERAL LANGUAGES
SPANISH, FRENCH, ENGLISH, GERMAN, ARABIAN,
PORTUGUESE, ITALIAN, CATALAN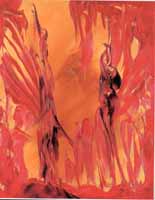 INDIO GRIS, IS A PRODUCT
OF A FUSION
THE BRIGTHENESS OF THE GREY
AND
THE JARAMA INDIAN
THE FUSION WITH MORE FUTURE OF THE
21st CENTURY
---
INDIO GRIS Nº 119

YEAR III

EDITORIAL

INTERVIEW WITH THE POET MIGUEL OSCAR MENASSA

Carmen Salamanca: Did you happen to think that you were going to set this mess, 40 years after, a School, a lot of people writing?

Miguel Oscar Menassa: If you don't reformulate your question better I don't intend to answer.

CS: 40 years with Cero Group writing.

MOM: The first thing that comes to my mind is that I would like to be always at the beginning of Cero Group…

The congresses are held to objectify the passing of time but also to make time go back, because, how do you manage to say X Congress or XXI Congress and how do you go about saying that word and not going back 16 years as a minimum? If the congress is held every two years, it's 32 years ago. It is impossible. Because when I say: "I'm already 62", how do I not to realise that I was born 62 years before? Impossible. On one hand I complain because I'm 62 but on the other hand, in saying that I'm 62, I am reborn.

Today yes we'll paint till exhaustion. Why? Because it is the last day we paint until next week, next week we'll hold a Congress.

Do you know why life is easy for me? Because I say "painter" and before I built everything on a word which is called "singer", can you see that it is the same thing? They are two syllable words, painter, singer, the same song. Before the poet said "Agonising the song becomes stronger than living" and now he says "Painting the song becomes stronger than writing".

CS: That is to say that something has been modified during this time.

MOM: Yes, everything has been modified, because I know of what you're speaking about.

CS: About what?

MOM: I can't say it to you in front of the people. Well, let's start , Carmen. Question.

CS: What has been modified during these 40 years of Cero Group writing?

MOM: Well, I want to tell you "your life" and sack you, because, what kind of a question is that about what has been modified during these 40 years? For an academic or…

CS: For an artist?

MOM: Ah, for an artist who has modified himself. Well, the truth is that I used less paint before, and it would have never occurred to me that I was going to paint such a big picture like this in 17 minutes. Then, the way of loving has been modified. Before, one loved everything one saw and now one loves what will never be seen. Did you understand the change?

CS: Yes.

MOM: For example, when I competed and I was young, what I wanted was to eliminate the other one, to win over him. Now when I compete, I compete so that there are two of us, so there are three of us, so that there are four of us, look what a fundamental change.

Before I loved women and I spoiled their lives. Now I let them love me and then nothing happens, because as they're learning to love…

I'm very nervous. Ask me quickly, don't let me think.

CS: Well, and what about your writing? Because I have the sensation that you don't want to speak about Cero Group writing (or about your writing)

MOM: I don't want to speak like this, I don't want to speak as if you were one of those silly journalists that are around, and each time they see me they ask… You could ask me, for example, about the death of the larks. You always ask me, are you a man? I always have to answer "what do I know", and the interview ends at this point.

Develop. What do you want me to develop?

I'm sad, 40 years have gone by, very sad, like the cows when they laugh. How nice when I only wrote poems, how wonderful!

CS: And now, what else do you do?

MOM: For example, to this that I'm doing now they call it painting, I grasp a whole tube of purple and I turn it around here thinking that I'm going to mix it with blue and I'm going to apply it immediately, so that it looks like the April sky.

I'm going to tell you the whole truth, Carmen Salamanca, even if Leopoldo de Luis doesn't believe it, and here the interview may start.

I was born in a neighbourhood, in a town where Spanish was spoken. I had a strange father, who never learnt to speak Spanish and more odd still because all of his community, who were Arabs, taught their children to speak Arabic and if you didn't speak Arabic they didn't even greet you. Well, I learnt the word whore in Arabic, the word shit, the word water, the word mother and the word grandmother. So, at this point, my life became odd, it turned uncommon, I was odd. I'm telling you of the problem of exile, I see now that the Spaniards and the Argentineans do the same to me. I went to the Arabs' party and they said "this native Argentine child", I went to the Argentineans' party and they said "here comes the Turkish". I wasn't comfortable anywhere. Now I go to Buenos Aires and they name me the "Galician", I come here to Madrid and I don't seem to do well anywhere, I pay more taxes than the Spanish president and they still go on calling me "Argentine?" Yes. although I say yes, do you know why? Because that in Buenos Aires, when I was from Buenos Aires, when they explained you about some mess, someone came and said "let's go and buy I don't know what" I used to say "I, Argentine", which meant "if brother did something bad to you, go and ask brother", "will you lend me two hundred dollars", "I, Argentine" and then when the call me Argentine I remember that and I say "well, it isn't so bad to be Argentine" especially for someone who has so much theoretic activity.

POEMA CERO

In Madrid I learnt to look at the sky.


Against the dry rock, arid plateau,


I found my limits.


I learnt to say no all the times,


like an enamoured man, someone


ready for everything in order to remain.

I remembered my mother so many times.


I remembered my father so many times.


I remembered my brothers.

I was a bleeding wound.


Hatred made of me what it wanted


and as I could not live either,


I drew new roads with my ignorance.

Who is who in this desolate plateau?

Who is the last vestige of purity?

Who is able to stand the direction of a poem?

I left my hands extended under the sun


And little sea stars descended upon them,


announcing for the man I would become,


his destiny, the word.

Afterwards I split my life in halves.


I became the exterminating angel and madness,


magnificent madness:


I forgot about everything
about the tango,


about you.

DARLING,

When you asked me, desperate, an example of ethic change, I answered you rapidly: A change of ethics is for the time being impossible. A change of ethics would be like the savers going to jail and the thieves having their little home. Do you realise?, that is now, impossible.

And yet you could say, "yes, I understand, as impossible as you being named The Poet, which hasn't occurred in a thousand years. So, darling, I'll keep on looking".

We were unwilling, austerity had permeated deep between us. Fear had no need to exist between us, we have never raped anybody.

There, where no one could testify, the being surged, for not being, and that attitude remained frozen by death.

Annoying task this one of verifying the sun against the wild effeminate jugglers.

Lost, also means: opened to any road.

Not even the trembling voice of the agonising man have I to offer you.

Everything seems unreachable to me, also what can be reached.

Saint Thomas of the experimental sciences, like Aragon says in his poem, I'm capable of tearing off the poet's skin, to see if underneath the skin I have some soul, or everything is the surface of my skin, of my words.

To grow, I say to myself, before falling, darkens any intelligence even one elaborated in a thousand love verses.

She came back and told me:

- Man is a shit.

And I wanted to look intelligent and asked her:

- And what about woman?

And she stopped greeting me for two months.
Cero Group
Consulting Room

Cero Group
Consulting Room

Amelia Díez Cuesta
Psychoanalyst

Carlos Fernández
Psychoanalyst

Appointments:
91 402 61 93
Móvil: 607 76 21 04
MADRID
AMELIAA@terra.es

Appointments:
91 883 02 13
ALCALÁ DE HENARES (MADRID)
The music sounded strident as if in a disco. We dimmed the light, although we left enough so as to see our movements.
They helped themselves to whisky. I drank from their glasses and imagined to kiss their lips in unison.
All of a sudden, I had a big gulp of whisky and my hot mouth, recalls me of their mouths. I had another gulp and I ostentatiously rub my fingers over my lips.
I fancy kissing her nipples, I imagine her shivering during two or three centuries with the memories of our love.
I have another gulp of fire and holding them by the waist I make them dance around me.
Their mouths shiver when they think of each other coming closer to me. They stimulate each other thinking themselves in love with me.
And when they get closer they do it with such force, with such virility, that I feel myself discarded until the next act.
Satiated, they compete now to see who is better prepared and alternatively one licks my dick and the other my ass.
We embraced, the three of us embraced slowly and remembered the first moments of the night, and our bodies tremble once more of fear and desire, as if we hadn't had our first kiss.
Cero Group Consulting Room
COUPLES COUNCELLING

EROTIC LITERATURE WORKSHOP

Miguel Martínez Fondón
Psychoanalyst

Coordinator: Miguel Oscar Menassa

APPOINTMENTS: 91 682 18 95
GETAFE (MADRID)

91 758 19 40 (MADRID)
1
The pure alienation in the being is also a simple foolishness. Something exists in us that is not, that cannot be filled with being.
2
Afterwards, the intellectual moments will also come, where everything will be lyrics or song. Enfolding examples of a lifetime, making itself of words, out of any being.
3
Superior sliding. Painful swarm. Sagacious belonging. Charming spring ennobled.
There is a reality which we will not be able to achieve. That is remoteness.
As is said in these cases, the countdown has reached zero.
That is to say, the engines have just been started, everything roars in the style of the wild jungle which I have never known.
My work is little to maintain a family with six children and the rest. In one word, I'm broke. This time is my turn to go back several steps.
What happens is that my place of work is full of junk which, on top of that, costs me the soul to throw them to the garbage bin, where they should be. From the panties of some dead beloved and at the same time, happy, till the notes on how to conquer America with a pair of poems and some money.
In the midst of this new failure, I have learnt something. In this country, which is mine, no one loves the intelligence in itself. No one is interested in the human thought without limits. Everyone desires, with some sort of stupidity and conceit, what is useful, what can be interchanged rapidly for money or something similar or equivalent (a kiss, a caress, a little shit). Sometimes I realise that I am a decisive step for the history of man. I don't know very well if they will allow me to become something.
I am surrounded by solitude, but also by grandeur.
Indio Gris
---
THIS IS ADVERTISING
Awakened Poets' Club


Sundays at 7 PM


4 Duque de Osuna St.


Tel: 91 758 19 40

ANTICIPATED BOOKING OF TICKETS


Entrance Fee: From 10 to 50 Euros

A LA VENTA EL RECITAL EN VHS.
En CD-ROM los mejores poetas en la voz de Miguel Oscar Menassa.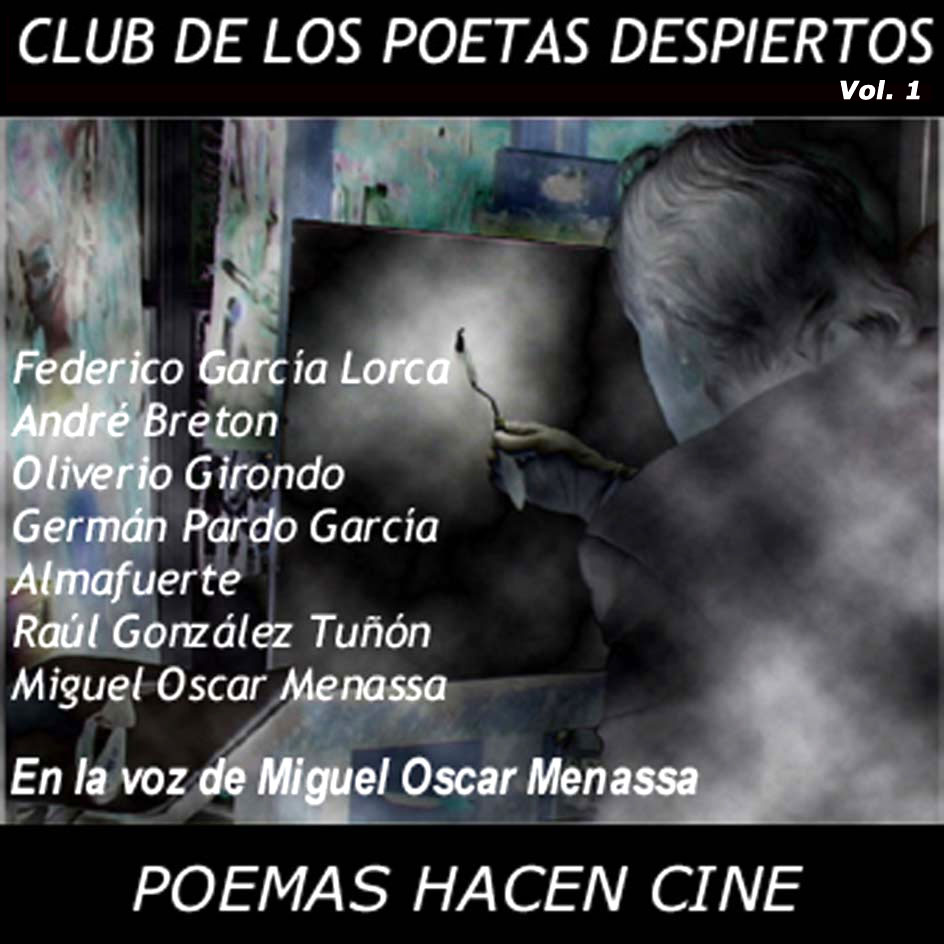 Awakened Poets' Club


We don't close


in the summer!

Every Sunday at 7pm 4Duque de Osuna St.


Also at home, buying the recital in VHS.

Telephone: 91 758 19 40


Anticipated booking of tickets


Tickets from 10 to 50 Euros
---