Weekly magazine through Internet Indio Gris
Nº 116. THURSDAY, AUGUST 8 TH , 2002
FUSIONED - DIRECTED - WRITTEN AND CORRESPONDED BY: MENASSA 2002
WE DON'T KNOW HOW TO SPEAK BUT WE DO IT IN SEVERAL LANGUAGES
SPANISH, FRENCH, ENGLISH, GERMAN, ARABIAN,
PORTUGUESE, ITALIAN, CATALAN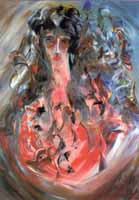 INDIO GRIS, IS A PRODUCT
OF A FUSION
THE BRIGTHENESS OF THE GREY
AND
THE JARAMA INDIAN
THE FUSION WITH MORE FUTURE OF THE
21st CENTURY
---
INDIO GRIS Nº 116

YEAR III

EDITORIAL

INTERVIEW WITH THE POET MIGUEL OSCAR MENASSA

MOM: You're painting better and better, eh! Well, what must be said is that you're painting.

CS: I want to paint.

MOM: Exactly, that's what must be done. We have to use the verbs in the infinitive. Look, if this comes to my mind: "I want to fuck Marilyn Monroe", poor darling, she's dead. It is difficult, I have to turn into an esoteric.

CS: Going back to the theme about how you recite, you recite as if you were in front of a million people.

MOM: Always, just in case. But it is also true that when I make love with an unknown woman, I make it the best way I can, just in case. In case of what? Just in case that that woman wants to remain with me or close to me. Look if I just make a mistake with the woman who wants to remain by my side and I make love badly. Do you understand? And it is the same with poetry, with poetry I try to make the poem the best way possible, while I'm writing it. In the sense that I don't know if poetry would give me the chance of writing another poem, if I'm not good at writing or I write reluctantly or while I'm writing I say that the poet's life is noxious. I'm convinced that a writer is a privileged man in the current systems of cohabitation. They allow us to see something and, of what we see, they allow us to tell something and that is an enormous privilege.

If you move away from the painting, you will see some figures made in ochre which you'll have to respect totally; to fill in all the space but respecting the figures in ochre, please, because they are extremely beautiful. Let's see if you can get it, let's see if you can have some limit. Creation without limits is worthless. Because I recite for a million people, but I don't feel that I'm the best poet of the world, do you understand what I say? I feel that there are thousands of poets like me, but they can't recite in front of so many people, there aren't thousands that have an editorial that supports them, there aren't thousands who earn a living working in another field. Only then, freedom is fully freedom. In that sense I feel like a privileged person. How, if I'm a privileged person, I'm going to recite a poem and I'm going to recite it more or less. No, I may recite it badly but placing my life in that reciting. And when one places one's life on something, it is very difficult for it to have a bad outcome. Do you understand what I'm saying?

That I gamble with advantage, because I evidently don't know the results, but what I know is that when one places one's life on something, generally it has a good outcome. The filming industry is full of such movies, also in literature. I'm recommending lately this Thomas Mann's book, The Chosen, there the main character is a man who has an infinite power and is always victorious, on condition that he can concentrate all his energy on only one point.

CS: To concentrate all the energy on only one point…

MOM: Yes, of course, there must be a lot of religious theories based on that. I, sometimes, commit the lapsus when I'm reading, you can denounce me, each time I commit a lapsus is because I think of a word. For example, the other day I slipped in the letter "o", "it is as if it would have taken possession of my work" and in the word appropriate, there I made an error, I said appropriat. I equivocated myself because, before pronouncing the word, I wanted to know what to take possession of the work really meant, and there, alas!

CS: You placed an idea in what has to be done…

MOM: In what I have to do, my work there wasn't to know how is it that one takes possession of one's work or not, that is another moment.

CS: It wasn't about judging the writer.

MOM: It was to say the word well-said, because I was reciting.

CS: Of course, because there you were questioning the writer, you were saying, what does this man mean?

MOM: Yes, questioning or wanting to understand him. If I kiss you and you like it and you want to understand why you like it… You, if you like it, you take a stand, you take me there with you, and afterwards when someone asks you, but why are you living with this crazy man? You tell that someone: "ah, but you don't know the kiss he gave me". Stop joking, Salamanca, because we have a very experienced audience in these things of the psyches.

CS: That about how to recite in front of a crystal eye makes me remember some verses of your last book.

MOM: "Eyes of the world, listen to me".

CS: Yes, and also: "I write for the one who without knowing who is speaking, will listen to my voice".

MOM: What happens is that there the poet thinks that when he dies, the people who weren't fortunate enough to know him personally, without knowing who is speaking, will listen to his voice. And besides this is a phrase theoretically touched by love in psychoanalysis, which implies to give what you don't have to someone who isn't. In reality, when one finishes writing, the poem doesn't belong to the writer any more and the person who really will be able to receive the message, if there were any message in the poem, is someone who wasn't born yet.

Something slipped from your hands, because you would like to be the one who understands the message.

I was what I wanted to be

I was what I wanted to be,


crazy me, blind,


hungry for my things.

I was a little man,


haughty yes, but little:


wrapped in my feet,


my skin


was the sortilege of the road.

Sea dragon,


line of divine perfection,


where fire and water


vertiginously think of


an impossible encounter.

Catapulted


together with the billion of hungry people


thrown out of the earth,


prodigious child,


embalmed among words,


like heavy cement walls,


walling my little heart


against life


and I could not die.

I lived gratefully: I was able,


I held the hands of wind,


each woman was my love,


the whole world, my world

DARLING,

I have been so far away from everything, that no one will recognise in me the one I was close to my mother, close to my motherland, close to my own convictions.

I admit it, all of us turned a little into idiots, a little mad, from having lost our parents, our tittles, our institutions.

All in me is full lust when I try to tell myself in writing those things that I should have known in another way.

And nobody would believe that we have done it, without fleeing, without killing. As if our thought were light, as if our words were enamoured fireflies.

- This time, doctor, no fear will stop me. Nor even my fear to taxes: up to a weekly million pesetas, I won't stop.

And if any woman tries to recall my miserable past, I'll buy her a gold dildo.

- Everyone wants to be God - I told him - it isn't so serious.
Cero Group
Consulting Room

Cero Group
Consulting Room

Amelia Díez Cuesta
Psychoanalyst

Carlos Fernández
Psychoanalyst

Appointments:
91 402 61 93
Móvil: 607 76 21 04
MADRID
AMELIAA@terra.es

Appointments:
91 883 02 13
ALCALÁ DE HENARES (MADRID)
-Relax baby, you are a little tense.
I couldn't relax more, but I would try it. She was a wonderful woman to me and I wanted to demonstrate it to her.
She was getting ready for me to lick her pussy one more time and I, again knelt down between her legs, and he knelt down behind me and while I licked her sweetly, he fucked me through my ass.
We were a non-repeatable scenery. Nor a pampa, nor a dry plateau, we were that tangled green which is expected with the coming of the sex of love.
-Enjoy, baby, enjoy baby. Do you know how you're going to make me come?
I couldn't stop licking, now he became cruel with her ass. She became more and more crazy. He could hold on any more, I couldn't hold on any more, she was fresh as if we had just started, she begs, looking at my eyes, that I lick her once more.
He got on top of her belly and shaking his dick with enormous energy, came over my face between her legs.
The three of us kissed gratefully.
Cero Group Consulting Room
COUPLES COUNCELLING

EROTIC LITERATURE WORKSHOP

Miguel Martínez Fondón
Psychoanalyst

Coordinator: Miguel Oscar Menassa

APPOINTMENTS: 91 682 18 95
GETAFE (MADRID)

91 758 19 40 (MADRID)
1
Remote nightingales, I tell you: madness is a curse in herself, I don't want to curse her.
2
The day will come when all the account is reduced to the years lived.
3
There is a degree of possible happiness, let's go for it.
Today I have realised that everybody wants to meddle in your invention, but the invention doesn't allow to be commercialised and if I talk all day about money it is to make people believe that I'm interested in money. In this way I get that they invest some time, some money in the project.
We have to oblige time to die among us, to exercise to be something different to time, that it can die, and so it will become human. The rest, scientific nonsense.
Indio Gris
---
THIS IS ADVERTISING
Awakened Poets' Club


We don't close


in the summer!

Every Sunday at 7pm 4Duque de Osuna St.


Also at home, buying the recital in VHS.

Telephone: 91 758 19 40


Anticipated booking of tickets


Tickets from 10 to 50 Euros
---