Weekly magazine through Internet Indio Gris
Nº 115. THURSDAY, AUGUST 1 TH , 2002
FUSIONED - DIRECTED - WRITTEN AND CORRESPONDED BY: MENASSA 2002
WE DON'T KNOW HOW TO SPEAK BUT WE DO IT IN SEVERAL LANGUAGES
SPANISH, FRENCH, ENGLISH, GERMAN, ARABIAN,
PORTUGUESE, ITALIAN, CATALAN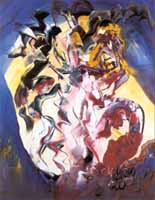 INDIO GRIS, IS A PRODUCT
OF A FUSION
THE BRIGTHENESS OF THE GREY
AND
THE JARAMA INDIAN
THE FUSION WITH MORE FUTURE OF THE
21st CENTURY
---
INDIO GRIS Nº 115

YEAR III

EDITORIAL

INTERVIEW WITH THE POET MIGUEL OSCAR MENASSA

Carmen Salamanca: Now, that we are doing the recording of the poems of your last book, South of Europe, the recorders commented to me that you recite with a lot of energy, they asked in what position you do it, what do you recite with, from where one has to recite. In certain schools it is with the central part of the stomach, but the recorders asked how you do it, when a recording is something cold and the audience are the two recorders.

Miguel Oscar Menassa: Evidently, in front of work there are two ways of thinking. I can think that work takes my energy away and, apart from being a proletarian, being an employee or a worker, turns me a little poor. With that thought I may fall , at any moment, into a depression, into sadness, into a nervous breakdown. This way led us to think that work takes our energy away. And another way is to think that the money I collect at the end of the month charges me with energy, I go on being a worker, an employee, but I'm happier.

I want to say about that you must have energy to recite, to sing, to write, to paint, it is an invention of the states to dominate the workers, because, in reality, one gains energy singing, reciting. Besides what you say, to have the energy in the middle of the belly, are different schools. In my school it would be "you must have no centre, nevertheless you have to be centred, and you don't have to worry for having a voice or not, because the voice, in all cases, is the voice of the poet". Now, if you are worried to know if your muscles will jut out, if your voice will come out, evidently one spends a lot of energy.

Did I answer something in particular?

CS: It seems that you have a lot of experience in reciting, have you recited much in a loud voice?

MOM: At seven years old I made a poem to my mother (that not all poets have written a poem to their mother at 7). I wanted to make a joke, I wanted to recite a tango for her and tell her that it was the first poem I had written in my childhood and the tango was: "My poor beloved mother, I had given her so many sorrows, how many times I have found her, hidden, crying, sad and defeated, in a corner" (Lyrics from a tango called My poor beloved mother).

When I wrote this poem for my mother, I gave it to her written down on a page, because I was a poet since very little, but she wanted me to read in a loud voice, and I, that shame, that humiliation, I have never felt them anymore in front of a million people. Why? Because my mother danced the tango very well and if she liked how I read the poem, it's because I surely read it well. And she liked it. She hugged me and told me "My dear Miguelito", and I said to her, "stop it mother that daddy is watching us".

CS: At what age?

MOM: At 7, imagine, but I don't know if it is worth. And to my first girlfriend at 11. And what did I do from the 7 to the 11? All the poems were for my mother. And if you want I say it you, I wrote very few poems to men. I dedicated a poem to a man when I was a grown up, to Che Guevara, afterwards when I was older I wrote a poem dedicated to my father, however, I was quite older. But being a young man, the first poem I dedicated to a man was to Che Guevara.

CS: It sounded odd to me that it was the greatest shame you went through in your life, that you were not ashamed anymore.

MOM: I told you that for you to see how outstanding that moment was for me, that afterwards I was never again afraid of reciting, I never more felt ashamed of poetry. I recited poems in factories, in the stadiums, in the football fields, in places where box was practised, in bed, in all the parties with all of my friends, I recited. As I did well in front of my mother, and for me, my mother was an artist because she came from the popular classes of the population and she got this son who is me, she was a great artist, do you realise?

What I'm going to say is very difficult, it is for the writers of the neighbourhoods, it is for the writers of El País. It is very difficult to make these people understand that when one says "I want to paint", one doesn't want to paint, one wishes to want to paint. Instead these things don't happen to me, I don't live on illusions, I want to paint, I'm painting, Sartre would say, when he was painting that he was painting, then he says " don't ask me when I'm making love if I love you, because in telling you that I love you, I stop making love". Instead if you ask me when I'm painting or when I'm making love, what are you doing? I would answer "I want to paint, but when I'm painting, when I'm fucking, I would say "I want to make love", not before, if I say it before what I want is to want to make love, what I want is to have a real illusion of painting. Do you understand?

CS: That reminds me of an old saying which says that movement is demonstrated by motion.

MOM: Yes, if you want to vulgarise my knowledge, we can say that every cloud has a silver lining, but that is false, it is false because the road is made while walking, as Machado says, it is an incontrovertible truth, but what happens is that one has to walk.

CS: If the road has been done will be seen later.

MOM: What you say is very true. Not all ways of walking produce roads. Don't you see that you're also learning something in these interviews, that it isn't completely free? Because people keep saying "this poor girl who works so much…" Let's see what they say in a few years time.

XIX

The only thing I miss, though it may seem strange, is my mother.


Her long pianist hands that she would never use for that.


Her lips in the shape of a heart painted over the night,


like the artists of her times that she could never be.

And that way of walking rhythmic and slow ,


so similar to a tango, yes,


but that walking was the factory,


the suburbs, the mad honeysuckles.

It was not in the way of walking she carried the true tango,


not even in the soul, that maybe she had,


nor in the brilliant tone of her voice, when she sang.

Nor in the whistle of her contagious and open laugh,


the true tango was her own life, which she danced this way
a turn, a fall, two steps backwards and this smile.

DARLING,

Before the light, it wasn't darkness, it was blindness.

I open my eyes and the world brightens up in that opening of my voice to the roads of the poem.

Today, the greatest poets have been born and died at the same time and I am the only one responsible for that.

My voice, I mean, that desperate light which extends itself open towards the most remote dimensions of the speech.

Speech of light, dazzled nightingale lying simply over my days.

But I cannot say that this poem will be the last poem written in the world.

I myself will fall and I will get up another thousand times and that underground beat will become word, timeless whirlpool, grandiose obscurity open in thin apocalyptic tremors of light.

Noisy vintage of the flesh, crepuscular essence. I love you.

She now says that the effects of psychoanalysis make her laugh. I understand nothing of what she's saying and I remember Lacan, someway in general, no phrase, none of his books, only his figure, then I imagined that something formal was happening.

Something of the style of the unconscious, I myself was structured in that way.

She talked about the French writers and told me that she was assassinated by two Arabs like me and, then, committing a lapse in German, she told me:

- Stammering-dribbling-old man.

I, immediately, thought that many years had gone by. My father had died, one of my sons was on the verge of making me a grandfather, my mother feeble, and my wife mature.

Something must have happened in me. But I didn't achieve to see myself as an arterioesclerotic old man and so I understood everything: our love was impossible.

She threatens to send me to prison but, immediately, says she sees that as an absurd; but that anyway, to be a good psychoanalyst, I should listen to her with more attention.

Afterwards, she lies placidly over cruel and vengeful men and confesses that being a child, she couldn't identify herself with her mother.

- Violets, I tell her, this is good time to plant violets.

- Yes - she answered me - In Juana la Loca's tomb (a Spanish queen) there were little enamoured flowers.

Look. My desire is simple, I spent all my life fighting with my brothers and could never defeat them, that is my drama.

- We'll continue the next time, I told her.
Cero Group
Consulting Room

Cero Group
Consulting Room

Amelia Díez Cuesta
Psychoanalyst

Carlos Fernández
Psychoanalyst

Appointments:
91 402 61 93
Móvil: 607 76 21 04
MADRID
AMELIAA@terra.es

Appointments:
91 883 02 13
ALCALÁ DE HENARES (MADRID)
The light descended to our shadows, to the point that we could barely see one another.
He cornered us against the glass wall which separated love from wind and in a dance, this time of hands and mouths and tits and legs and hands and illuminated sexes.
She, with her long and delicate hands squeezed my clitoris until she obtained from me my most intimate moan.
He, with his hands on her buttocks, made us kiss in the mouth and told us:
- Oh, baby, what a little pussy you have.
Because of a vertiginous shot of desire, we were sent to the centre of the hall. The orchestra desperately played desperate music. We collapsed in the battle fields, like always the soldiers collapsed, before or after the battle and making us chat about nonsense, we thought of the future of our relation.
She, parsimoniously, let her legs open a bit more each time. Imagine: her legs more open than ever and her gaze made all of love over my mouth.
I looked at him as if I were asking permission and I knelt down between her legs never so open and told her:
- You'll see what I'm going to do to you.
Cero Group Consulting Room
COUPLES COUNCELLING

EROTIC LITERATURE WORKSHOP

Miguel Martínez Fondón
Psychoanalyst

Coordinator: Miguel Oscar Menassa

APPOINTMENTS: 91 682 18 95
GETAFE (MADRID)

91 758 19 40 (MADRID)

SUR RENDEZ-VOUS :
91 682 18 95
GETAFE (MADRID)

91 758 19 40 (MADRID)
I know that I won't be able (or perhaps I will) to see all the murderers die. But I'm happy thinking that my verses yes will see all the murderers die.
When the snake-like witch of winter invades our time, I'll go back to writing and no one will be able to stop my verses like gigantic stones made of salt and sand and sea.
How wonderful it would be to go to the sea someway.
To strip, I have stripped myself of everything and it wasn't worthwhile, so that now I have to "dress" myself
A man attempting against himself all day is impossible. The enemies must be on the outside of me.
Indio Gris
---
THIS IS ADVERTISING
Awakened Poets' Club


We don't close


in the summer!

Every Sunday at 7pm 4Duque de Osuna St.


Also at home, buying the recital in VHS.

Telephone: 91 758 19 40


Anticipated booking of tickets


Tickets from 10 to 50 Euros
---