Weekly magazine through Internet Indio Gris
Nº 113. THURSDAY, JULY 18 TH , 2002
FUSIONED - DIRECTED - WRITTEN AND CORRESPONDED BY: MENASSA 2002
WE DON'T KNOW HOW TO SPEAK BUT WE DO IT IN SEVERAL LANGUAGES
SPANISH, FRENCH, ENGLISH, GERMAN, ARABIAN,
PORTUGUESE, ITALIAN, CATALAN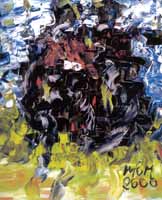 INDIO GRIS, IS A PRODUCT
OF A FUSION
THE BRIGTHENESS OF THE GREY
AND
THE JARAMA INDIAN
THE FUSION WITH MORE FUTURE OF THE
21st CENTURY
---
INDIO GRIS Nº 113

YEAR III

EDITORIAL

INTERVIEW WITH THE POET MIGUEL OSCAR MENASSA

AD: The other day I heard that from World War I to World War II , the Germans rebounded the situation of the country because people gave one hour of their daily work for the state, that's why a Hitler was produced, they identified themselves with the state.

MOM: I'm going to tell you one more thing. Hitler was produced by the leftist intellectuals, he was voted by them, in an action of punishment…it was cheaper to paper the wall with German marks than with wall-paper, that's how little the mark was worth.

CS: So, dictators don't surge in a society which works well, they surge when things are semi-destroyed.

MOM: In order to have intellectuals, there must be comfort, popular comfort. And always the shots go in that direction. Even nowadays people sometimes, when an institution falls apart ask for a dictator, someone with a strong grip, they say it that way, but they ask for a dictator.

There is something that Cero Group understood very well. The question that Cero Group asked themselves 25 years ago was why the intellectuals preferred discomfort, the lack of material, experiential and corporeal comfort and nevertheless they wanted intellectual comfort. Then when it is said "There are no vigorous ideas without a powerful economic infrastructure", what is being said is that if there isn't comfort in life, there is comfort in the ideas and as Cero Group is very modern, they don't want comfort in the ideas. Because you don't need any money, but your work. How can I think when I'm going to sit on a chair which has a nail? I think foolishness, because my ass aches.

Afterwards there is this question of personalities, there may happen that a knowledgeable person may take advantage of his knowledge to deceive people, I'm not saying that all knowledgeable people are good, it isn't so. Movies reflect intelligence for evilness, never the movies or literature have reflected intelligence for normalcy, I don't even mention kindness, never for normalcy. The police detective who fucks the lady lawyer, why doesn't he always get along well with his wife? He doesn't get along well with his wife because he has no wife, he has sexual problems.

AD: Intellectual comfort produces dictators.

MOM: Besides, money is needed to be a creator. There is something that is imposed to you and impedes you to have intellectual comfort, for example, it is imposed to the young painter, even if we like his painting, that he should have a desire to improve his skill, so he doesn't sit comfortably on the high mark we gave him. He learns something but a more modern thing comes out and he wants to learn it, he wants to know that more modern thing. There is no intellectual comfort, and when there isn't an intellectual comfort we are closer to be creators. Thus, a community as Cero Group that fights so that there is no intellectual comfort, becomes a machine of producing creators. There, it doesn't need the money of comfort, it needs an enormous amount of money, a creator paints, a creator writes, a creator sings, a creator works.

That's why a vigorous idea says no to the intellectual comfort, yes to the comfort of life, because the formula is like this, this leads to creation. The Lord appears in the creation, we allow him to stay, because if he would have said "Ouch…" and I would have told him "stop bothering with the singing, go and ride your bike" I would be cutting the development of his creativity. Now we realised about the CD's, 150 Euros per week, plus 30 more of I don't know what, plus 40 of I don't know how many… do you understand how it works? That's why a powerful infrastructure is necessary. And he who doesn't understand it, is worthless for the system, because I think that the one who doesn't own a lot of money is useful for the system, but he who doesn't believe…

And you have to run risks, you have to run lots of risks because, as this isn't understandable, people are going to think badly and that he is a neurotic, people always think of a neurotic plan, you saw him painting "he's going to start painting and abandon the university", "look at this one, writing poetry instead of going to work".

But we are inventing a very interesting type of creator, because they are creators of reality, the ones from Cero Group. If you don't have work, you can't be a creator.

XII

To write,


until you break your hands from writing.

From man,


I only love his futures, his bursts.

I owe myself to me


and I owe myself to the whole universe.

I see myself singing "vidalas"


until I have no voice.


I see myself looking at the stars


until my eyes have no light.

I open my mouth


and I observe how the world breaks into a thousand pieces.

Rough rock,


I stubbornly want to believe


that everything will change.

DARLING,

I find myself pleased with this situation of writing to you, having already eaten, drunk, smoked, with the music as loud as possible and without being able to listen, even if I wished, no other noise but the one produced sharply by the letters of the machine against the cylinder of black smoke where I smash my letters.

Someone will say, he was the letters of passion.

No one died in him when he chanted his love poems.

I turn my desperate eyes, darling,

to see so many inert cadavers around me and I think of myself with the cruelty with which wars think of their men.

In the sacred womb of poetry, there, I want to shelter myself forever.

In its ferocious womb, even if I'm left without food, in its ferocious womb where no one would have lived but an instant.

I want to tell you, darling, that in such small system as the life of each individual is and his chaining , ambition costs more than madness. Madness is for mediocre families, although, afterwards there might be great mad people. A well provided family is the one that allows ambition in its members instead of madness.

And we, darling, have been a great family and we have been a mediocre family. So we will have in our family great mad persons and great ambitious ones.

Today, as in all great moments, I say good-bye to you by kissing you tenderly.

He arrived and told me:

- I can't take it anymore. And perversion is to keep repeating always the same things.

Emptiness, what an emptiness, my son, I wanted to tell him, but I said to him:

We'll continue the next time.
Cero Group
Consulting Room

Cero Group
Consulting Room

Amelia Díez Cuesta
Psychoanalyst

Carlos Fernández
Psychoanalyst

Appointments:
91 402 61 93
Móvil: 607 76 21 04
MADRID
AMELIAA@terra.es

Appointments:
91 883 02 13
ALCALÁ DE HENARES (MADRID)
When he came closer to me, I could feel her. When I came closer to him, he could feel her. It takes me a long time to understand the things of desire, but not because they're complicated, but because I never think they're so perfect. She was present in all the movements. She was the one desired by both.

- You are the oncoming love…she told me.

Never before had I licked no one's pussy, least a woman's and, however, while I did it, I felt as if I had done it always. A tenderness invaded my soul when I thought that I didn't have to be jealous, read desires, for anyone. That pleasure was preserved for a few ones.

When the three of us kissed it was like kissing love itself.

He had kissed his wife for thirty years and I thanked him, that, more than exciting me, it made me feel emotion. I took their heads and drew them to my mouth and we remained like this for a while.

I loved that man more than other times.

He was so aroused that his dick didn't achieve a complete erection.

- At times everything seems women's things, she said and I, for a moment I thought she was right, but he enjoyed more than the two of us and I think that his dick was erected, it would have been a negligence, a distraction.

Clearly, something lived in us that wasn't us.

Each one, after that night, would have one or several less days of pain.

When we were saying good-bye he embraced both of us, we felt once more what we had been feeling all night and he said to us:

- Today we have manufactured several tons of love.
Cero Group Consulting Room
COUPLES COUNCELLING

EROTIC LITERATURE WORKSHOP

Miguel Martínez Fondón
Psychoanalyst

Coordinator: Miguel Oscar Menassa

APPOINTMENTS: 91 682 18 95
GETAFE (MADRID)

91 758 19 40 (MADRID)
1

Every time I kill a spider,


Immediately two are born.

2

It is impossible to fight with her face to face.


They must be killed treacherously, loving them.

I like more using note books for the first time than fucking a virgin.

The idea of cancelling my debts with the printer, all my debts with the printer. It is a good idea but too strong.

Once more a new life starts for me. They'll talk about me as one of the best editors of the 21st century.

Everything boils down to changing kindness for exigency.

The great poetry, that's what matters. The great poetry.

To upset everything.

The great ones and I. I and the great ones.

INDIO GRIS
---
THIS IS ADVERTISING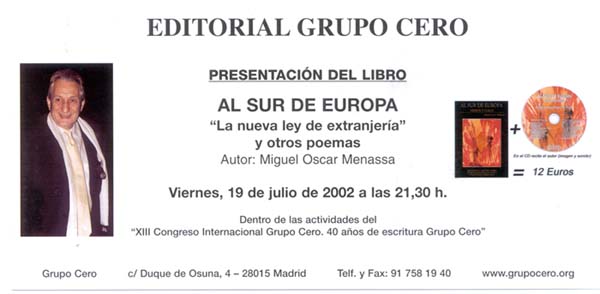 CERO GROUP EDITORIAL


"SOUTH OF EUROPE"

The new law of foreignness and other poems


by Miguel Oscar Menassa

Poet, psychoanalyst, physician, painter and editor.


Currently, he directs the Cero Group School of Psychoanalysis


and the magazines "2001 Nights", "University Extension" and


"www.Indio Gris. Com"

Friday,july 19th. 2002 at 9.30 p.m.


Within the activities of the XIII International Cero Group Congress,


Cero Group, forty years of writing.

4 Duque de Osuna St. - Madrid 28015- Tel/Fax: 91 158 19 40
XIII INTERNATIONAL CERO GROUP CONGRESS


CERO GROUP, "40 YEARS OF WRITING" (1961-2001)

in MADRID


From July 17th to July 20th, 2002


Inscription Fee: 150 Euros

Cero Group Psychoanalysis School


Tel: 91 158 19 40
---