Weekly magazine through Internet Indio Gris
Nº 112. THURSDAY, JULY 11 TH , 2002
FUSIONED - DIRECTED - WRITTEN AND CORRESPONDED BY: MENASSA 2002
WE DON'T KNOW HOW TO SPEAK BUT WE DO IT IN SEVERAL LANGUAGES
SPANISH, FRENCH, ENGLISH, GERMAN, ARABIAN,
PORTUGUESE, ITALIAN, CATALAN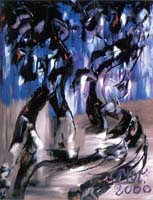 INDIO GRIS, IS A PRODUCT
OF A FUSION
THE BRIGTHENESS OF THE GREY
AND
THE JARAMA INDIAN
THE FUSION WITH MORE FUTURE OF THE
21st CENTURY
---
INDIO GRIS Nº 112

YEAR III

EDITORIAL

INTERVIEW WITH THE POET MIGUEL OSCAR MENASSA

CS: Talking about the current times, at this moment the estrange European politics seems to me as the culmination of the extreme right.

MOM: What's that? Think about it for a little, think, it's good for you.

CS: It seems to me that in times of extremes, as if all of a sudden, human relations are becoming radicalised.

MOM: But you have to learn to think, when you see that reality is becoming very extremist, you have to think that there are simple things that no state is ready to fulfil, then extremism appear, in the state and among citizens as well. Think this way and you'll see how easy is to notice, for example, that now is a moment of extremes. In Spain, there are many dramatic situations that the Spanish government, representative of the Spanish State, doesn't want to assume as problems and as it doesn't want to assume them as problems, it won't be able to solve them. At this point extremes surge.

CS: In Spain and in Europe, well, in all the world.

MOM: Afterwards, this question of the extreme right is false, is a lie. The extreme right has no power, it is the right which uses that question to rule in majority, as it happens here in Spain, as it is going to happen in France and it is going to happen in many European countries. Because, what does the extreme right do that the right doesn't do?

CS: To speak much clearer.

MOM: To say in a more concrete way what they are going to do, and they do it because they aren't presidential. Instead, the right, which is presidential, speak with the language of elections and it is the one which is convenient for the stupidity of the voters. Because, the truth is that the Spanish government feels now something odd about immigrants, but, which citizen of the Spanish people isn't feeling something odd about immigrants?

The other day they made an interesting joke in the news in the puppet theatre: they were interviewing Aznar, "What's up, President, how are you doing with the summit about hunger?" "Here, assembled with these immigrants who command":

MOM: That's how it is. And if the puppet theatre and we agree, that means the current president will fall, because, that you and I agree with Plus Channel is because what's happening is a sort of catastrophe… That Plus Channel and we think that the current government is a natural catastrophe, that is why we enounce and criticise it in the same way. I, sometimes think that those television puppets copy me, but they must think the same from me, that I copy them. "Look how Menassa nurtures himself from us". No one says anything good about me, don't think that they assemble to talk about me, what happens is that, as neither of us is going to be around 200 years from now, people will say "Look at this man whom Plus Channel talked about at meetings". As they can't say it because it would give me a prestige they don't want me to have… 200 years from now, in reality, I would be greater than them.

You, being a modern woman, could answer me "But who cares if you're going to die in 200 years". Well, Freud died 100 years ago and still is useful to me and Catulo died 2100 years ago and still teaches me how to make love, because try making love as Catulo did, you are unable to achieve it, you can't; or those perverse sonnets from Aretino, the pornographic sonnets, who speaks about sex in that way? Nor even me, because he insists, he insists, he was freer than us.

I already finished this little picture which I'm going to sign, how much did it take me?

Audience: 18 or 20 minutes.

MOM: How much is this canvas worth?

CS: 20 Euros.

MOM: How long did it take me to paint it?

MM: 18 minutes.

MOM: How much do 18 minutes of a genius cost? Consider that 15 minutes are about 400, 500 or 200 Euros. This painting should cost to the public, we'll earn a 100 % on the painter's work, on the canvas 40 Euros, we'll earn a 100% in the paints, 80 Euros, and we are going to earn on the painter's work a 200%, then the painter collects 200 Euros, we are going to collect 600 Euros, but the one who sell it already earns 400 Euros. If we break away with middle men, and it's sold directly by the painter, he will earn 300, 400 Euros so that he can buy two canvases instead of one. Don't write what I've just said, some painting dealer might get angry with me.

AD: What you were saying about the problem of immigration, which is no problem, it's a fact, they have made it a problem and have utilised it to benefit their party, for politics.

MOM: It's a fact that immigrants come here, it's a fact to be at war, it's a fact that people have to immigrate, but it isn't clear that in a country like Spain, where 500-600 thousand workers are needed, in places where no one works and where labour is urgently needed, that there should be a problem with immigration like we now have. We are in front of a sort of international madness, because we are stuck to a fanaticism: so you're useful to me, I'll earn money from you, but as you are black, I don't want you.

AD: Or they don't want to recognise that Europe is no longer working, they unspecialised.

MOM: We are in a moment of strong racism, all states denounce that they aren't racist and that they love foreigners well. Why should a state declare that? If it is cheap hand labour, not even labour, cheap labour, so why don't I give them a preferential treatment? Considering is cheap labour why don't I insure Social Security for them, why don't I give them…Because I'm a racist, because I don't like blacks, and for me it's the same if a black gives me a million dollars, I'm a racist.

AD: The narcissism of the small differences.

MOM: You call that small differences?

I desire to write a poem with my body


to tear away from the courageous gaze of love,


words, winds, minimum chords of peace.

Wrapped up in flames, the soul bleeding,


burnt by my tenderness against me,


I was on the verge of condemning myself to death.

Afterwards, I opened in the midst of the centre of silence,


my old and strong marine knapsacks


and let my words fall among the dead.

I saw how they restlessly rolled about in their tombs,


shouting afraid because of my singing presence,


by my coral voice.

Their bones, darling, cracked, love,


like the crystal breaks with the singing,


with limpidity, open to its sounds.

DARLING,

Today I want a piece of writing which will pull me out from the world of sensations forever. A poem that will never allow me to go down.

Something furious and slow as the worst of the tangos. Those tangos which smuggle into your soul and it is impossible to remove them for a long time. Not exactly something vibrating, but the machine to produce vibrations.

A song of light, some word that frees us at last.

Not a triumph of the soul over the body or vice versa, but something which sends us out of this dialectic.

Something that being born in the entrails, becomes a song and doesn't stop being blood, enamoured passion. A song, but not exactly a singing. A poem without which it would be impossible to live.

And although no one asks me for it I'll have mercy. Hopeful and beastly as the best, I'll have mercy of everything that dies, of what is no longer useful but for dying.

She, lying on the couch but looking at me, decided to dream.

- She was very striking, she was a very attractive woman, she had started to masturbate, everything was exposed and I thought, "She has a prick, what does she have there? Nothing, nothing" and of course, I was beginning to arouse. My head started to ache, a sort of auto-eroticism that no one could stop.

When I woke up I felt that I had got rid of something that was on top of me. In the dream I killed her, I moved her to another place.

- Then, it was her who was being psychoanalysed.

I managed to stammer, and we said good-bye till the next time in silence.
Cero Group
Consulting Room

Cero Group
Consulting Room

Amelia Díez Cuesta
Psychoanalyst

Carlos Fernández
Psychoanalyst

Appointments:
91 402 61 93
Móvil: 607 76 21 04
MADRID
AMELIAA@terra.es

Appointments:
91 883 02 13
ALCALÁ DE HENARES (MADRID)
When the three of us got together, things happened that, when telling them, no one would believe them.
At the beginning, I must confess, I felt jealous when she sucked his dick or they kissed one another in the mouth, but afterwards I was the one who sucked it and in that act I was kissing her in the mouth. At that point it wasn't recognisable whose mouth it was and who had the dick and in that not knowing, I was becoming calmer and calmer.
I, finally, encouraged myself and put a hand on her pussy and with the other I held his dick.
She, always on the verge of bursting in screams of pleasure, and he becoming broody, maddened me. Later we embraced and the three, knelt down on the floor, almost cried of emotion, but we smiled.
Always escaping from desire, I almost made a jealousy scene in the middle of the fucking when she started with a true contained passion to lick his ass.
"She does it to him in the same way I do it to her, this is a son-of-a-bitch", was the first thing I thought, afterwards when I saw them enjoying like pigs and because of the pleasure that seeing them offered me, I had to admit having wished with all my strengths, this encounter.
I imagined, when abandoning them, that they would make love to the point of bursting, until dawn. Who wouldn't have done it?
Cero Group Consulting Room
COUPLES COUNCELLING

EROTIC LITERATURE WORKSHOP

Miguel Martínez Fondón
Psychoanalyst

Coordinator: Miguel Oscar Menassa

APPOINTMENTS: 91 682 18 95
GETAFE (MADRID)

91 758 19 40 (MADRID)
1
A life without risks is a very risky life.
2
To write not taking into account love, nor our own, nor the others', that is to write.
3
If fear results into knowledge, fear is worthwhile.
Psychoanalysis and Poetry
To initiate something is also dying. And if things haven't been done to the utmost, blood will achieve more than the word.
Only in the paroxysm of his human being, a man is words. The rest of the time: flesh, excrements, grand passions of old times. Sunk in this pigsty, the "man" can die of anything, even of anger.
So that the word may transform something in someone, it must occur set in the highest possible passions for man: love, creation.
INDIO GRIS
---
THIS IS ADVERTISING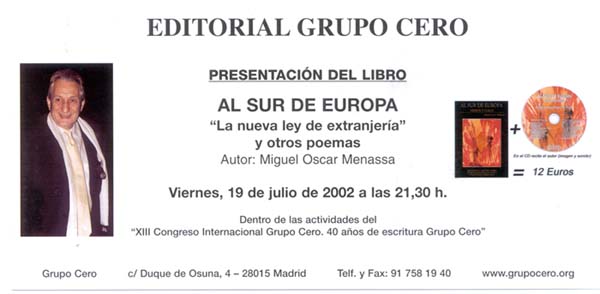 CERO GROUP EDITORIAL


"SOUTH OF EUROPE"

The new law of foreignness and other poems


by Miguel Oscar Menassa

Poet, psychoanalyst, physician, painter and editor.


Currently, he directs the Cero Group School of Psychoanalysis


and the magazines "2001 Nights", "University Extension" and


"www.Indio Gris. Com"

Friday,july 19th. 2002 at 9.30 p.m.


Within the activities of the XIII International Cero Group Congress,


Cero Group, forty years of writing.

4 Duque de Osuna St. - Madrid 28015- Tel/Fax: 91 158 19 40
---