Weekly magazine through Internet Indio Gris
Nº 111. THURSDAY, JULY 4 TH , 2002
FUSIONED - DIRECTED - WRITTEN AND CORRESPONDED BY: MENASSA 2002
WE DON'T KNOW HOW TO SPEAK BUT WE DO IT IN SEVERAL LANGUAGES
SPANISH, FRENCH, ENGLISH, GERMAN, ARABIAN,
PORTUGUESE, ITALIAN, CATALAN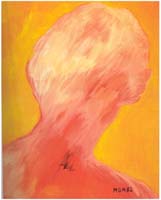 INDIO GRIS, IS A PRODUCT
OF A FUSION
THE BRIGTHENESS OF THE GREY
AND
THE JARAMA INDIAN
THE FUSION WITH MORE FUTURE OF THE
21st CENTURY
---
INDIO GRIS Nº 111

YEAR III

EDITORIAL

INTERVIEW WITH THE POET MIGUEL OSCAR MENASSA

Carmen Salamanca: Is it also necessary in writing for someone to generate that wish for writing?

Miguel Oscar Menassa: "Someone" is a way of saying. The truth is that it is unknown what the first poet suffered (and I don't know if it will ever be known) to write the first verse of history without having written any verse before. Is this leading in the direction of the question you asked me? You said: does something exist which makes me wish to write poetry? Yes, the poets previous to me, to make it more understandable, the poems written before me.

CS: Writing has its own movement and you have to let yourself go with that movement to be able to write.

MOM: To let yourself go is a very ugly word, but letting yourself go is what must be done. Of course, you say to people let yourself go and they say "I wouldn't abandon myself" When I was small I learnt many things.

What word would I have used? To surrender. I, when I was very young, went to the racetrack and it was extraordinary, because an elderly man who was there, with whom I became quite friendly, told me one day, "did you see how the number four ran?" and I answered back "what number four? The only horse I have seen was number eight which was the one I had bet on". Then he told me: "Ah, then you don't enjoy, you only look at the horse you have bet on. You're a jerk, you come to the hippodrome, the best spectacle in the world, and the only horse you look at is the one you have bet on". It's genial. Well, from that day on I know how the number three, four, five, eight, run. But of course, that mister previously humanised, he humanised me. That is to say, it isn't necessary for your mother to do that.

CS: This means that all the factors of the phenomenon have to do with the phenomenon.

MOM: You say: "doctor Menassa, there is no ego and the phenomenon", referring to Carmen Salamanca. No, the phenomenon generally includes a lot of individuals who besides, one doesn't know. In the same way as the professor was explaining about work. You want to have a coffee and there are thirty six services so that you can have your coffee, but in reality you know the owner of the bar and the waiter who always serves you. Do you see that for you to have your coffee, the phenomenon and you, only know two people of the 36 who intervene in order that you can have your coffee? Everybody is like this, the poems are like this. Did you understand about the coffee? If not, I explain it to you all over again, because if the question about the coffee is understandable the, all the rest can be understood.

CS: Yes.

Audience: I don't.

MOM: Why not? In order for me to misuse the paint as I do, I and El Corte Inglés are not the only ones that are there, but it's me, El Corte Inglés and about another 36-38 services so that this tube of paint exists, another 30 services so that the canvases exist. Claire asked for them, Cruz paid for them, I painted them and El Corte Inglés' employee who sold them to me: 4 services, but there are 40 other services missing and they are the people who I don't know and who have worked for me. I don't see why you have so much problems in producing for people. Do you understand it? If you didn't understand I'll explain it again, but of course, each time worse.

CS: The ego is others.

MOM: From Rimbaud.

CS: As with colours, the combinations of words, of relationships, are infinite.

MOM: Yes, the combinations of words and, if you prefer, the combinations of love. Who could be able to say who can perform love well? There are the neurotics whom we discard because they don't make love, they make something else. But within the numbers of people who make love, which is the normal way of making love? Do you know any normal way of making love?

CS: No, I don't know what is normal, it must mean that there might be as many combinations as individuals.

MOM: And some more because for the individual, today is today and tomorrow is tomorrow. Did you understand?

CS: Yes.

MOM: The matter is that the imaginary is in someway what is private also for the individual. The individual can get up one morning and do something he had never done before, as if he were another subject, what happens is that what is imaginary is also unconscious for the own subject. Because, between she didn't allow me to put my hands between her legs and she allowed me to put my hand between her legs, there is a change in the imaginary for the individual, for the individual! Not that the individual didn't have the imaginary possibility of doing it that way, but that the poor man would never imagine that he could do it that way. Do you follow me or am I getting entangled?

CS: A writer can only form himself from others. It seems to me that before I was fighting the idea that writing is a gift, that it is a divine inspiration.

MOM: In these current times, in which almost no one writes or everybody writes poorly, the truth, it seems a divine inspiration, but it is a work. It is because of these current times that it seems a divine inspiration. As no one does things well, when someone does them a little well, they seem to be touched by God or by something similar.

The noise of the machine booms in my head.


something strong I say to myself,


something that will prevent the universe to be stopped in your arms.


Calander of the blue night,


split and desperate night of flight.


There, where love abandons its habits.


This is the brutal time of innocence,


something to remember, the rest is better to be forgotten.


What is it what crumbles down, my love, when you are not here?


Here, the truth is you,


your sound is the sound of all singings.


Distant mirage, turbid, discoloured melancholy.

DARLING;

It isn't an emptiness of emptiness, but the sheer machine of producing what the emptiness only names.

I loved you and I knew it, I was your secret lover of nights of madness and treason. When someone kissed my lips you wriggled like a damn snake within my own entrails. Every new caress was my eternal damnation. With each new caress your memory became more majestic, more delirious.

Now, each time I make love, all the poets burst into tears.

Nothing is really kind for a father at a certain age.

- Yours, for example.

- To have to behave constantly as if I were the eldest is horrible and tiresome, I get exhausted at it. Because, you won't deny it, doctor, that the majority of times the destiny of a man is ruled by the most simple things.

- Yours, for example.

- Look, doctor, if someone were to ask me, I can say tranquilly, I have a love. I have lived with the same woman for more than twenty years. And when she ambitions another man I fuck her as if I'd have just known her.

- And with only one woman for twenty years?

- Look, doctor, I know that some jerk might ask me, then, I will answer him, first, that that was my father.

- I'll tell him, not exactly like my father, but in his style. I have never deceived anyone, I showed everything, I said everything. And I paid dearly for each freedom!

- I mean, I have already had flings, I have already been young. All my sex from now on will be invisible. No one will be able to prove it.

- To pay taxes isn't the worst thing I have to do. To grow old, that is the hard part. To grow old, to know each day who I am. I've always thought about it but it's only that I have to live it, a great adventure can only develop in a serene, tranquil life.

- There is a still time in my life that I must get rid of.

- These encounters?

- There is a being that only wants to be. There is a jerk in me, someone who died before time. There is a truth which links me with the effectiveness of shadows. See, doctor, that's what I want to be, I want to be it even under the facet of not being, I want that way, even if it is impossible: a man, I love women, reading, music, painting, gambling.

- I didn't know that you gambled.

- What, you'd have found it interesting that a miserable person would gamble?

- So what, won't you answer me?…

- Well, I also graduated as a doctor, but that doesn't matter much, I care for work, I do, and afterwards to make love and, thinking it over, I like to stay still, I like that more than anything in the world, to stay still, still…

- We continue the next time.
Cero Group
Consulting Room

Cero Group
Consulting Room

Amelia Díez Cuesta
Psychoanalyst

Carlos Fernández
Psychoanalyst

Appointments:
91 402 61 93
Móvil: 607 76 21 04
MADRID
AMELIAA@terra.es

Appointments:
91 883 02 13
ALCALÁ DE HENARES (MADRID)
I was an hour and a half looking at her and deviating my gaze when other women and men were trying to find mine.
And when she pretended not to notice that I wasn't paying attention to her movements, I made a joke to the waitress and she got angry forever, and told me shouting in front of the other hundred guests:
- I don't want to have anything to do with you any more. Never again.
While she shouted I felt myself free, and being supported by her double negation, I cornered her against the table and we fell together with noises of glasses and cutlery flying in the air rocketed by our movements. She, hot, upside-down, sucking the wine from the tablecloth, went on shouting:
- Now you have to fuck it… son-of-a-bitch.
While she was moving like someone feeling great pleasure.
Her husband, an elderly man, said::
- Huh, huh, huh…
And my wife, laughing a little:
- Bloody drunkard. But what are you doing, nuts? Stop it, you're fucking her.
- No, my darling, we're dancing the "chipirri".
- And I said in a loud voice:
- CHI PI RRI:
And I introduced my member and took it out and introduced it once more and CHI PI RRI and took it out.
- Come, my dear, dance with us.
And the husband also started to like it and shouting CHI PI RRI, he started to touch my wife's ass, but a girlfriend of hers, who was waiting for a moment of freedom, grasped the other woman's husband and sucked him until drying him, my wife started to kiss my buttocks. And the waitress, who had started the mess tried to calm us down offering a glass of wine.
Cero Group Consulting Room
COUPLES COUNCELLING

EROTIC LITERATURE WORKSHOP

Miguel Martínez Fondón
Psychoanalyst

Coordinator: Miguel Oscar Menassa

APPOINTMENTS: 91 682 18 95
GETAFE (MADRID)

91 758 19 40 (MADRID)
The word determines before his birth, not only the statute of the subject, but also the arrival to the world of his biological being.

To impute the patient the reality of a current relation with the object is equivalent to projecting the subject into an alienated illusion which doesn't make but reflect another alibi of the psychoanalyst.

And now is my turn to confess: I am a writer,


the rest was all research.


Having married twice.


Having had their children.


Having studied medicine.


Exercising that discipline for more than thirty years,


forms part of my general culture.


Concerning painting,


certain extravagant sexual practices,


gambling,


certain revolutionary inclinations,


everything has to do with seeing,


everything was to leave traces of writing in me.


I had to be a newly made man


and that is what was happening.

INDIO GRIS
---
THIS IS ADVERTISING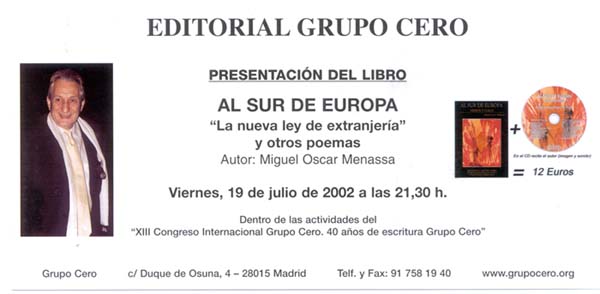 CERO GROUP EDITORIAL


"SOUTH OF EUROPE"

The new law of foreignness and other poems


by Miguel Oscar Menassa

Poet, psychoanalyst, physician, painter and editor.


Currently, he directs the Cero Group School of Psychoanalysis


and the magazines "2001 Nights", "University Extension" and


"www.Indio Gris. Com"

Friday,july 19th. 2002 at 9.30 p.m.


Within the activities of the XIII International Cero Group Congress,


Cero Group, forty years of writing.

4 Duque de Osuna St. - Madrid 28015- Tel/Fax: 91 158 19 40
---