INDIO GRIS
INDIVIDUAL MAGAZINE OF GARBAGE COLLECTION
Nš 11. YEAR 2000- AUGUST, THURSDAY 10
FUSIONED - DIRECTED - WRITTEN AND CORRESPONDED BY: MENASSA 2000
WE DON'T KNOW HOW TO SPEAK BUT WE DO IT IN SEVERAL LANGUAGES
SPANISH, FRENCH, ENGLISH, GERMAN, ARABIAN, PORTUGUESE, ITALIAN, CATALAN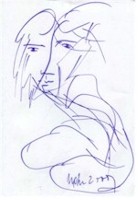 INDIO GRIS, IS A PRODUCT
OF A FUSION
THE BRIGTHENESS OF THE GREY
AND
THE JARAMA INDIAN
THE FUSION WITH MORE FUTURE OF THE
XXI CENTURY
---
INDIO GRIS Nš11
1
Didactic Psychoanalysis:
:Psychoanalysis that one decides to undertake with a design of formation, especially as a qualification element to practice psychoanalysis.
2
She is madness against herself. She loves and hates herself simultaneously the whole time and with great intensity.
3
I'm a poet, the person who expects from me something else will become crazy or will be a man of letters which is the same.
When more distant we are from life, we are closer to truth, said the wretched. Wisdom belongs to life, but that is fiction, because it knows nothing about what allows it to have the illusion of knowing.
4
I am obstinate in selling my soul and I cannot find a buyer and the wretched didn't understand why.
5
I have no absolute realities and that is very modern.
6
JUNE 3rd, 1985
She is about to arrive and it is as if I wouldn't be completely prepared. I am clearly dosing a sense, when exceeding their point of fusion certain senses blow up producing the same physical damage of an anatomic explosion with production of neoplastic sequels, all kind of malformations and diverse deliriums.
Dosing a sense, no matter how it is expressed, is in the attempt to maintain some equilibrium even though unstable.
7
Fleeing from my old pursuers I bumped into my new pursuers. I got away from evil a little, but still I don't notice it.
8
I hope to return, my love, I hope to see you come back. My dear, I can become disappearing from my saying.
9
We are still turning our backs to life, though life permanently smiles at us , we will always see shadows, boredom.
10
JUNE 5th, 1985
The readings done during May, begin to produce their own effects. Fuckinng is less important each time and I begin to verify in me a tendency to research. More than a hundred persons are attentive to my writing in order to give the next step. I should feel happiness more than responsibility considering that the event is done in community. In less than 10 years I have produced a speech and an audience. The rest is to let audience. Nobody would consider convenient to hush the enlivening flow established this way, not even me.
11
In my neighborhood, in the 40s decade, each child had his own personality. Alberto had come in his conclusions to the "hammer blow". Mario to " the little umbrella", me to the " simple one", Roberto to the " Hydraulic" and Humberto to the " complete one". This way, we would get together one day, and each one could show different survival techniques.
12
When I'm able to come back, this time poetry will open all the frontiers and I'll go through the last barriers, I'll illuminate the ultimate knowledge.
There is still more after overcoming the fears of dying or losing.
The effect that coffee produces on me is incredible. I haven't been able neither to open nor close my eyes.
13
Having a style is simply having articulated a non existent reality in a different way and then taking all of that to its own limits.
14
I have a heart that is more power than a thought, she told me. And I answered her...what a horrible thing! I cannot believe it.
Passion was only the hole through which nostalgia arrived. I don't run away anymore, but I don't tremble either.
15
I hope to conceive a thought that will allow me to live within the hierarchy of the world, and at the same time, in the hierarchy of passion.
16
Man doesn't need to turn against himself because he made that turn a long time ago.
17
I love you, poetry and a breath of pleasure brings you back to my mind.
Poetry, now I want to love the unknown, all of what will not be. Nothingness that hides beyond nothingness. A stroke, I insist in this, but in the impossibility of being captured as one.
Not the image of the penis but its anguish.
18
SUNDAY, JUNE 9 th 1985
The mattress of peas that Miller proposes to protect the practice has a tendency to negate, to reject, the death of Lacan. They will all become mad or sad, which is the same.
19
I am in myself, a discordant arpeggio. A note, out of the reach of image.
20
Sometimes I need to repeat the same word a thousand times to find its place among words.
21
JUNE 10th, 1985
Today, seeing my son worried about his wedding, I told him: -you are too young, my son. Marrying, then, must not worry you. If things go well, you'll be like a genie and if things go wrong you have enough time to try again.
So the preoccupation should be, married or not married, what to do with your life, how to produce your own thoughts?
22
Reading THE JARAMA INDIAN N 3, (MAY-JUNE 1992) I was impressed by almost everything in it. Some pieces to the wind, closing the Editorial we can read:
Crushed by hunger I grew deep,
I reached the center of the earth with my touch,
in the unperfected edge of life,
the maximum fire, the extreme heats.
I was expelled from the very center of the earth,
because of the ambitions of miners and traders.
The waters took me up to where the ocean
folds over and over to become love.
In that deep turbulent darkness,
where no summit was possible,
my body surged from the perfect rock.
Fishermen and governors drove me out of the sea
and yet, volcanic fire, carth, desperate water,
I fly now, outlining myself wind, future letter.
23
GRUPO CERO PSYCHOANALYSIS SCHOOL MADRID
MOVEMENT TOWARDS STYLE
MAY-JUNE 1992
Poetry and Psychoanalysis is in Madrid more than the chance of a happy interweaving. Poetry and Psychoanalysis is in Madrid a political position. Firstly against all rationalism, whether French or Galician, and in the first place against all colonialism that someone may want to exercise against psychoanalysis in Spanish, coming from Paris or Buenos Aires.
The magic eye of slowness tears my gaze.
And to all these small groups that have detached themselves from our being, we advice them at the caustic eye of memory of a time when knowledge was patrimony of pleasure. Those times when nobody could live a day longer without jumping into emptiness, when nobody could live a day longer without drinking to the last drop the bitter nectar of not being simply that crack which separates me from myself:
The libido! Boys! The libido! and that will help you grow.
I am the thick floodgate that speaks about death.
The strong wall that separates the life of the poem.
Minute illuminated presence of language,
a white spot, desperate light of emptiness.
The convulsive grin of lovers when enjoying sex.
I was locked in, I say to myself, I was locked in. I can't believe it, I who loved freedom so much was entirely locked in.
I hope not to be razed by the fire of this new freedom.
Riding on the voluptuousness of an abandoned body,
I went through this part of the world, beyond the ocean, beyond the mountains.
We were the very horizon, the horizon line which cannot be seen.
I understand it, not depending on myself make me stronger.
A perfect merciless stone, sinking
without apparent emotions, in the emotion of speech.
What could have been is speechless, broken.
When falling it knows there is no bottom and, nevertheless, falls.
Subjected to my own experiences with language I don't belong to myself]
Neither alive nor dead, I am a thousand kilometers deep towards the center of earth, because I Definitely want to break down the equilibrium.
I'm a poet in the style of the longest poets, so everything I had to do can be considered done.
When everything is forgotten, in the memory of time this pearl will still be vibrating:
After finding it, I search for the same thing to transform it.
The strength I am attributed is no strength. Its a new dimension of time, of money, of sex, of death. Something of all that I don't want for myself. And if I can avoid it, the rest is easy.
Mark of what is not yet impossible.
Everything in me is tomorrow.
Flowers that will illuminate themselves a hundred years from now.
Poems that will be lived a thousand from now.
All truth is truth of what it is not. Being is always a bet. Always a sort of fiction compromise. A plot.
Women that will love me after I am dead.
Poetry has unleashed for ever its own number. The figure has to do with what does not die or survive.
Broken word, note deprived of its song
silence that finally says everything.
We are that repetition that will survive. A pleasure, a verse, something positive for life.
I have my ideas, if it can't be for everybody, I prefer it to be, at least, for many. And I believe this is not only when talking of bread, but also when what is at stake is love or good, to strengthen what I am saying, poetry.
There will be a womb repeating itself to give birth to new things, I am that womb, as I staid before, I won't be the new man but only his mother.
And today I want to sing to that simple joy of knowing that everything can be done again, even instincts.
And there will be no School. There will be a style and style transmits nothing, it only develops. For everyone participating in its development, a possibility in style opens. This opening is what is transmitted. And the transmission in these cases, is self- managed.
And in relation to psychoanalysis, because with poetry things are even more confusing. Poets don't exist and poetry is free.
There is a poet in me, but a whole language has decided so, and that, Cleary cannot be transmitted.
For Grupo Cero, to interpret is not a verse, not even an act, it's a whole different conception of humanity.
Grupo Cero will manage this toboggan, the rest, all the rest will have to be satisfied with being admirers or clients.
When wombs open, I will take nothing.
among the bodies torn to pieces, confused and alert,
among the scarce reality, the blackness, the weak life,
lover of the body of the letter, I will say my words.
I come from here, I am from right here, solitude rock.
I was born in your gaze, I was born in your impudence.
I was born like a maddening strength, waters of desire,
to give my words, the voice of poetry, freedom.
I have, because I have gone through the limits of man,
because I have slid in front of the gaze of death,
some part of the universe, a particle of infinite in my voice.
I come from here, I am the echo of your own entrails,
hallucinated and luminous of your own dark silence,
the echo, where time razes memory.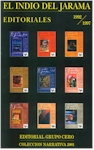 ---