Weekly magazine through Internet Indio Gris
Nº 109. THURSDAY, JUNE 27 TH , 2002
FUSIONED - DIRECTED - WRITTEN AND CORRESPONDED BY: MENASSA 2002
WE DON'T KNOW HOW TO SPEAK BUT WE DO IT IN SEVERAL LANGUAGES
SPANISH, FRENCH, ENGLISH, GERMAN, ARABIAN,
PORTUGUESE, ITALIAN, CATALAN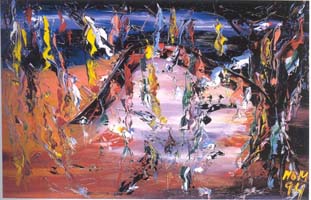 INDIO GRIS, IS A PRODUCT
OF A FUSION
THE BRIGTHENESS OF THE GREY
AND
THE JARAMA INDIAN
THE FUSION WITH MORE FUTURE OF THE
21st CENTURY
---
INDIO GRIS Nº 109

YEAR III

EDITORIAL

INTERVIEW WITH THE POET MIGUEL OSCAR MENASSA

Carmen Salamanca: A congress will take place in the month of July, "Cero Group 40 years of writing". The figure impresses, forty years.

Miguel Oscar Menassa: When is that? In what year of the last century does it fit?

CS: In 1961 you published your first book.

MOM: In reality, Cero Group writing started thirty years ago, with the Fist Manifesto.

CS: Cero Group writing. In these forty years it can be said that a Writing School has been created, referring to the heading of the Congress.

MOM: I laugh because what was created was a Psychoanalysis School with a discourse (differing from the other psychoanalysis schools) which produced a lot of writers.

CS: The number of writers who had been formed is impressive.

MOM: Yesterday I had a dream where I quarrelled with everybody. Did you see how Cero Group psychoanalysts quarrel among themselves to know who is a Cero group psychoanalyst? I dreamt of a list which read: "Cero Group Poets". The only one written down was me, "Menassa" it read and there was a dot where it said: possible ones, Carmen Salamanca, Alejandra Menassa. Everything was coming out perfect. Afterwards, there was a list of people with a negative hyphen alongside. Then you could read, for example, "Advice to write better". We sent some of them to psychoanalysis; Amelia Díez was advised to stay quiet during a whole day and afterwards to write during the night. Cruz was advised, who was the poet that was recommended to her? I don't even remember the poet who was recommended to her, because apart from that I don't know what that poet has to do with Cruz. It was Pavese or Machado, considering that Cruz could become a good narrative poet, but she didn't appear in the list. Everything like that. And they made a mess…! "But well, I'm not a Cero Group poet, and I had already published two books". What I recall is the mess they made. Well, the ones from Carmen's workshop, my God! Carmen arrived to the workshop and they were all crying, "They have disinherited us, they said, you deceived us, in the end everything was to name you poet, you never wanted to have anything to do with us".

CS: Was it a dream or a nightmare?

MOM: It was a dream.

CS: What it seems incredible to me is that each one has a different style. What do you do to produce writers?

MOM: I think it is very easy. Alongside all great writers there were writers whom the great writers took the task of annihilating them. The only thing I did, which is quite interesting to me, was that there were lots of poets besides me and I let them grow, that is the difference.

CS: How did you let them grow?

MOM: Not killing them, not allowing them to write like me, not teaching them to write, but teaching them not to be submitted. You, for instance, to your mother, the primary school, the university, the sexual unions. I'm sick and tired of the sexual unions. "They are a matrimony, they are homosexual, they are heterosexual, we are travesties, we have a long cock…" That, they wouldn't do it because I would have won, I would have won that competition, they didn't do precisely that one. Besides, as if things would have something to do with that, meaning that the world still didn't learn that a man's or a woman's genital issue are animal things, like dogs. But if even my mother knew it, when I dressed up to go out she asked me, "where are you going?", and I told her "? I'm going to fuck" and she said to me "son, dogs do that, men do other things, they write, they paint, they go to the university, they build bridges". My mother who was a worker at the factory, and you, who are manager of who knows what, still didn't understand it. I'm sick and tired of you.

Why do I tell you about my mother? Because in the end, I don't have so much beauty, what happens is that I grew up within an interesting family: my father used to read to me to make me fall asleep, he told me a story where if you refused knowledge you were condemned to live a normal life, to make me fall asleep, he told me that story. And my mother, one day, burst into tears when I went to visit her from Spain to Argentina and I told her "mum, don't cry cause I will be back in a month" and my mum told me "I don't cry for you, I cry for me". And you come to tell me that you cry for me, suffer for me, you want to love me.

It is as if it weren't enough for you. I advise you well and then you want to marry me because I advise you well. It isn't so, you have to thank me for advising you well, on top of that you want me to marry you.

CS: I'm recalling that when we went with Pilar Iglesis to the granting of Queen Sofia's awards, which this year was granted to Alvaro Mutis, Chela was there. We were talking to him and he told us: "To educate people, to make them cultured is dangerous because until they become cultured they go through a stage of stupidity and the majority remain there".

MOM: Envy: when I'm teaching someone, there is a moment when the other becomes really stupid, more stupid than when I started to teach him. If he overcomes that process of envy, he grows; if he doesn't, he doesn't grow, he's finished.

CS: To overcome envy, I imagine one has to be able to think that each one has a history, that no one wants to occupy somebody's place.

MOM: It is also a business. Many times in my life I overcame envy because it was convenient to overcome it, not because I wanted to. How can I envy the one who gives me my bread? Even though there are people who envy the one who gives them bread.

CS: Then envy is also an economic question.

MOM: Well, I can feel envy but I did understood that money, apart from representing the shit, the penis and the children, is a general equivalent in the capitalist system of production, evidently I cannot envy what makes me earn money or gives me money, because there are people who envy even the person who gives them money. And why is it not convenient to envy who gives me money: because I end up destroying him.

IV

To us poor, everything


happens in our body.


We die young or


we harden up.

We slowly become made of granite,


we go connecting our feeling
one against the other and,


nevertheless we know:


A man at certain age


doesn't need to be joined to no one


to pretend to change the world.

He doesn't need to be joined to no one


to say:


I am humanity.

Darling,

One more year, it doesn't matter, the same way it came, it will go.

This year I'll publish several books.

I must have an ambition going away from me, something placed in the world that could interest me enough as to drink up till the last goblet, to dance the last waltz and to start working like a condemned person.

I smoke, not knowing what I do, and the smoke always carries me through undetermined roads. I entertain myself with the smoke spirals and when I write, even the smoke trembles before my eyes as if it were an enamoured woman.

I smoke once more and once more, without realising, to let the hours go by, to give the words time so they desire one another in a brutal way.

One of those verses which are kept by humanity forever.

What must be brutal isn't the verse but its permanence.

No one was owner of oneself when we looked at each other.

Today she said it to me without any shame:

- I oppose my reasons to the reasons of oblivion. Nobody awaits for me, enamoured, the violent vertigo of life.

- It's stupendous, I say to her, to see how the crawling of the snake marks the ground. When old, all its venom is against itself.

- It doesn't matter, doctor, I posses the happiness of being no one.

To close the encounter, I told her that without interior interwoven forces and open to all directions, there is no pleasure, nor life, nor nothing.

- I understand, she said sincerely, if I want to be original I should get cured first of my common feelings.

- We'll continue the next time.
Cero Group
Consulting Room

Cero Group
Consulting Room

Amelia Díez Cuesta
Psychoanalyst

Carlos Fernández
Psychoanalyst

Appointments:
91 402 61 93
Móvil: 607 76 21 04
MADRID
AMELIAA@terra.es

Appointments:
91 883 02 13
ALCALÁ DE HENARES (MADRID)
We were used to tell things to one another calmly. So that, when she preferred to talk, I listened to her.
- You are fifty already - she told me with trust and afterwards, lowering and hollowing her voice, she ended the phrase.
- You have presbytia, your teeth rotten and the gambling and the sad women. I don't know if you will be able.
I listened to her tenderly, I saw her worried by me and that made me tender. She wanted me big and I didn't know what I wanted anymore. I let my head down and I took a deep puff.
-Well, Turk, don't get that way, I didn't mean that.
And changing his tone he talked about exile, the church, of great poet who didn't stop before anything.
I, this time, in retaliation, coughed in her face.
- You're right, I said, if I want to live longer I will have to do without something, and I put off the cigarette thinking, as so many times, that it would be the last one.
Tomorrow I would get up purer and would exercise and this way I would have an overwhelming activity through the days. People in seeing me would say: he's a hard worker, it's a pity that he ambitions to be a great poet.
But something else happened to me, I wanted to be a great dealer, I wanted to sell what was accumulated at a good price, I wanted, I wanted… that's why I remained silent.
She, when I was submerged in such stubbornness, read my poems aloud to convince me that there was a destiny for me.
- Many envy your position in language. I don't know what's wrong with you. Shit.
She was right in a way but wrong in another. I also envied the position of others in commerce, in banking.
They envied the owner of language.
I envied the owners of the world.
Cero Group Consulting Room
COUPLES COUNCELLING

EROTIC LITERATURE WORKSHOP

Miguel Martínez Fondón
Psychoanalyst

Coordinator: Miguel Oscar Menassa

APPOINTMENTS: 91 682 18 95
GETAFE (MADRID)

91 758 19 40 (MADRID)
Afterwards, as we already said, there is no rest.
A good lover must always get someone to love.
When the secret ogre of life imposes its dominion over the arrogant poetry, she stops suffering about anything and starts singing.
There were men who trusted no one and, anyway died as rats. If I have to carry the pain of being unique I would do so with chivalry, a while myself and a while the Other. For the time being I separate from my body what can be separated and, pure soul, battering heart, word by word I go about building this mirage. I'm a graced poet by the fortune of not feeling in general what other poets feel. This way not only makes me original but basically inhibits suffering. I'm one among many, I understand it, but the best one, the first one, no one will be able anymore to surpass me in that. Besides, when someone gets near me he will be, surely, from my side, a graceful person with part of my heritage in life, some writing, some kiss in the dark.
Someone who, in spite of tendency to unify, could be able to differentiate himself, that's what I'm looking for, to abide the law until the law becomes exhausted. To be always the same ones perturbs any legislation.
INDIO GRIS
---
THIS IS ADVERTISING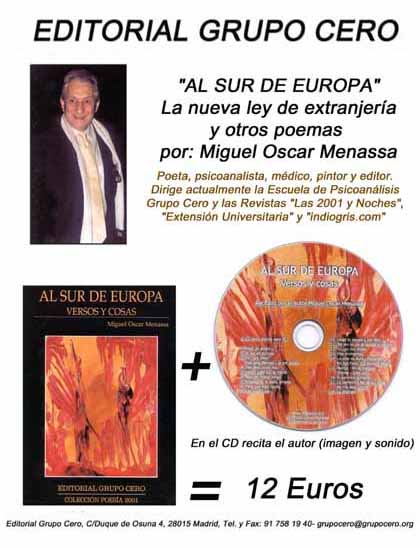 ---