Weekly magazine through Internet Indio Gris
Nº 108. THURSDAY, JUNE 20 TH , 2002
FUSIONED - DIRECTED - WRITTEN AND CORRESPONDED BY: MENASSA 2002
WE DON'T KNOW HOW TO SPEAK BUT WE DO IT IN SEVERAL LANGUAGES
SPANISH, FRENCH, ENGLISH, GERMAN, ARABIAN,
PORTUGUESE, ITALIAN, CATALAN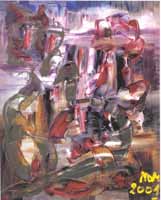 INDIO GRIS, IS A PRODUCT
OF A FUSION
THE BRIGTHENESS OF THE GREY
AND
THE JARAMA INDIAN
THE FUSION WITH MORE FUTURE OF THE
21st CENTURY
---
INDIO GRIS Nº 108

YEAR III

EDITORIAL

INTERVIEW WITH THE POET MIGUEL OSCAR MENASSA

Carmen Salamanca: We are in the Book Fair of Madrid.

Miguel Oscar Menassa: Yes, we are in the Book Fair of Madrid.

CS: That book you are holding now in your hands has appeared in the Spanish television.

MOM: Yes, it took me unaware eating, I was with an incredulous lover watching TV and she fainted.

CS: She fainted?

MOM: Because it was clearly seen in television how his Majesty Don Juan Carlos takes the book in his hands. Do you understand the emotion we felt? And he opens it and not only does he open it, he also looks at it.

CS: He even looked at it… and took it with him.

MOM: You started asking me about the book so as not to ask me about the World Soccer Championship.

CS: I wanted to put you in a good humour about the Soccer Championship, because I notice a certain disturbance in your voice.

MOM: I've never seen Antena 3 and Via Digital making such bad business as they are making with the World Soccer Championship.

CS: Paraguay 2 - South Africa 2. The services of constant information, directly from the sports networks, so that Menassa can set up the page.

MOM: Did Paraguay tie with South Africa?

CS: Yes, 2-2…

MOM: There, the opportunity for Spain to classify was at stake. If Paraguay would have won over South Africa , it would have been very difficult for Spain to classify.

CS: It is 11.45 am, June 2, 2002.

MOM: These people are making a poor business. They are angry with Antena 3 and Via Digital, also with Marca because they couldn't avoid criticising them, one of their reporters calls it the " invisible Soccer Championship", and he is right. . If they are 45 matches and we, Spaniards, are going to see 12 matches (because if not you have to pay it and sometimes when you pay you don't get it either, because these people from Via Digital are really bad, the signal doesn't reach, I'm next to Madrid Tower and the signal doesn't reach).

They became enemies of all Spaniards. I think that it is a rudeness to see only Spanish matches when Europe reunites itself around a unique currency. France and Germany are thinking in one sole defence. And at this moment shall I consider only the Spaniards citizens of my country? And what about the Germans and the French that live in Spain and pay taxes? When one speaks about immigrants, of exiles, it seems that they are people who do nothing and that is a lie, they are a minority, that is what is seen, what is shown to us. In Spain there are a lot of Europeans, a lot of Americans working and paying taxes and so it happens that us, from Antena 3, decide that the Spaniards are the only fans of the Spanish Selection. I don't think that business will succeed, I think it is sinking. It is the last mistake of the people who run Antena 3 and Via Digital, they should be sacked.

CS: Even having Via Digital you can't see the matches live.

MOM: You have to buy a card that costs 280 Euros to see the matches and they hire 10 season matches so that you are compelled to see them. Very badly done. I was about to commit suicide because they wouldn't allow me to see the Argentina match. I asked for it to Via Digital and they told me that they didn't have the signal. How couldn't the signal reach if everything vibrates in my house?

So I told Amelia Díez, who always solves my things without moving from her chair, with the new technologies, everything through cable. She got a place next to my house, 50 metres away, that at this moment I don't want to advertise, but I will in a short time advertise these people, they were going to open at 9.30 but they opened at 7.30. I got up at 6 am and went out into the street, I think that it was about 25 years that I hadn't gone out because the other World Soccer Championships I saw them at home, I didn't need to go out of my house to see them. This is unpardonable, this is going to subtract 6% of the votes, last week they made a survey and the PP was 8 points ahead of the PSOE, if they do it this week I would get only 2 points, I'm going to order that survey.

CS: Do you have a new communications organ?

MOM: I have a new communications organ because you know that to live only with his penis is for a man a way of scarcely living, to live only with the penis, which is called the organ, is very weak for a man, so I have organs of communications, to have more organs.

CS: The penis is an organ of confusion not of communications.

MOM: I think you're beginning to understand. It is called "theinterpretation.com" and the periodicity is from once a month to twice a day. It depends if the graphic reporters don't fail me, because sometimes they take a month to develop a photo. I want it to be a newspaper, a bidaily newspaper which comes out twice a day, like Marca now, which runs one in the morning and in the afternoon rectifies, after the matches are played, they are some geniuses.

MOM: I have the journey written down since yesterday afternoon, till today in the morning, at the time of watching the match, and I was at the verge of committing suicide three times. I wrote a letter to the PP, addressed to Aznar where I told him: "Ask the King, I have an unsustainable passion, I write about everything that happens to me, so watch out because I'm writing that you have given a false step, you have lost votes, so, please, tomorrow morning you deliver a decree where you remove all the rights to Antena 3 and you distribute them throughout the Spanish TV channels". Don't laugh, I wrote him the letter this morning. I have lots of means.

CS: They had declared football of cultural interest.

MOM: I want to give you an education: when the big ones quarrel among themselves, they never damage each other, they always damage the smaller ones. They quarrelled between Antena 3 and the Spanish Television and, who lost?. The Spanish people.

TOWARDS THE WORLDS

Towards the worlds


that man fails to recognise as worlds.


Towards those non-signalled traverses of the soul,


I fly towards the footprints that man


will leave on the ground.

I fly, blue, above the teeth of the night,


I tie the scents of your buttocks, my solitude.


I succumb in that cosmic crater,


I rest in peace between your arms.

DARLING,

Now I'm already decided to leave. Full of your womb, full. I go after you, throwing away into emptiness for ever, the misery of love.

I know that I deserve the scorns and punishments for having waited so long to take the decision of following you.

I carried the serpent tied to my brain, no one will be able to separate me from that poison of writing in my heart, in my hands, in my nerves.

I go towards you with no shame, having thought it carefully hasn't been a delay. I have been preparing my bourgeois and intellectual disposition so that the great traverse might be possible.

I carry with me the brutal load of nothingness, of slightly being, that is my mistake and that's the reason why language is my absolute master and death, just one more word.

- I draw back when people is interested in me. The day after experiencing a pleasant situation, I get irritable, distant.

Like an attraction and a fear of death. Like a sadism.

I ask myself whom I'll blame for making me enjoy.

Yesterday, when I was looking at the Argentine landscapes on television, the sun, the light, so what? My childhood was boring, so what? The moments of pleasure were the sexual games. There yes, doctor, one could live. And I don't know what.

She tolerated nothing from me, everything that meant an effort over me by her was repressed. Every time I had to grow I did with my mother's gaze telling me that I was double crossing her and, of course, I still carry that guilt. Sometimes when my daughter gets sad, I recall my childhood.

My mother was very aggressive with suppositories and she felt certain pleasure in holding my nose so that I swallowed the medicines. Sometimes, I ask a desperate man to hold my neck tight till I choke, to recall those scenes.

- We'll continue the next time.
Cero Group
Consulting Room

Cero Group
Consulting Room

Amelia Díez Cuesta
Psychoanalyst

Carlos Fernández
Psychoanalyst

Appointments:
91 402 61 93
Móvil: 607 76 21 04
MADRID
AMELIAA@terra.es

Appointments:
91 883 02 13
ALCALÁ DE HENARES (MADRID)
- Undress, I told her almost without cruelty, and she responded:
- Now? Right now?
- Well, I told her, whenever you want.
- That I want what? She asked me flabbergasted.
- Time, I told her, times gets between us: we grow old, you realise this, don't you?
- But what a crazy man you are.
And while she lit a cigarette, she insisted:
- Do you want me to undress now?
- No, I told her, not now, now we are going to the casino and between both of us we'll break the ass of the president of the International Monetary Fund.
Cero Group Consulting Room
COUPLES COUNCELLING

EROTIC LITERATURE WORKSHOP

Miguel Martínez Fondón
Psychoanalyst

Coordinator: Miguel Oscar Menassa

APPOINTMENTS: 91 682 18 95
GETAFE (MADRID)

91 758 19 40 (MADRID)
1
Only from love and bread and money man lives and if woman also wants to live, a bit of pleasure will be needed.
2
To change life also means to be able to go on living some sort of life.
I WANT TO GO ON LIVING; I HAVE TO BE ABLE TO STAND THIS SITUATION, other men could, others, after me, will be able to, I have to be able, too. Afterwards I still have my old age left and, there, I hope that no one comes asking me why I wanted to go on living in spite of everything.
And, it's known, we reach old age eating well and not worrying. That is to say, you reach old age if some things happen, if not, you don't. We have to tell women to stop with the destroying machine and we have to tell the kids that going so fast one reaches the very death. Life needs more slowness, more time, more space. Life doesn't fit in a syringe, not in a vagina, in the ass or in a man's head life doesn't fit either.
Today, I'll put some seeds to germinate and I'll let time go by.
INDIO GRIS
---
THIS IS ADVERTISING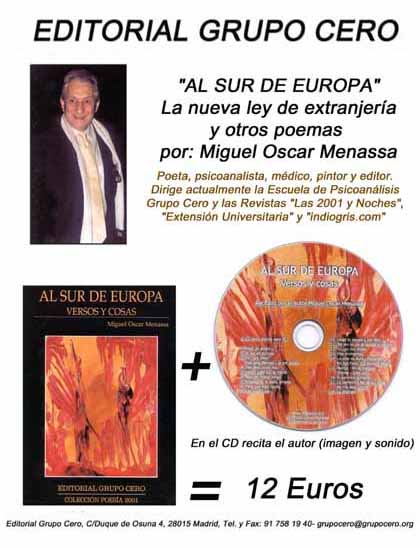 ---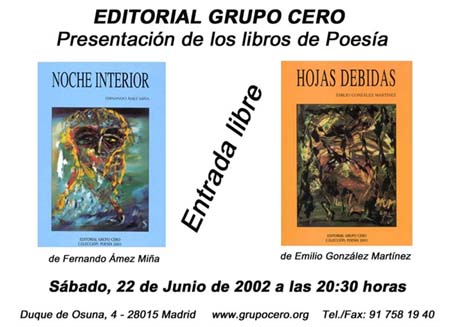 ---