Weekly magazine through Internet Indio Gris
Nº 107. THURSDAY, JUNE 13 TH , 2002
FUSIONED - DIRECTED - WRITTEN AND CORRESPONDED BY: MENASSA 2002
WE DON'T KNOW HOW TO SPEAK BUT WE DO IT IN SEVERAL LANGUAGES
SPANISH, FRENCH, ENGLISH, GERMAN, ARABIAN,
PORTUGUESE, ITALIAN, CATALAN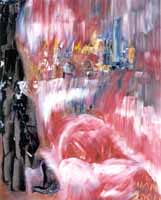 INDIO GRIS, IS A PRODUCT
OF A FUSION
THE BRIGTHENESS OF THE GREY
AND
THE JARAMA INDIAN
THE FUSION WITH MORE FUTURE OF THE
21st CENTURY
---
INDIO GRIS Nº 107

YEAR III

EDITORIAL

INTERVIEW WITH THE POET MIGUEL OSCAR MENASSA

MOM: I don't know what your intention is when you ask me. Because it was written in a poem, I can kiss you as I have kissed you some other time. And I can kindly receive the ladies because it was written in a poem, because if not, I couldn't kindly receive the person whom in some way is making me a favour and at the same time disturbs me and interrupts me. But of course, with a conception about interruption like ours, where the interruption is what gives pleasure to leisure…

Once people learn to leave in the middle of football matches, to stop making love in the middle, because that is what sick people do, but once normal people start doing it for sure man will live longer. Generally we start a task only to start it, then we don't find the pleasure in it because we have to give something to the task in order to find pleasure in it. That's why that we (we is I, I don't know if people are so tolerant), I don't make any kind of observation to a young writer up to his third or fourth book. Why? Because with that which I may not like (I'm a classic, I seem very modern though I'm very classic, I have seventy thousand poets in my head), perhaps they are creating a new style. When he already publishes his fourth book I can tell him: "Look son, as there is no new style, I think you should write like everyone else does".

P: That attitude is important not only for the young, but for everyone who approaches art or the expression…

MOM: I meant to say that, when leisure is prepared by the State, I have to abide by my age: if I'm a 50 years old worker, I'll have the leisure for a fifty years old; if I'm a 25 years old worker, the leisure of a 25 years old. Precisely art, the artistic production, (the scientific production also but it is more difficult that researchers who investigate the modern theories about how we are going to die, might write verses, which is not easy either), requires some work. That is to say, that it isn't that poetry or art are curative, but that art contacts me with another world. I paint, I oblige myself, sooner or later, to see how other men painted or the other way around, of so much seeing how other men painted, of so much listening others' verses, one day I write verses. Because there is nothing inside your belly, things are in libraries, in books.

In each one's head there is a mother, and if you have a good mother, she warms you up in winter, but nothing else. There are nerves in the head, things are in the books, in the relationships. It happens to me with classic medicine (I call medicine, classic medicine), in the sense that I shouldn't recall anything because now I'm practising another profession and besides I have another style, different to the medical style. However, if someone who knows something about medicine would appear here and talk to me about the medical issue he happens to think about, I have there an operational memory, I remember almost all the things that at sometime I knew. If this doesn't happen to you, you have to practise. Psychoanalysis is very interesting, I learnt all these things from psychoanalysis. Because a creator wants his work to be his, but it isn't mine. And that was taught to me by psychoanalysis, I wouldn't ever have been able to think about it, in spite of what the great poets used to say "I is another", as if wanting to say that he who writes is another of oneself.

Madrid is a wonderful city. I don't know Spain so much but Madrid is a wonderful city. It is currently, though it hadn't been in another moment, a cultured city. That is to say, it moves with the cultural universal parameters, it has recuperated its level in the literary production. I would say that if I take into account the last 30 years in Spain, concerning women, women increased I don't know if five or six times the number of women creators that there was 25 years ago. That is to say, it is something hard to believe.

A minister of health, around 12 years ago, said that the girls studied medicine to look for a boyfriend and in this way explained the scholar failure, the guy was a complete stupid because now in the medicine faculty there are more women than men. What does this mean? That we have to defeat all that. I'm not very pro-feminist because women should also be educated a little, as I was educated, as everybody was educated, but what they have done in this trial is disastrous, it isn't that I'm pro-feminist, it is that one is against injustice, if the judge or the prosecutor catches you, if you are making a denouncement and the other one treats you as if you were a criminal, you end up being the criminal.

P: Do you know of any cheap entertainment in Madrid?

MOM: If you refer to money, the cheapest thing is art: you take a little piece of paper to wrap baloney and with the used pencil that the shop owner threw away because it was no longer useful to him, you write the poem of the century and good-bye, you enjoyed yourself like a pig, you didn't spend money, you have no more appetite because you ate the poem, you saved in food and when your lover comes you are with an unknown tension. But people don't want that, people want to suffer, they want to ambition what they can't get, I start painting but it doesn't suffice me, I don't enjoy. Do you know why I don't enjoy? Because I don't resemble Dalí, and I suffer and suffer. No, I'm grateful to God and the Holy Virgin to be able to paint. And you'll see that when they want to punish me, they are going to do that to me, they are going to send me to the Gran Hermano (Big Brother), where I think they don't even give you paper or a ballpen so as not to influence you, and there I would die.

Three days ago I made a poem, the guy starts to separate nostalgia from remembrance, pain from death, because he feels that all that is separable, but he comes and says: "If I could I would separate my hand from my ballpen, the ballpen from my thought and my thought from sexuality" but you can see that that is impossible, because he said: "If I could".

P: What is your opinion about the cinema?

MOM: I like movies very much, besides there is a crisis at this moment. The newspapers say so, in the sense that there are many movies already recorded, made, which don't obtain an efficient distribution. People are a bit tired, not of the realisations nor of the actors, because here there are, in some sectors, some who are very good, but they are tired of what they make the actors do, of the plots, of the scripts.

Cinema is healthy because it places you in front of another story. It is an art, in spite that now it has come down in the world, it is an art, then it places you in another story rather than yours, or in a similar story to yours, so much so that it lifts the neurotic weight from you of thinking that what happens, happens only to you. The cinema shows more easily than in the novel, that in poetry, that there are people suffering worse things than you and that there are people who suffer what you suffer and, fundamentally, there are lives you wouldn't have thought of if you hadn't seen this film.

P: Do you write scripts for films?

MOM: Everything you ask me about that has to do with that, I do it. I don't do music and singing because my relatives don't allow me to do them and as I love my relatives too… No, because they say I do it very badly, so I can't stand to see them suffer seeing me doing something in a bad way (I do everything well), that's why I don't sing. but if not I would sing, because I really feel like doing it…

Don't leave me, love

Don't leave me, love,


so lonely in these peaks.


Fulfilling your desires


I flew to such height,


higher than God


I feel desolated.

Beyond the hole that lives in you,


I clean,


with a freedom against freedom,


tremendous.

Wideness that we couldn't have together.

Spaces, ambitions,


my solitude belongs to you.

DARLING,

I only owe myself to you, enamoured goddess. This time I'll treat you as great ladies are treated in the big temples.

I'll write your name on silk pages. I'll join a thousand bodies if necessary, so that your voice, my lady, may have enough flesh to jump without hesitation into the emptiness of death, the black hand of the future.

And if some day it is necessary to rest, we'll rest. We'll practise breathing exercises and, later, we'll sleep among hungry suns of solitude and night. There will be mystery in our dreams and when awakening you'll play the keyboard of pleasure and death only for me.

- A weekend that we can call dead. Almost nothing, only four pages in the whole weekend. Yes, I behaved courageously with love. I made love several times and in different positions and in different places of the house. Afterwards I also drank lots of coffees, I masturbated several times, I smoked a hundred pot cigarettes, I wrote two verses, but everything seemed to me rather quiet, rather dead. I felt like phoning you and, afterwards I said to myself, "The doctor must be writing some important thesis, I won't bother him with my foolish things". But that truly didn't happen to me before.

- Before what?

- Before…Well… Before psychoanalysis. I don't know, but several times I have imagined without being able to talk about it, that not being able to write on the weekends has something to do with you, I don't know if it is because I don't see you or because I imagine you writing better and more than I and that, I think, I can't stand it well.

- You think perhaps that my penis is bigger than yours.

- Not your penis, doctor, but your dick…

- We'll continue the next time.
Cero Group
Consulting Room

Cero Group
Consulting Room

Amelia Díez Cuesta
Psychoanalyst

Carlos Fernández
Psychoanalyst

Appointments:
91 402 61 93
Móvil: 607 76 21 04
MADRID
AMELIAA@terra.es

Appointments:
91 883 02 13
ALCALÁ DE HENARES (MADRID)
Darling, I had the necessity to like myself, in the mere attempt of recalling you, and I masturbated without compassion.
Cero Group Consulting Room
COUPLES COUNCELLING

EROTIC LITERATURE WORKSHOP

Miguel Martínez Fondón
Psychoanalyst

Coordinator: Miguel Oscar Menassa

APPOINTMENTS: 91 682 18 95
GETAFE (MADRID)

91 758 19 40 (MADRID)
And if you can't imagine it, INVENT IT.
I'm very calm, I hope to be able to check the temperature in order to live a thousand years, the rest seems to me pure consciousness.
Today I want to tell you, dear God, that I have desisted from wanting to replace you. From now on, each time I need you, I'll love you. It will be enough for me. I'll win, among men, many more competitions than expected in my career to become, some dreamt day, God.
I'm happy, very happy. I hope to hear from me more often. A man that recognises himself in everything. A future is awaiting for that man. I'm in the upward swing, history will finally tell me. This coming year I'll be on the rise, everything will rise for me. There is something that is burning upwards, a humour, a sun, some words, everything is burning in the skies.
I have resigned to be God, I'm saved.
INDIO GRIS
---
THIS IS ADVERTISING
CERO GROUP EDITORIAL


in the


BOOK FAIR

PARQUE DEL RETIRO DE MADRID


P.O. BOX 55


MAY 31st to JUNE 16th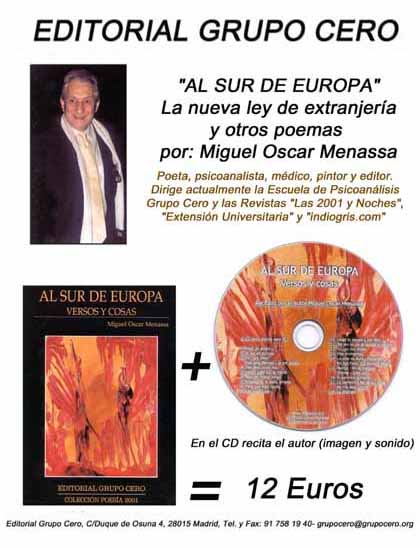 CERO GROUP EDITORIAL


"SOUTH OF EUROPE"

The new law of foreignness and other poems


by Miguel Oscar Menassa

Poet, psychoanalyst, physician, painter and editor.


Currently, he directs the Cero Group School of Psychoanalysis


and the magazines "2001 Nights", "University Extension" and


"Indio Gris"

The author recites in the CD


(image and sound)

Cero Group Editorial 4 Duque de Osuna St. Madrid 28015
Tel/Fax: 91 758 19 40- grupocero@grupocero.org
---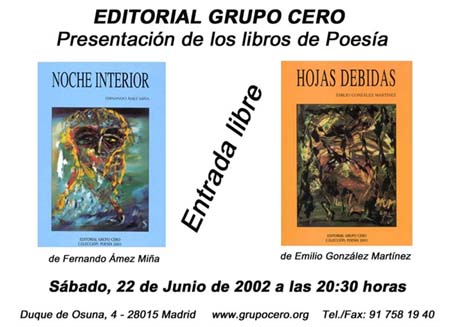 Cero Group editorial
Presentation of the Poetry books
INTERIOR NIGHT by Fernando Amez Miña
OWED PAGES by Emilio González Martínez
Free admittance
Saturday, June 22nd, 2002 at 8.30 PM
4 Duque de Osuna St. Madrid 26015 Tel/Fax: 91 758 19 40- www.grupocero.org
---