Weekly magazine through Internet Indio Gris
Nº 105. THURSDAY, MAY 30 TH , 2002
FUSIONED - DIRECTED - WRITTEN AND CORRESPONDED BY: MENASSA 2002
WE DON'T KNOW HOW TO SPEAK BUT WE DO IT IN SEVERAL LANGUAGES
SPANISH, FRENCH, ENGLISH, GERMAN, ARABIAN,
PORTUGUESE, ITALIAN, CATALAN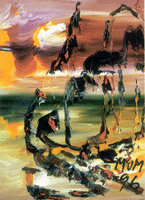 INDIO GRIS, IS A PRODUCT
OF A FUSION
THE BRIGTHENESS OF THE GREY
AND
THE JARAMA INDIAN
THE FUSION WITH MORE FUTURE OF THE
21st CENTURY
---
INDIO GRIS Nº 105

YEAR II

EDITORIAL

Warning to the Spanish Soccer Selection

Comacho is committing the same mistakes as Clemente:

a) The election of the players (except for 2 or 3 that can't be left out) wasn't made strictly by the skill of each player but by the "taste" of the coach.

b) There is a bad relation with the press before beginning the tournament.

c) And lastly, and this is an error for all the coaches of the world, Camacho insists, in the same style as Clemente and Aznar, in that the players mustn't play with their heads, but with their balls.

- Why, I ask myself, will they have better results?

And she answers me from the bathroom, while she masturbates with a sports magazine:

- "Because he's a macho, a sheer macho".

I stayed quiet but I thought that Camacho, "identified" in a bad way with Clemente, quarrels with all the journalists as Clemente did to tell them that he is more macho than Clemente.

And she, that knows everything about me, from the bathroom, while she washed a little, told me:

- He will demonstrate it to you and I hope we have to play with Argentina and there, you'll know what a macho is.

I didn't want to insult her, but I told her:

- Go to hell.

She looked at me severely and I to cut it off because I was afraid, told her:

- All right, macho, it's all right, I surrender, but you didn't win over me.

EDITORIAL

INTERVIEW WITH THE POET MIGUEL OSCAR MENASSA


Sunday, MAY 5th, 2002

Carmen Salamanca: Last week you told us that you had to understand, you had to know that there were hard scenes in life, almost mortal, but one survives them.

Miguel Oscar Menassa; Yes, because the physic capacity is always restored completely. Freud had already realised with his patients, who were sick, very sick (today we would consider them a bunch of mad women). Freud says that, when the outbreak passes, they recuperate all the damaged functions during the experience of the psychic illness. For example, the exiles that suffer a lot. It was costly for me although seeing what it costs to people, it cost me little, but they were 6 or 8 years telling myself that I was in another country, that it wasn't so bad, that the oil was more nutritious here than there, that the olives are clearly tastier here than there. It cost me 8 years. I say 8 years because I started to make the papers of revalidation of my medical degree and I left it and I could finish after eight years, I could finish it after I could naturalize myself and I already liked the oil.

But of course, while one doesn't accept that one is in another country, one suffers and suffers. Realise this, if you are in a country and you think that you are elsewhere you suffer a lot. I know Argentines who still can't stand the fact that here lunch is after 2 o'clock in the afternoon. And now I think it's ridiculous to eat at noon, which is when people have lunch in Buenos Aires, totally ridiculous, noon for me now is time for a vermouth. And if I were to return to Buenos Aires to live, in 14 or 15 months or in three or four years I would like the oil from there again. One gets ill when one doesn't recognise that one has that adaptability, that capacity of substitution, that's when one gets ill.

CS: Let's invite the readers to the Madrid Book Fair, considering that there are 15 novel things.

MOM: For a small group like us, which isn't recognised by the great media, it isn't bad at all. And, what are they waiting for to talk about us? Are you the Manager of Cero Group Editorial?

CS: Yes.

MOM: And don't you ask yourself why the journalists don't call to interview you? How strange, you are a young Spanish woman, who reached a power post, who, besides, works with a lot of delicacy, you only have to see the editorials.

It seems very strange to me, because when a Spaniard of your age farts, it is news in all newspapers. Because you are a woman and because you committed that act of freedom of farting in front of the Minister. You publish 125,000 copies of a Poetry magazine, your magazine is read in the institutes of Spanish language, and where there are poets who are only published in your magazine. You edited 16 books this year, 12 poetry books. Tell me which editorial published 12 poetry books in one year and you'll see that, if you name me one, you have to name me very big editorials and the majority of the books belong to dead poets or almost. You have to pose yourself, it is part of your editorial policy to ask yourself, what happens? Or you don't want to pay. Well, but we have to see, because there are people that not even paying.

CS: Did you see the photo of Saturday, May 4th, in the front cover of all the Spanish newspapers?

MOM: What you want me to comment is Aznar's gesture in front of Bush, showing with separate hands the size of his dick and Bush licking his lips, looking out of the corner of his eyes at him. But I don't know if you have noticed that this man told the other one that he had it so big and the other told him "my love".

CS: Yes, that is the first thing I saw. And today, Condoleezza Rice, National Security Counsellor of Bush Government, appears saying: "Yes, the president likes strong men like Aznar".

Cesira Cignoni reciting

1º Y 2º


1975

I have been born


I am in the world


and the world is the things that
have been done


and the reason for existing


has been found.

Terrors and ointments of the past,


traverse my own time of living


and, nevertheless, it will not be necessary


to be tied to any cart,


of a sheer violence against man,


to no passion for the murders.

Perfect acrylic clouds alter my being.

Machine of power, ardent machine of power,


I sink my name in your solitude,


first name in your entrails.

I climb your mountains,


not with the powerful flight of the eagles,


I climb your mountains,


with the flight of a deformed bird.

Summit of the summits:


my ugliness.


A tremor, an initial tremor,


tenuous and solitaire infantile whisper,


in the middle of the summit.

Darling,

Life cannot be owned, it can only be lived.

She lives with her parents, she's 40, she feels demanding towards men of whom she has none and she can't stand women who are her loves.

For me, she is seriously ill.
Cero Group
Consulting Room

Cero Group
Consulting Room

Amelia Díez Cuesta
Psychoanalyst

Carlos Fernández
Psychoanalyst

Appointments:
91 402 61 93
Móvil: 607 76 21 04
MADRID
AMELIAA@terra.es

Appointments:
91 883 02 13
ALCALÁ DE HENARES (MADRID)
She, once more, hadn't been the first.
Cero Group Consulting Room
COUPLES COUNCELLING

EROTIC LITERATURE WORKSHOP

Miguel Martínez Fondón
Psychoanalyst

Coordinator: Miguel Oscar Menassa

APPOINTMENTS: 91 682 18 95
GETAFE (MADRID)

91 758 19 40 (MADRID)
Transference is, at the same time, an obstacle to the remembrance and the present time of the closing of the unconscious, which is the failure, always in the exact moment of the good encounter.
Poetry is also economical without being crazy or bourgeois.
I have attempted to win once more time in gambling what I cannot win with my work and I wasn't able of nothing.
A radical change, that is what I really ambition. If the world falls down I won't be able to stop that fall but simply describe it.
The libido is the effective presence of Desire; desire that isn't substance, that is present in the primary process and that rules even the way in which we must approach it.
I am somewhat desolate. My sorrow isn't little, what I forget is little, the night, open without compassion to memory, hurts me.
Between what I understand and what I love is the delirium of gambling. I understand what morally allows me to gamble. I love the person who allows me materially to gamble, but this time it isn't something between lovers, this time my life is at stake.
INDIO GRIS
---
THIS IS ADVERTISING
CERO GROUP EDITORIAL


in the


BOOK FAIR

PARQUE DEL RETIRO DE MADRID


P.O. BOX 55


MAY 31st to JUNE 16th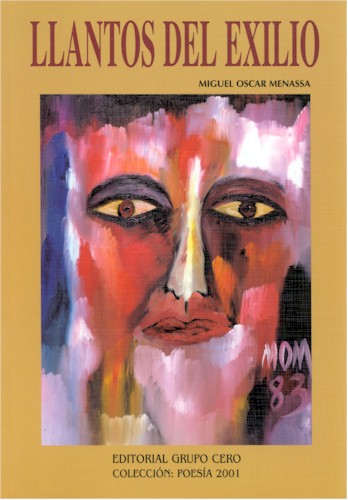 Tears of exile
author:
MIGUEL OSCAR MENASSA
75 pages
18 Euros, 3,000 Pts.
It contains thirteen illustrations of some of the best paintings
of Miguel Oscar Menassa.
---