Weekly magazine through Internet Indio Gris
Nº 104. THURSDAY, MAY 23 TH , 2002
FUSIONED - DIRECTED - WRITTEN AND CORRESPONDED BY: MENASSA 2002
WE DON'T KNOW HOW TO SPEAK BUT WE DO IT IN SEVERAL LANGUAGES
SPANISH, FRENCH, ENGLISH, GERMAN, ARABIAN,
PORTUGUESE, ITALIAN, CATALAN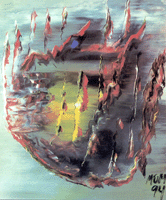 INDIO GRIS, IS A PRODUCT
OF A FUSION
THE BRIGTHENESS OF THE GREY
AND
THE JARAMA INDIAN
THE FUSION WITH MORE FUTURE OF THE
21st CENTURY
---
INDIO GRIS Nº 104

YEAR II

EDITORIAL

INTERVIEW WITH THE POET MIGUEL OSCAR MENASSA


Sunday, MAY 5th, 2002

Miguel Oscar Menassa: I wrote the book I, the sinner when I didn't think at all that I was going to be an exile, but when I wrote it, it was impossible to think that the "Modern Greece", which Buenos Aires was, could see herself folded into a military dictatorship without precedents in Latin America. It happens to us Argentines because we are such boasters that no one speaks well about us. 30,000 missing people and no one gave it importance as if there wouldn't have been dead people. It was a very dirty war, a terrible hardship.

Carmen Salamanca: Something similar you wrote in the Indio, that the Argentines didn't speak after the end of the tyranny.

MOM: Do you know why I say this? Because in Spain no one talked about Franco's dictatorship, so we suffer it. Everything that the peoples cannot elaborate cannot be forgotten, it seems that it is forgotten but it is suffered. Even today, our minds in Spain are minds from the dictatorship, as the poet says: "He wants to murder me, he maintains me in prior phrases". If you listen well to the radio, the television, you'll see that there are many phrases that you could say belong to Franco, at least from Franco's dictatorship. At any place, in the Supreme Court, in the offices of public prosecutors, in football teams, at the university… It's a bit deplorable.

What happens is that this is too hard for me. For me and my generation it was very hard because we had lived an epoch impossible to think of in Latin America. I coursed Medicine in 7 years and I had four professors who were Nobel Prize winners. When I say the "Modern Greece" it is because everybody enjoyed conversing, later all that started to rot a little. We were the new Greeks, that is why they had to do what they did. You know that for capitalism the important matter isn't killing a person who damages or kills, for capitalism the important matter is to go about killing the people who talk.

CS: To go about killing the people who talk.

MOM: Everybody disagrees about killing a terrorist, the guy has to work his whole life to generate another terrorist. On the other hand a person who talks, a person who doesn't want to kill, that person is dangerous because in the end those people are the ones who oppose wars, people like us, conversing people. They are the ones who in the United States are against wars, they are people that the modern states want to shut up so that they don't meddle in their businesses. You know that war as it is doesn't exist, that is to say, that a country can damage another country, that doesn't exist anymore, I don't know if it has ever existed. What does exist is the industry of weapons, the smuggling of arms. Is there a need to increase the economy? A small war, particularly for the producing countries, (read United States), any small shitty war is business for the countries which produce arms, it increases the GNP, the GDP and the NNP.

I say it this way because to increase something in our life, we have to work like beasts, instead these guys with a little war they increase everything. What they don't have decreases, oil decreases and GNP increases, the production of weapons increases… Apart from this, no present government, needless to say the US government, wants its people to be cultured, intelligent, studious. Wars are useful for that, when there is a war, the president of the US presents to Congress any crass stupidity and it is accepted and, where does the money come from? From culture and education. It's not that I have a spy in the White House, it appeared in all newspapers.

What happens is that people realise, but they don't realise. It is as when one discovers that one's own mother is a criminal, one believes it but doesn't believe it, one believes it but attributes reasons, one says " poor dad, I didn't study the way he wanted and the guy had to go into theft". It may be, but…

CS: In the book it seems that it was from a very different culture from which it came.

MOM: It was different, but I don't know if it was different, Spain was coming out from the dictatorship and it had its brain similar to how the Argentines have it now, a bit queer. According to my criterion, for example, Argentine psychologists aren't doing well, let's say that in Buenos Aires the only group which is doing well is Cero Group. But it is because the Lacanian psychoanalyst were the followers of the dictatorship, at the level of that thought, while they didn't do it in a different way. They, during the dictatorship took over all the professorships, all the teaching of psychoanalysis and when the dictatorship was over, they continued doing the same as during the dictatorship. In the university, in the psychoanalysis exams… they continued to do it, that is to say, that they were the ones who, after the dictatorship was over, supported it. Afterwards they were punished by the people that wouldn't psychoanalyse themselves with people who continued maintaining in their thoughts the same characteristics they had in the dictatorship, after the latter was expelled from the country.

The world is really derisive, I met an Argentine Lacanian colleague and he complained a lot about Spain. I told him: why don't you go back to Buenos Aires considering that you have your family there? You know what he answered me? He said: No, because if I return to Buenos Aires I would lose prestige. So in order not to lose prestige, he was having an awful time here.

I went to Argentina in 1985, to study Argentina, to see if I could stay. I decided that I liked Spain very much, that in Argentina I wasn't to be able to do all the things I did here, and I chose to live here, it is something else. In my case, if I go to Buenos Aires, my prestige would increase. Why? Because to leave something as important as what I have in Madrid and go to Buenos Aires, would be attributed to me as an amorous gesture.

That's why, when people use money as an excuse not to be, it always sounds strange to me, one has to be what one has to be and it doesn't matter much if with money or without it. It is true that with money it is much easier, but without money, if one really wants, things can also be accomplished, but in a more difficult way. But it is also true if one has to understand, that is to say that in life it's one who has to understand (that occurs in certain communities), one must understand. It was my turn to understand, so I also went appeasing myself in those hard scenes of life. A man who had to understand, must have known that the hard scenes existed, almost mortal, but that you can outlive them.

I sail and, sailing is not enough.


I produce,


in the very centre of my silence,


a word


and the world stops.

Afterwards one must go on


looking for that new silence,

other words.

Darling,

I'm writing kneeling down on the bed, more than writing, I say to myself, praying.

Nocturnal gods, gods of eternal damnation. Come, take me with you towards the warm madness of the shadows.

I don't want to see beyond the light, I want to see beyond my own death.

Among the shadows, the wiser men will tell me that beyond your death life continues.

Words, foolishness, in reality I want to see beyond the light. Among men, beyond all blindness, to close my eyes for an instant and see the universe, the immensity of all spaces, the cosmos, the small cracks through which my writing can be from time its future.

He said it to me with great clarity:

- She thinks that I work because I like it and in some way she's right but I must admit that I also feel disturbed when I arrive home late and find her asleep.

I said nothing to her while I thought: "Oral magazine, the voice for your mornings to be different".

He blew his nose and, as he stopped talking, I said to him:

-We continue the next time.

Before getting up from the couch, he managed to tell me:

- How can one do what one doesn't know, if it isn't rectifying the errors that forcibly have to occur?
Cero Group
Consulting Room

Cero Group
Consulting Room

Amelia Díez Cuesta
Psychoanalyst

Carlos Fernández
Psychoanalyst

Appointments:
91 402 61 93
Móvil: 607 76 21 04
MADRID
AMELIAA@terra.es

Appointments:
91 883 02 13
ALCALÁ DE HENARES (MADRID)
She, now sleeps with a book between her legs and while she sleeps she smiles and while she smiles she arouses me.
I will undress her little by little and I will fuck her while she's sleeping; she, not realising it, will enjoy as never before.
Cero Group Consulting Room
COUPLES COUNCELLING

EROTIC LITERATURE WORKSHOP

Miguel Martínez Fondón
Psychoanalyst

Coordinator: Miguel Oscar Menassa

APPOINTMENTS: 91 682 18 95
GETAFE (MADRID)

91 758 19 40 (MADRID)
1
Sometimes madness is simply the exaggeration of a phrase, the majority of times, normal.
2
A blow of chance can alter the gambling of life for ever. Sink everything or address everything as triumph.
3
We are already understanding one of the limits: the truth is always a theoretical construction.
4
There is nothing in the life of an individual that obliges him to enjoy.
Reality shows me in a cruel fashion that there are certain painful situations which hadn't yet started.
Now I have to abandon protagonism, to abandon the tendency to excel and when I transform myself in something valuable only for some and not for all, there I will be a merchandise expensive enough as to outlive poetry.
We have already passed the time of survival, enamoured with death. Now the time of life comes without pain. Menassa without intermittent passions.
Multiple and fragrant relations even if it's necessary to deceive everyone. Multiple relations as the only possibility of surviving this delirious project which is living.
Without pain, without guilt, each one will slide their own toboggan and with what is left of him, after the fall, we will be a group, without pain, without guilt, without remorse.
INDIO GRIS
---
THIS IS ADVERTISING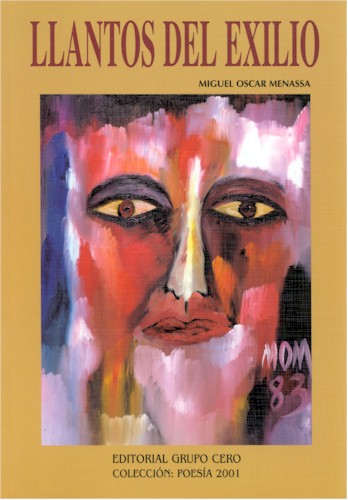 Tears of exile
author:
MIGUEL OSCAR MENASSA
75 pages
18 Euros, 3,000 Pts.
It contains thirteen illustrations of some of the best paintings
of Miguel Oscar Menassa.
---