Weekly magazine through Internet Indio Gris
Nº 103. THURSDAY, MAY 16 TH , 2002
FUSIONED - DIRECTED - WRITTEN AND CORRESPONDED BY: MENASSA 2002
WE DON'T KNOW HOW TO SPEAK BUT WE DO IT IN SEVERAL LANGUAGES
SPANISH, FRENCH, ENGLISH, GERMAN, ARABIAN,
PORTUGUESE, ITALIAN, CATALAN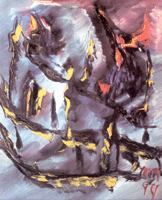 INDIO GRIS, IS A PRODUCT
OF A FUSION
THE BRIGTHENESS OF THE GREY
AND
THE JARAMA INDIAN
THE FUSION WITH MORE FUTURE OF THE
21st CENTURY
---
INDIO GRIS Nº 103

YEAR II

EDITORIAL

INTERVIEW WITH THE POET MIGUEL OSCAR MENASSA


Sunday, MAY 5th, 2002

Carmen Salamanca: Your book I, the sinner is full of characters. It gives the sensation that you knew them, that Grandma María and Grandpa Naur really existed. What can you tell us about those characters?

Miguel Oscar Menassa: That they aren't characters, they are my family.

CS: They are your family. What were they like?

AD: Menassa always uses names belonging to his family…for fiction.

CS: "María, the sorcerer", was she a witch?

MOM: You already called her witch.

CS: Tenderly.

MOM: She was a sorcerer, not a witch. María the Magician they used to call her. María the sorcerer and María the Magician. She was a woman, let's put it some way, with curative attributes, from whom I have inherited that power, I posses curative hands.

Don't look at me with that face! Don't you see the poems I write with my hands, or do you think that my poems aren't therapeutic enough? I have inherited that from my Grandma María, the sorcerer.

With this woman who was my grandmother, who was a really marvellous, interesting woman, I learnt what hysteria was, being very little, at 6-7 years old. A man who was paralysed came to consult her, then she started to treat him and after three months of treatment, the man came running to tell her that he was going to give her a truck, a truck for her grandson, a truck for her son. He was totally nuts but he had come running and before he was paralysed. My grandmother didn't do anything to him, she put some egg yolk on the legs with bandages, a sort of plaster, the egg yolk got hard in the bandage. The man had been 4 to 6 years paralysed. But of course, when he stopped being paralysed, he turned crazier than a tomato, an out of season tomato, because a seasonable tomato isn't mad.

Her husband kidnapped her when she was 15, grandfather Antonio, who lived to be 107. He kidnapped María because she was 15 and couldn't get married, he needed her, he loved her. The man went and kidnapped her, he took her away. Afterwards they had some children, around 10 or 11 children. He was 55 and she was 15.

CS: He lived a lot!

MOM: 105-107 years. I knew him blind, when he died I was around 6 to 8 years old; for me he was always blind, but he became blind the last 10 to 15 years of his life.

CS: And who was that?

MOM: My mother's father.

CS: Your father's family must have been in Lebanon.

MOM: The father and the mother were in Lebanon and a brother in Argentina. Why are you asking me about my life as an exile? You, that belong to the world of psychoanalysis, you could interpret that in the end I ended up doing what my father did, exiling myself. It may be so.

CS: In the opposite direction, one went to the left of the map while the other went to the right. Afterwards you speak about "my cousin Miguel who was killed by the back". It is a book where death is quite present, the sea which kills our men, a poem said.

MOM: It is the way of reading because there is also a birth there. Because men died in the sea I could be born, because men died at sea my father escaped from dying a winter morning in the sea and arrived in Buenos Aires, which was a city at that moment.

There are various stories, like when my father went to see who was going to be my mother, well the one who was to become my father because he wasn't my father at that time. He had to cross Alsina Bridge. " Alsina Bridge which yesterday was my lap, with a blow of its paw the avenue reached you, old solitary and confident bridge, you are the trace that in the forehead, progress has left you, the revealed suburb sucumbed at its passing by." He had to cross Alsina Bridge, he carried a revolver with him, a 38 Colt and before going into the bridge he shot twice so that the criminals would know that he was armed and allowed him to go by. He went to see my mother. That happened in the early thirties, the last century.

CS: Yes, of course, almost 100 years ago.

MOM: Cachafaz was one of the greatest tango dancers. Well, my mother danced tango with Cachafaz. He worked for the Compañía General de Fósforos (General Matches Company). But of course, evidently if my father would have been able to rescue the fortune he left in Lebanon when leaving, it isn't that I would have dedicated myself to smuggling butterflies, of farfalle, it would have been easier, I would have done what I did, but just a little easier.

CS: I was thinking if the motherland is like the family, like the mother and the language, it must be a hardship to change your language.

MOM: I, when I came from Buenos Aires, I thought that my motherland were the streets of my city but, in reality, any city are the taxes that one pays. But of course if I had discovered that at 35 I would have suffered less. All cities are the taxes that one pays, if I pay the light tax I live in a lit city, if not I live in a dark city even if the light is there. I pay for sweeping and cleaning and sometimes I see the streets clean, if I don't pay for sweeping and cleaning I always see the streets dirty.

CS: We will have the Book Fair in a short time.

MOM: We have to invite people because, how many novel things are we taking to the Fair?

CS: 15 novel things, 11 poetry books and 4 psychoanalysis books.

To Saint Isidro the Plowman
(San Isidro Labrador)

Joyful Countryside

The land gets furious or rests


when the hands of the peasant


go away running to the village


where women open like the sea


wait for them.

Mothers of love


females of love


they sing and spit your backs.


Here where your scented skin agitates


you know of the pain of the furrows


when your hands become enormous.

Love becomes enormous.


Your heart doesn't break?


Blood isn't poured.

Darling,

A man who doesn't clearly know where to go, ends up going anywhere. And up to now it hadn't occurred to me to think that a man had the necessity to know where he was directing his steps to. I rather thought that it was better not to know.

Life, I mean my current life, certain events that happened in my own heart, they are showing me that a man (and I would like to be one) thinks before he talks and knows before about living. That is to say, men in general live exactly the other way round to the way I lived up to now. There is something in me that deviated all the senses.

- My father put me in the bathroom when he shitted (while he talked he allowed a sort of deaf whistling to escape) and didn't let me out and there was a smell of shit that was unbearable. With this shit (he agitated some written papers that has in his right hand), the mouth is also a sphincter; the last time I was with my woman, we kissed and we kissed and I introduced a finger in her ass and I stained it with shit and I think that was the last time.

- And what did you expect to find in your wife's ass?

And he quickly answered me:

- Gold coins, and he remained silent.
Cero Group
Consulting Room

Cero Group
Consulting Room

Amelia Díez Cuesta
Psychoanalyst

Carlos Fernández
Psychoanalyst

Appointments:
91 402 61 93
Móvil: 607 76 21 04
MADRID
AMELIAA@terra.es

Appointments:
91 883 02 13
ALCALÁ DE HENARES (MADRID)
I wanted to fall asleep and I couldn't, she didn't let me close my eyes. When she wasn't with me, because her weeping could be heard whatever distance she was; and if she was with me, because she cried in a grandiloquent way for the whole time that we were not together.
All the time I am not with her she imagines me making love to other women. Sometimes she is so desperate, her desire is so intense that i end up making love to several women.
Cero Group Consulting Room
COUPLES COUNCELLING

EROTIC LITERATURE WORKSHOP

Miguel Martínez Fondón
Psychoanalyst

Coordinator: Miguel Oscar Menassa

APPOINTMENTS: 91 682 18 95
GETAFE (MADRID)

91 758 19 40 (MADRID)
1
From today on, all exaggeration is bad until the contrary isn't demonstrated to me.
A man who spends all day finding out how and when he's going to use his penis, finally only learns that and not at all well.
A man must let himself be carried away by all the ideas, also the sexual ones.
2
The time of the philosophy of squandering is coming to an end, no one is capable of a truly free sexuality and, on the other hand, everybody ends up asking for what they believe they had put. And how much you have to own, I say to myself, to return so much.
3
To give out food is a way of producing more food. It is the space to remove the grains in verses.
A total sinking of the personality, if it doesn't kill you, makes you intelligent and, here I am; I can say that I know the bottom of any intelligence, of any death.
I touched with my words all the possible registers for man and, I must say it, God and the State were always against my discoveries.
I have nothing to reproach to anyone and that makes me great.
I never belonged to anybody and that also adds to my grandeur.
I knew desire and, since then, I am a living being who permanently lives out of his circumstances.
I have stopped fearing death, at last life has started for me.
And if I was able of that, I have been able a lot for me. Now I set my words free so that they can face the world.
INDIO GRIS
---
THIS IS ADVERTISING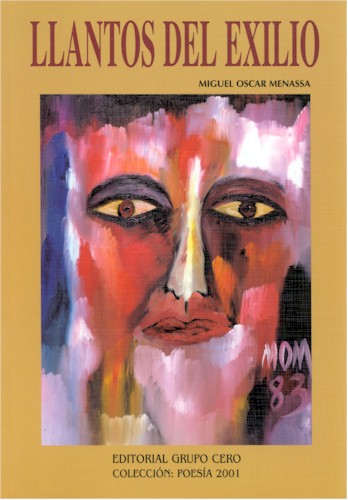 Tears of exile
author:
MIGUEL OSCAR MENASSA
75 pages
18 Euros, 3,000 Pts.
It contains thirteen illustrations of some of the best paintings
of Miguel Oscar Menassa.
---