Weekly magazine through Internet Indio Gris
Nº 102. THURSDAY, MAY 9 TH , 2002
FUSIONED - DIRECTED - WRITTEN AND CORRESPONDED BY: MENASSA 2002
WE DON'T KNOW HOW TO SPEAK BUT WE DO IT IN SEVERAL LANGUAGES
SPANISH, FRENCH, ENGLISH, GERMAN, ARABIAN,
PORTUGUESE, ITALIAN, CATALAN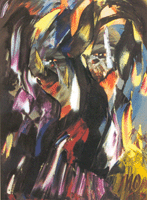 INDIO GRIS, IS A PRODUCT
OF A FUSION
THE BRIGTHENESS OF THE GREY
AND
THE JARAMA INDIAN
THE FUSION WITH MORE FUTURE OF THE
21st CENTURY
---
INDIO GRIS Nº 102

YEAR II

EDITORIAL

INTERVIEW WITH THE POET MIGUEL OSCAR MENASSA


Sunday, APRIL 28th, 2002

Carmen Salamanca: I have been reading "I, the sinner", which we will publish in The 2001 Nights in the month of May, and my attention was drawn by the fact that the preface, which is the first poem, begins with the phrase we mentioned in the last interview of the Surrealist Manifesto: " To set off on the roads / where the hearts which know of love nest…"

Miguel Oscar Menassa: There the guy is very surrealistic, but later in other books he says: "Set off to the roads, imbeciles, never protect your own bread". Let's say that Menassa was capable of abandoning surrealism. In the 71 Manifesto, which you had been reading the other day, they are still surrealist. But of course, the problem is that that has never been explained appropriately, because it's necessary to set off to the roads if I don't feel any pleasure where I am, but if I feel pleasure where I am, it is a bad advice to set off to the roads unless that setting off to the roads implies to make new roads where people could set off, if not it has no sense. One thing is to think man is that dissatisfaction, that scantiness, already dead since he is born, but man also finds his satisfactions. When man finds some satisfaction, I don't say that he must stop there, that he must die there, but yes, that he takes pleasure in it.

CS: Of course, it is not a questions that we all become nomads, it must be referred to some other kind of road.

MOM: I think that Breton in that moment described what you have just finished reading.

CS: In the sense of uprooting?

MOM: In the sense of escaping from the centre. But for sure, escaping from a centre, another centre is generated. The fact that it isn't on the margins doesn't mean that it isn't central, because if it is in the margins and it isn't central, it is once more the logic positivism, but for the theory of value, for the historic time of the theory of value and for the unconscious time, it isn't necessary for it to be in the centre to be central, therefore not all that exists in the margins is marginal.

CS: "We carry with us the leper. The one who isn't infected with it / blinds his being in front of the scandal of the flesh". Does it refer to psychoanalysis maybe with that question of the leper? To poetry?

MOM: To the flesh. It says: "We carry with us our flesh, the one who isn't infected with flesh, catches a disease of the flesh". It is a whole theory about psychosomatic diseases, without meaning it, but as 27 years have gone by since the publication of that book…Did you see how the theory about psychosomatic diseases is? We carry with us the leper, that is to say, we carry with us our bodies. The one who doesn't catch a disease of the flesh, he blinds his being in front of the scandal of the flesh. The one who doesn't vaccinate himself (in this way you may understand it), gets infected with smallpox. And what do you receive in the smallpox vaccine? An attenuated virus of smallpox, to put it someway. If you don't vaccinate against the flesh, the flesh is stronger than you. Don't look at me in that way, the flesh is the specie. And you should know it. Why does the specie win over man? Because the specie is never ill.

It isn't that the specie doesn't get ill, it produces disastrous consequences, but it doesn't matter to it, it isn't saddened for it, it doesn't stop producing children because retarded, Mongoloid, drugaddicts, sons-of- bitches, murderers start to be born. It doesn't stop producing children where children execute elderly people. It doesn't even stop discarding the old things. That is why if one gets stuck to the specie, one dies relatively young, because once one produced children, one already fulfilled the obligation, it's over, if that man or woman doesn't produce a psychic individual, it's over, to the garbage bin. It is a great advancement that we owe to medicine, not only to psychoanalysis or to the cinema, that woman older than 40 years can become pregnant. I remember when I studied medicine (not so long ago, the last century), an aged primapara was a thirty years old woman. What does that mean? A woman who got pregnant for the first time at thirty, was primapara, because it was the first time that she got pregnant, but aged because it was considered that at thirty it was not convenient for a woman to have children. Instead nowadays that age has been increased up to 40 or 50 years old. That is to say, that they have obtained that woman can serve longer to the specie, therefore the specie takes more care of the woman for a longer time. You are laughing.

CS: That captures my attention, if she is fertile for a longer time so the specie will take more care of her. You have some very revolutionary theories for everyday life. What is the flesh?

MOM: The flesh, the real human flesh are phrases. How would flesh weigh if they are phrases? Goethe says: "He who possesses Science and Art / also possesses Religion; he who does not possess nor one nor the other, / posses Religion!". The first saying is well, while there is Science and Art, let Religion be, the matter changed into "Well, let Religion be!"

In such solitude,


I had to resemble myself


in all.


Each piece of my skin,


was my skin.


Each word was my voice.

Darling,


Alienated time of happiness.


I am who I am, and also the purest of the Other. Poetry.


You, however, insist in being once more the queen of the seas as


when in your childhood you were the queen of your mother, you want it


as simple as this.

I tell you that we have lost everything, that nothing is left from those


illusions,]


where the death of our ancestors rested.

The example has to be brutal.


Pains of the destiny open to the reasons of hatred and of happiness.

Unforgettable encounters at the margins of peace,


open in your bleeding, taciturn heart.


You will come cunningly to nail yourself in my eyes. You will come,


with the solitude of dawn fixed to your hair.


Ardent dreamer,


flow of light soaked in the shaved soul of memory.

We were open, open and without food and nobody loved us enough.


A lightening crosses the intersections. I swing and I entangle in my own


words. You, in the meantime, calculate the years to come for you to have


more lines even than your own mother. Life escapes from you in that

calculation.

I hope to go back to my youth years, where money and love were the


germs of nothingness. Motherland, already nothing I have in the middle


of my chest, no flags, no gods, that is my sole truth. From the rest I have


everything, even bastard illusions of some day being able to


enhance my life.

I am like a commercial employee, but with the intelligence of not having


nor flags, nor gods to whom adore or for whom to die.

The client I was waiting for, Ernest, the boxer, as their pals called him, was doing fine with me. His life clearly didn't turn better yet, but his relation with me filled him with illusions and he had abandoned his desires to commit suicide several years ago. He had to finish his medicine career and now he exercises his career with the support of a sort of psychotherapy, he tries to be a writer and between his children, his wives, his lovers and some urgencies in his work, it seems he would turn mad at moments. When the bell rang, he caught me in these reflections. I opened, I greeted him kindly and I was greeted kindly by Ernest, who, however, brought a grimace in his face. He dropped himself quickly on the couch and started saying:

- Today, finally, I'm desperate. Things cannot be fixed just like that. Everything seems spectacular, illusory, a lie. I will never end having family problems. This will take long. I think I should face the matter in some other way. I don't really know how to stop those questions where I always have to take care of somebody. That is to say, I ask myself doctor, am I not taking care in them of my own neurotic childhood?

There was a silence and I intervened briefly to say to him that it wasn't wrong, that if some situations were repeated so much in his life, he might think that those things were his things.

- I'm very nervous but my children are very angry. I understand that I cannot solve any of the situations I'm immersed in. Everything is spontaneously risky for my talent and, on top, I carry very little money, almost nothing.

I feel that my life has taken me through places that I wouldn't think of traversing. Man darkened by pain by his transit to the true route of derision.

Without anything to say, fed up of everybody using me, I don't know what to do. I have a man with a question in the middle of my chest.

This week I had encounters of all sorts and it is a stage in my life in which I can't stand no one's behaviour. Nor from my children, nor from my women, nor from my students. Something has been transmitted badly. On the edge of this abyss I only happen to exercise on the experiences the knowledge acquired for having survived to the first personal experiences.

Desperate and blind swarms, groaning turns, arid and saddened gallop. Tenuous silent madness. Don't you see, doctor, that the road of my soul always goes straight to emptiness?

And I, to demonstrate that I had been listening to him, asked him:

- What emptiness, your mother or God?
Cero Group
Consulting Room

Cero Group
Consulting Room

Amelia Díez Cuesta
Psychoanalyst

Carlos Fernández
Psychoanalyst

Appointments:
91 402 61 93
Móvil: 607 76 21 04
MADRID
AMELIAA@terra.es

Appointments:
91 883 02 13
ALCALÁ DE HENARES (MADRID)
The only thing she recalled of our meetings was my smell.
No pleasure, no word was left in her memory, only the smell of my body. She told it to me in the following way:
- Strange mixture of nature and human flesh. A drop of sweat and the rest, expansion of the soul, that is the smell I recall from you.
I gave my verdict:
- For the time being, total madness.
And she, before going on smelling my body, told me:
- There is something greater in the most mediocre thing for whom knows how to take it.
Cero Group Consulting Room
COUPLES COUNCELLING

EROTIC LITERATURE WORKSHOP

Miguel Martínez Fondón
Psychoanalyst

Coordinator: Miguel Oscar Menassa

APPOINTMENTS: 91 682 18 95
GETAFE (MADRID)

91 758 19 40 (MADRID)
1
A lot of ambition and little capacity for work is bad and makes people ill, though a lot of capacity and little gratification, not only sickens people, it is also stupid.
2
Overcoming the drama of solitude, a man can be as great as he wants to be.
To open the field of death, that shall be what is necessary, when in the end dying is what happens to all of us. It must be a big business, I say to myself, to open something that has to do with death.
Buried, unburied and hidden parsimoniously to our own nothingness of being, wrapped in the laughingstock, stopping running to bump suddenly into the life of myself though it may belong to another, in another.
Being, I say to myself, being, a little food and some poetry and we will all be better prepared for the next century.
INDIO GRIS
---
THIS IS ADVERTISING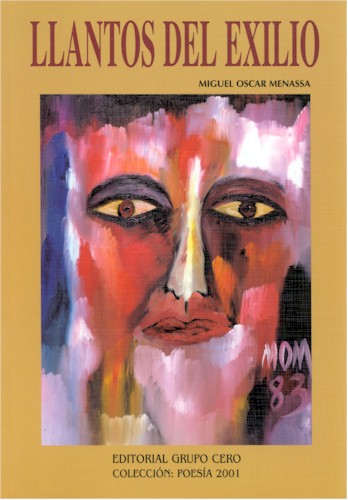 Tears of exile
author:
MIGUEL OSCAR MENASSA
75 pages
18 Euros, 3,000 Pts.
It contains thirteen illustrations of some of the best paintings
of Miguel Oscar Menassa.
---