Weekly magazine through Internet Indio Gris
Nº 101. THURSDAY, MAY 2 TH ,2002
FUSIONED - DIRECTED - WRITTEN AND CORRESPONDED BY: MENASSA 2002
WE DON'T KNOW HOW TO SPEAK BUT WE DO IT IN SEVERAL LANGUAGES
SPANISH, FRENCH, ENGLISH, GERMAN, ARABIAN,
PORTUGUESE, ITALIAN, CATALAN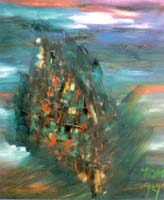 INDIO GRIS, IS A PRODUCT
OF A FUSION
THE BRIGTHENESS OF THE GREY
AND
THE JARAMA INDIAN
THE FUSION WITH MORE FUTURE OF THE
21st CENTURY
---
INDIO GRIS Nº 101

YEAR II

EDITORIAL

I clearly pretended to be stupid when I saw the number 100 go past. in front of my eyes. I didn't see, I didn't want to see, I won't buy anything.

Afterwards I also said to myself that arriving to the number 100 would give me prestige, that somebody would say in amazement "he reached number 100", that some woman would want to kiss such grandeur.

Nothing great happened, nor something fantastic, what went past was only the number 100.

1st of May

Today


the International Labour Day


is also celebrated.

Days to remember


everything that could not be done.


Those days


in which the dead come in multitude


to ask,


why are they remembered?

Tears to be able to cry


what could never be had.

Crazy horses


maddened mares


drab reflections


of the fire


where the witches were burnt


quiet wounded dove


calmness interrupted intermittently


by truth


peace


with broken wings.

Today I thought, and that I swore not to do, about my Motherland and without warning a pain burst on my side as a limitless love, being bombed.

My Motherland is in the south of the south, that is why I tremble when I remember it.

Argentina made of silver


small Republic of bread,


you are wounded, hunger touched you


you are wounded, on the verge of dying


poverty flooded your heart,


poverty reached up to your loves.


The melancholic rhythm when walking


transformed itself into a painful howl


money took over the soul


and the powerful took over the money.


Without money and without soul


the average citizen


lived and didn't live, died and didn't die


and nothing else happened to him.

When Winter arrived


he felt that he had already gone through such situations


but he couldn't realise anything,


he was never ready for the season changes.

He was soaked through by rain,


he was flooded by rain,


his crops were ruined by rain,


he was being killed by rain.

Afterwards the sun came and he dried


the sun came and he was burnt


the sun came and it killed him


it dried his crops, it burst the flower.

Sometimes, after the sun, snow came


and the snow isolated the little towns


the snow froze the vegetal life


the snow froze love in the throat.

- Going up the stairs of my house I thought that I was going towards your consulting-room…I don't know…

- Something with the impossible…

- Yes, of course, to psychoanalyse myself with my wife and to marry you. ha, ha, ha.

- We continue the next time.
Cero Group
Consulting Room

Cero Group
Consulting Room

Amelia Díez Cuesta
Psychoanalyst

Carlos Fernández
Psychoanalyst

Appointments:
91 402 61 93
Móvil: 607 76 21 04
MADRID
AMELIAA@terra.es

Appointments:
91 883 02 13
ALCALÁ DE HENARES (MADRID)
Sitting on the edge of the bed, she smelt my body for a long time before touching or looking at it. I pretended to be asleep and she believed it and masturbated to delirium smelling my body.
Cero Group Consulting Room
COUPLES COUNCELLING

EROTIC LITERATURE WORKSHOP

Miguel Martínez Fondón
Psychoanalyst

Coordinator: Miguel Oscar Menassa

APPOINTMENTS: 91 682 18 95
GETAFE (MADRID)

91 758 19 40 (MADRID)
1

There are things which cannot be covered up.

You can pay less taxes of what you should, but you cannot hide that you are a worker.

You can hide an old love, but a new love cannot be hidden.

2

Ecstasy of light


I looked for you out of time


and out of time


there were no ecstasies.

3

Democracy is ill. 40% of the population (percentage that regularly represents the absolute majority) shouldn't, though they might, tyrannise the other 60 % of the population.

4

In politics as in love, anything can get together with anything.

5

I have discovered the radical differences between the ultra-right, the right, the left and the ultra-left.

The ultra-right says that it will maltreat if necessary, to its total disappearance, all what is foreign, what is strange, what is novel…and it does it.

The right doesn't say it but it does it.

The left says that it has no alternative and does it.

With the ultra-left, don't maltreat foreigners because they kill you!

Darlings, darling orphans of love.

Let the water drink all thirst.

I'll make myself responsible of separating definitely the road from the night, the night from evil, the evil from nostalgia, nostalgia from good-bye, the good-bye from death, death from oblivion, oblivion from recalling, recalling from memory, memory from history, history from men, men from their lives, life from woman and if I could, my hand from my ball pen, my ball pen from my thought, my thought from sexuality and my sexuality from yours, my love, that I can't no longer.

There are many things which I don't deal with in this letter, many questions that I leave without separating with the hope that the world won't end tonight.

INDIO GRIS
---
THIS IS ADVERTISING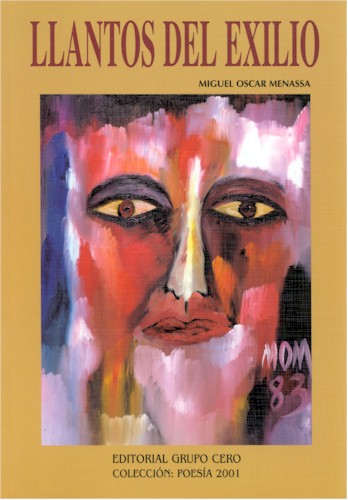 Tears of exile
author:
MIGUEL OSCAR MENASSA
75 pages
18 Euros, 3,000 Pts.
It contains thirteen illustrations of some of the best paintings
of Miguel Oscar Menassa.
---