INDIO GRIS
INDIVIDUAL MAGAZINE OF GARBAGE COLLECTION
Nš 10.YEAR 2000 AUGUST, THURSDAY
FUSIONED - DIRECTED - WRITTEN AND CORRESPONDED BY: MENASSA 2000
WE DON'T KNOW HOW TO SPEAK BUT WE DO IT IN SEVERAL LANGUAGES
SPANISH, FRENCH, ENGLISH, GERMAN
ARABIAN, PORTUGUESE, ITALIAN, CATALAN.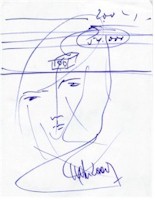 INDIO GRIS, IS A PRODUCT
OF A FUSION
EL BRILLO DE LO GRIS
Y
EL INDIO DEL JARAMA
THE FUSION WITH MORE FUTURE IN THE XXI CENTURY
---
INDIO GRIS Nš 10
1
I have decided to publish 100.000 copies of all my work, my poetic work, too.
2
Submit ourselves to a discourse that is not ours. This is what belongs to me, now, to be able to learn something.
3
I stay so much time with my body, if I keep being like this, some social relationships will be damaged, at least all of them which have nothing to do with my body.
4
She comes and says to me, without any passion, afterwards the strongest are going to became weak themselves and time will eat them.
5
I have no friends, says the wretch, it means I have no one to trust in to be betrayed.
6
She lives upon me but she thinks she lives off the air. Before dying she will know madness.
7
Yesterday I've got a criticism I didn't understand: go ahead, Menassa, not towards right or left, and then, I have got another criticism I neither understood: open the entrances to shut your heart, that's no good, Menassa!.
8
OCTOBER 2nd 1995, MADRID
I must admit have done almost all wrong, if all means an appropriate politic way to lead, to a destiny of light, a team of neurotics which more evident feeling,a t least, is envy.
And I don't want to insult anybody neither to complain nor take pity of me for doing everything wrong. What I really want is to abandon the game, to stop doing all those actions that are going to produce some benefit to be shaded among all of us.
This time I want to be one of those envious neurotics, doing my ordinary things, thinking they are big because they are mine and only me take benefits of the results, that , although little, seems great to me because I haven't to share them with anybody else.
Besides, I am taller above many, more intelligent than the whole population average, recognized as a writer in the highest rank of poetry and I know so well my job as to earn my living, although nobody wants to, I'll go on much better in life. In a few years I won't have any debts with any printers of the world and some women will, finally, feel relief by knowing I am only for them.
I'll buy a super sport car, I will only ear pure silk ties on, I won't make love with married women anymore, that is to say I will not benefit never again, with my love, the couple relationships and I will be very careful with my readings, I will only read the best writer's books, at least, better than me.
I will take from the world what I please and be useful for my little plans and I will give nothing in change. And when someone will ask me for something in exchange for what I took, I will tell him that it was useless, and when someone proves me that it was useful I will explain that it was possible , that that shit had become useful because of my intelligence and in that way I will go on by the world without being loved, and without loving nobody, and everything will be obtained free or almost free and as everybody in the world would like being like me and they will think that I may teach this to them, too, I will get my selfishness to be paid for, and everybody in the world, at least, will consider me a great man.
9
OCTOBER, 1995, MADRID
I never felt myself so disappointed as now. The idea of visiting Buenos Aires three or four times a year upsets almost everybody in Madrid against me. This is extended to the wrong action of reducing my wages, making very difficult my voyages to be done and I was yielded to think, more serious than ever, to abandon the ungrateful task to rehabilitate stupid persons or qualify, with my job, sad black passions as if they were great and beautiful sea pearls. I don't know if I am an exigent person, or indeed, people doesn't tolerate anymore my leisured ways and tenderness. Because all of us get a bit greater, it doesn't mean, absolutely, that I have to become a moron to let the persons around me glitter.
Only those that may emit any glance in spite of my light would glitter, the rest of them, all the rest, whoever is, should live in darkness.
I will go to Buenos Aires, in April, September and December and who is not able to accept this unsettled strength, must dedicate themselves to another thing not meaning I will not pay attention to Madrid anymore, but Madrid will not be the only one because we have already said it, when we were young, only one woman is, in every case, the mother.
I advise you to spend more money in your own psychoanalysis, cause by now things are not good to bury people without flowers.
I have loved and and I have wished all what I did not know, now I will wait for the effects of my transmission.
I have no grudge against nobody because I belong to a race that knows how to change the hostility into writing. I do not wish extraordinary pleasures into writing. I do not wish extraordinary pleasures that revenge could promise, because I have proved all the pleasures. This time I only want to be allowed 40 or 45 years before my death, to visit Buenos Aires 3 or 4 times a year. This is all by now.
10
OCTOBER 1995, MADRID
Visiting Buenos Aires three or four times a year would amount 120 month in 40 years. That is to say that in the next 40 years I will be living 10 years in Buenos Aires, it couldn't be any harm to anybody, I hope so, realizing I am going to live 30 years more in Madrid, that it would complete half a century of life in Madrid.
The real thought is not dwelling in any city in particular but going on visiting, simultaneously, all the cities where poetry and psychoanalysis Grupo Cero are called. Though I had not be let to have great extensions to hide on horseback, I will travel by plain and more intensively by Internet, from one city to another as they were big lightened, hopeless, shady lands.
I will love new lives, and I will live all what I didn't live. I will be happy repeatedly because of my work, and sometime I will cry again for what I have lost.
But I 'll never more be living tied to anything even if a marvelous thought is concerned. And I will never be living tied to anybody, even if a crowd is involved.
Neither poetry could urge me this time. This time a quiet place must be found in the next 40 years for writing a masterpiece after celebrating my 100 years birthday. I want to say with the wisdom of going through without deep hurts the companionable envy, the enemy love, the steady hate, the wishes of nothing, the resistances of the passion, the hazard of the rain.
Twenty years ago I have promised my great lovers that I would always take with me the writing and love them even when time went by hitting their bodies, today I am under excellent conditions to promise to carry the world with me and stop loving them when they become dull and wishing to get a soul.
The old age has no importance. To behave hiding the age passage is being old.
Here I am, being rejuvenated by thinking in new realities and much more healthy than some decades ago.
I kiss all what it is due to be kissed, for the pure desire of kissing and I begin this new way towards my poems.
I expect nothing because my poems are going to do all the job. And who remains blind to such a dazzling light, even if unable to see will be a part of it.
11
MAY, 26th, 1985. MADRID
I am not far from her, I am taking care of her. She doesn't know, yet, to take care of herself. I am happy because I realized that if I want all of us to go on, I have to think in my job over all other things. I remember old hopes when everything comes to properly. Those evenings when the sunshine was only ours.
A brief headache keeps myself to myself. Perhaps a poem should help me to go out of this lethargy. Y have only got the job of losing my fears, that is to say, I must do some exercise.
POEM
I am awake, I am awake
but there are horrors that blind me.
Blood, violence, the meditative hate,
seeing all the world swelling like putrid matter,
your eyes have been destroyed by the atomic rain,
your painful kisses, your lost sons.
I am awake, I am awake
but there are horrors that blind me.
The excessive ambition, covetousness, filth,
exploitation, slavery, shit,
your broken belly because of the doubt,
your painful sex, your loathing, your shame.
I am awake, I am awake
but there are horrors that blind me.
POEMAS Y CARTAS A MI AMANTE LOCA
JOVEN POETA PSICOANALISTA
IT'S ALSO A BOOK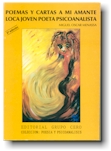 IT NEVER HAPPEN
IT IS NOT HAPPENING
IT CAN ONLY BE READ.
12
MAY 26th, 1985. MADRID
I would like to be able to compose some illusion. I have to go to Buenos Aires to visit my mother. What else can I do, I have no any other way out for my sorrow.
13
The individual liberates himself by speaking some people say. Pretty nonsense! The individual, being so, cannot liberate himself neither singing nor speaking, because the speaking is the condition of being an individual. That is to say, I extend my hand but I cannot arrive anywhere. I wish without being certain, what I wish but knowing that the skill of life is doing nothing but only have the intention of do it. To speak is to be that sequence of impossible knots, to speak freely in order to point out, in a clearer way, to what I live subject to, who is inside me, my own being , that I do not recognize.
14
I deal cards out in order to play, this is the proof that up to now the dead people are finished, a nd now we are going to play " tute cabrero", the one who is dealing cards out shows the triumph and keeps it. It is the father in the living swim represented. In this story Oedipus does not fuck his mother because Oedipus father beats him well and tells his mother, in a strict way, that those things must not be done with the boy..
In our story the only blinded person is Tiresias, who lives in the past as all the philosophers do.
15
Everything invades me, also the lecture, that is the reason I am afraid of almost everything. Because I am passionate with almost everything.
I have to get rid of my fear, I may obtain money. If I resign myself to be the one who write more I will go on much better.
During solitude all must be taken with calmness and wisdom, knowing that too much calm means death and wisdom is impossible without other's.
16
In a short time I will tear fragrances away from the most silly phrases. They will be on guard against me. I will shut up only the necessary for eating, sleeping and those nonsense of love. All the rest: freedom, death will be only prompts of style, restless time between poems, in conclusion, the interpretation will be the writing and it will be itself interpretated, in this very moment, as hieroglyphics., like something outlined upon something, in such a way that being a line, it is not one. The mark that represents it, represents nothing, it is a cut, an empty of nothing. It is not something to fill in, whose being is a non-being and its presence.
A line that is not, only to be confirmed because of its effects, has never been, being the effects produced in the system because of the absence of any kind of substance.
17
The great voyage has began. I can see emerging a light from the shadow, that no one will extinguished. It is formed by poems.
Nobody is much interested in finding the truth. Everybody wants to know what is going on with money. We are all nobles, people say..
18
Throw a little putrid piece of meat to the beasts and they will eat it.
And so, it was growing in my mind the idea of writing poems and to make many people write too.
I hope to find the soul of things. Sooner or later it will be only possible to read each other, we will all dead.
19
That you have decided to get away from me in the best moment of my poetical career, reminds me the envy.
20
MAY 30th, 1985, MADRID
Dear Mother:
This urgent letter is to tell you that my son Antonio is getting married in June 20th. I don't know what to say to you. Everything has grown up. I'm pleased because Antonio is going to decide to build up his own family.
He and his future wife, Shula, are very happy and this is good for all of us. In a short time I'll be grandfather. What about that?
I am very anxious because of my correct behavior in these circumstances. It's my first time having a son getting married. I hope to be able to deal with the event.
21
Whenever possible, a poem written by any of the members of Grupo cero poetry workshops will be included in this section.
AS A GLOVE STUCK TO THE EYELASHES.
As a glove stuck to the eyelashes
thick abilies ooze out from my steps
love storms in the middle of the run
I lost sanity track, lively
earthquakes clear up masks and laughs,
but she, untouched, remains inside me.
Calmly by mitigated terror
neglected against my own blood
in the universal parade of resemblance
paving stones and underground dungeons preserves oblivion
unfortunate deliriums of legitimate protection.
Today the planets deflect their direction
in vertical elevation till my hands,
presaging some time of peace.
Confused, with obstinate
erratic and sight stridency, auguries of pleasure,
I transform my unexpected insanity
in iridescent breath of the space
Hybrid of pardon and prays,
I tear complains faithfully stuck,
I explode in colorful crowds.
Sudden shaking rebellion
innermost part of my voice
calcinate thirst among the bones
betrayal for centuries defined
upon this woman's skin
naked among poppies.
CARMEN SALAMANCA GALLEGO
The author has already published
ENTRE PALABRAS NOCHES DE PIEL



---