INDIO GRIS
INDIVIDUAL MAGAZINE OF GARBAGE COLLECTION
Nš 1 YEAR 2000, THURSDAY, June 1
FUSIONED - DIRECTED - WRITTEN AND CORRESPONDED BY: MENASSA 2000
WE DON'T KNOW HOW TO TALK, BUT WE DO IT IN SEVERAL LANGUAGES
SPANISH, FRENCH, ENGLISH, GERMAN, ARABIAN, PORTUGUESE, ITALIAN AND CATALAN.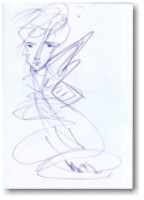 INDIO GRIS, IS A PRODUCT
OF A FUSION
EL BRILLO DE LO GRIS
Y
EL INDIO DEL JARAMA
THE FUSION WITH MORE FUTURE OF THE
XXI CENTURY
---
INDIO GRIS Nš.1
1
Today a new life has begun for me.
I've realized that I have a great job, a wonderful woman, some intelligent kids and a private secretary, private to the general circulation.
I have had uncountable loves, I was even capable to love the most unreachable stars, but I've abandoned them all because of my work.
Now, right now, I feel like a genius.
A truly genius. Nobody will feel loved by me because,as a principle, I won't love nobody.
And when any youth ask me, I'Il tell him or her clearly: First, I could manage with several women at a time and with several poets at a time. Now I can manage with several businesses at a time.
Respect to the Women, I equally loved them all.
Respect to the Poets, I learnt to love each of them in a different way.
And businesses, I equally love them all..
When I was young I told myself, I would end up living with the woman that would better allow me to enjoy all of my loves. Today, I know that the work or the business I will look after the most, will be the one that allows me to have others businesses or that will tolerate them better.
Everyone around me will have to shine. And the one that cannot do it or doesn't want to, will have to get away from my side.
That's what I mean when I say 'Everything for Poetry'. Everything for Poetry, also I mean my money and other kinds of money, all my loves and all the hours I have worked.
2
In a short time it will make it.
We'll sell 2000 copies of everything Grupo Cero publishes.
Everything for Editorial Grupo Cero means everything for poetry.
Long live, long live the poem,
Long live the reach of one's voice!
3
Forward! my love, we've succeeded, they cannot nay longer live without Grupo Cero.
4
I'm sick and tired of all the malady around me. Sometimes it turns my stomach up and I feel sick too.
I'll definitively pull apart my inner self from me and it will not be necessary to be sick.
Mentally sick people go through life wanting to change people around them into clumsy puppets in their private ghostly theatre.
Each time a psychoanalyst, due to its own prejudices or ignorance, changes a patient under psychoanalytic treatment into a mentally impaired person, the psychoanalyst himself will change into a doubly clumsy puppet.
5
I see so much of madness around me that I see myself working without stopping when I'm one hundred years old. And it won't be that when I'm one hundred years old people will be much better, it's only that I won't want to have anything to do with such matters.
What's important is that I have work enough for fifty years more and that makes me happy because it means a five stars old age.
I'm convinced that things are well done. There will be enough work for everybody, but only the ones who are able to work more than necessary, will make it.
6
After almost three thousand published pages, I feel that in 30 or 40 years time, I could become a good writer.
After that, the most important part of me will have to be done by others, and that will be the King's body.
7
It'll make you fly to the frontiers of universe
though I know that flying is a poetical saying.
8
Today I may say it this way:
'I have to plan ahead at least 20 years,since al least 20 years is the time they will need me as a psychoanalyst'.
Today I stop being, to start living. I'm happy, very happy.
9
I write with a 12.500 pesetas worth marker and I remember that so far all my work, more than three thousand published pages, were written with a 3 for 100 pesetas worth pens.
10
I trust I can write almost 10000 pages in less than 20 years. How wonderful!
11
Coming back is easy. Enduring, going ahead, that's the real thing.
How nice is to defend the universal values of goodness and beauty!
12
For de last several days I haven't been able to write at all.
For de last several days i have been at loggerheads with the future
For the last several days I haven't wanted to know about myself
For the last few days, only a few, I have not experienced love.
13
She is different to Him, but it has taken us a century to realized it.
14
Sometimes, when I want to stay alone with myself, I feel as if I were a genius.
Some part of me must be in me, I say to myself and keep on flying.
15
She is alien to all the facts.
Embroiderer of light, she knows no other thing than to tie herself to words.
16
I wanted to become the paladin of love, and I remained alone in front of so much sun.
I was all dust, fragments facing the sun.
17
Where is the goodness for me?
It is a question that the whole world asks, but no one can answer.
18
Accustomed to women for whom all the money es paid with love, I have saved little.
19
It is as if I would think that someday I could come across a real woman. A woman paying back all the love she receives kiss by kiss.
If she is lent money, she pays back with money and a distant smile, and when someone invests money on Her in exchange for nothing, a real woman returns all the money, and some interests, too. In this case, she may not even smile. Interests play the role of smiles.
20
I have to take care personally of the administration of my own things. Lawless people should nor be engaged in our relations with the law.
21
Never again should I talk to people that commit the error of the error:
After correcting their mistakes, wondering about saying that those errors are necessary for their formation.
---